Westman neuroimaging group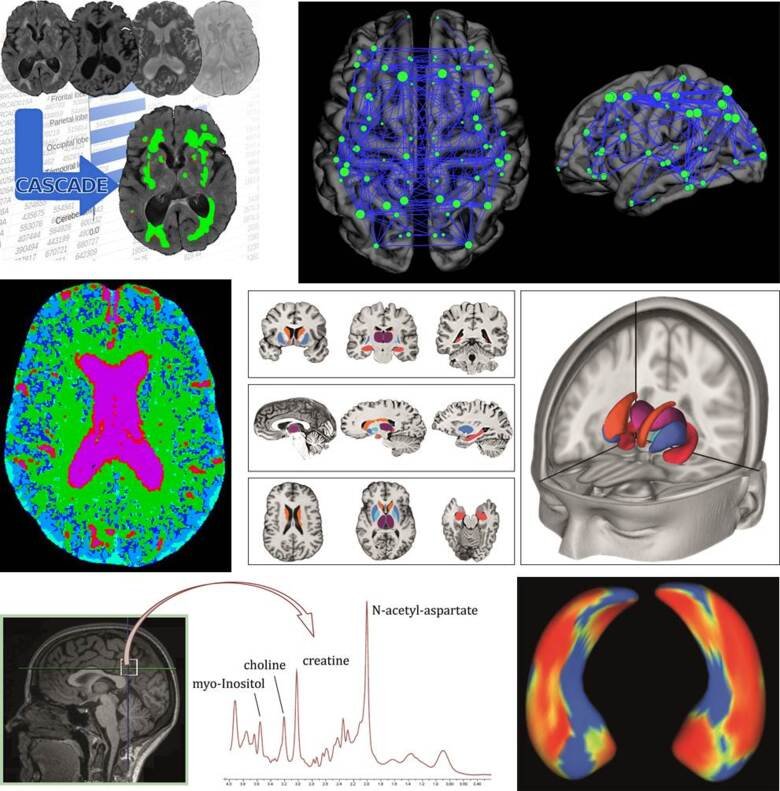 Our research is focused on the most common forms of dementia including Alzheimer's disease (AD), dementia with Lewy bodies (DLB), vascular dementia (VaD), frontotemporal lobar degeneration (FTD) and dementia in Parkinson's disease (PDD).
Structural and functional neuroimaging play an important role in understanding the underlying mechanisms of different dementia disorders, potentially contributing to their management and diagnosis. We have a strong focus in different magnetic resonance imaging (MRI) techniques, such as structural MRI, magnetic resonance spectroscopy (MRS), functional MRI, diffusion tensor imaging (DTI), arterial spin labeling (ASL) and susceptibility weighted imaging (SWI). In addition to MRI, we work with other imaging modalities, such as positron emission tomography (PET) and computed tomography (CT).
We work with advanced tools to analysis neuroimaging data such as multivariate methods, machine learning and graph theory. Currently, a large part of the research within the group is focused on unraveling the heterogeneity in AD and to understand the substantial overlap between the different disorders. We believe it is important to work with the latest neuroimaging techniques to obtain a better understanding of the underlying mechanisms of the different diseases, to improve early diagnosis and differential diagnosis.
Collaborations
We have several collaborations within our own department (NVS), with other departments at KI and with other universities in Sweden (Uppsala, Lund, Gothenburg and KTH). We also have strong collaborations with several foreign universities such as the University of Eastern Finland, University of Perugia, University of Stavanger, LaLaguna in Spain, the Mayo Clinic in Rochester and King's College London.
Research support
With special thanks to the following donors for the support they provide or earlier provided to our research:
The Swedish Research Council
The Swedish Foundation for Strategic Research (SSF)
Karolinska Institutet
Swedish Alzheimer Association
Swedish Brain Foundation
ALF
StatNeuro, KI
HMT
Åke Wibergs Stiftelse
Stiftelsen Olle Engkvist Byggmästare
Birgitta och Sten Westerberg
Selected publications
Multi-cohort and longitudinal Bayesian clustering study of stage and subtype in Alzheimer's disease.
Poulakis K, Pereira JB, Muehlboeck JS, Wahlund LO, Smedby Ö, Volpe G, Masters CL, Ames D, Niimi Y, Iwatsubo T, Ferreira D, Westman E.
Nat Commun. 2022 Aug 5;13(1):4566
Association of Cerebrovascular and Alzheimer Disease Biomarkers With Cholinergic White Matter Degeneration in Cognitively Unimpaired Individuals.
Cedres N, Ferreira D, Nemy M, Machado A, Pereira JB, Shams S, Wahlund LO, Zettergren A, Stepankova O, Vyslouzilova L, Eriksdotter M, Teipel S, Grothe MJ, Blennow K, Zetterberg H, Schöll M, Kern S, Skoog I, Westman E.
Neurology. 2022 Aug 2:10.1212
Neuropathologic Features of Antemortem Atrophy-Based Subtypes of Alzheimer Disease.
Mohanty R, Ferreira D, Frerich S, Muehlboeck JS, Grothe MJ, Westman E.
Neurology. 2022 May 24:10.1212
Parsing heterogeneity within dementia with Lewy bodies using clustering of biological, clinical, and demographic data.
Abdelnour C, Ferreira D, van de Beek M, Cedres N, Oppedal K, Cavallin L, Blanc F, Bousiges O, Wahlund LO, Pilotto A, Padovani A, Boada M, Pagonabarraga J, Kulisevsky J, Aarsland D, Lemstra AW, Westman E.
Alzheimers Res Ther. 2022 Jan 21;14(1):14
The protective gene dose effect of the APOE ε2 allele on gray matter volume in cognitively unimpaired individuals.
Salvadó G, Ferreira D, Operto G, Cumplido-Mayoral I, Arenaza-Urquijo EM, Cacciaglia R, Falcon C, Vilor-Tejedor N, Minguillon C, Groot C, van der Flier WM, Barkhof F, Scheltens P, Ossenkoppele R, Kern S, Zettergren A, Skoog I, Hort J, Stomrud E, van Westen D, Hansson O, Molinuevo JL, Wahlund LO, Westman E*, Gispert JD*. *Shared senior author.
Alzheimers Dement. 2022 Jul;18(7):1383-1395
Comparison of subtyping methods for neuroimaging studies in Alzheimer's disease: a call for harmonization.
Mohanty R, Mårtensson G, Poulakis K, Muehlboeck JS, Rodriguez-Vieitez E, Chiotis K, Grothe MJ, Nordberg A, Ferreira D, Westman E.
Brain Commun. 2020 Nov 9;2(2)
The reliability of a deep learning model in clinical out-of-distribution MRI data: A multicohort study.
Mårtensson G, Ferreira D, Granberg T, Cavallin L, Oppedal K, Padovani A, Rektorova I, Bonanni L, Pardini M, Kramberger MG, Taylor JP, Hort J, Snædal J, Kulisevsky J, Blanc F, Antonini A, Mecocci P, Vellas B, Tsolaki M, Kłoszewska I, Soininen H, Lovestone S, Simmons A, Aarsland D, Westman E.
Med Image Anal. 2020 Dec;66:101714.
The MemClin project: a prospective multi memory clinics study targeting early stages of cognitive impairment.
Ekman U, Ferreira D, Muehlboeck JS, Wallert J, Rennie A, Eriksdotter M, Wahlund LO, Westman E.
BMC Geriatr. 2020 Mar 6;20(1):93.
Biological subtypes of Alzheimer disease: A systematic review and meta-analysis.
Ferreira D, Nordberg A, Westman E.
Neurology. 2020 Mar 10;94(10):436-448
AVRA: Automatic visual ratings of atrophy from MRI images using recurrent convolutional neural networks.
Mårtensson G, Ferreira D, Cavallin L, Muehlboeck JS, Wahlund LO, Wang C, Westman E.
Neuroimage Clin. 2019;23:101872.