Projects - Developmental and Translational Neurobiology
Our ongoing projects are organized in three research areas.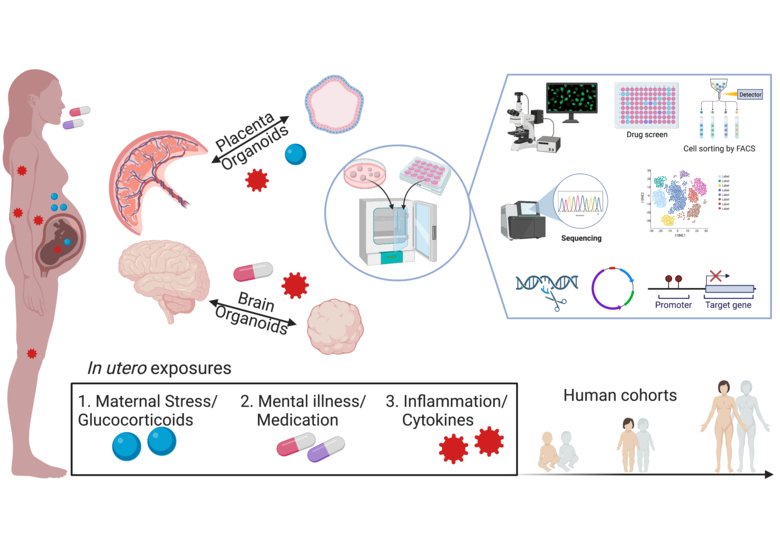 Cruceanu Lab research program overview: Effects of exposure to stress hormones (blue), inflammation (red) and psychotropic treatment (pink/white/purple) in the mother are modelled in cerebral and placenta organoids to study the potential effects on child prenatal neurodevelopment. Photo: Illustrator Cristiana Cruceanu, created with BioRender.
Research Area 1: Placental mediation of in utero Glucocorticoids transmission
While the importance of stress hormones (glucocorticoids) in neurodevelopment is clear, critical questions remain regarding maternal-to-fetal glucocorticoid transmission during prenatal stress, consequently leading to aberrant hormone levels in the developing brain. We aim to characterize the molecular risk factors for placental barrier aberrant function, and hypothesize that an ineffective barrier could explain the relationship between maternal depression and anxiety and negative child outcomes.
Research Area 2: Impact of psychotropic medications on prenatal brain development
During the prenatal period, maternal mental illness and associated treatment represent some of the primary environmental factors associated with fetal brain development outcomes. Despite the prevalence of these exposures, the molecular and cellular mechanisms leading to fetal outcomes constitutes a major gap in our knowledge. Our research projects aim to elucidate (1) how/if different psychotropic medications have lasting effects on brain development, potentially shaping behavioral or cognitive outcomes later in life and (2) where is the risk/benefit balance between ongoing maternal mental illness – thus chronic prenatal stress exposure – and different treatments.
Research Area 3: Maternal prenatal inflammation and negative outcomes on offspring brain development
Inflammation and immune response, including during pregnancy, is strongly linked to glucocorticoid metabolism, and consequently stress and mental illness – thus constituting a major area of potential fetal environmental exposure. The aim of this line of research is to understand (1) how maternal inflammation agents like cytokines are transmitted to the fetus directly or (2) how they orchestrate a potential fetal inflammatory response, ultimately leading to neurodevelopmental and cognitive outcomes.
Contact
For detailed information about ongoing research projects, please email Dr. Cruceanu at: cristiana.cruceanu@ki.se.