Retina
The research team is led by Professor Anders Kvanta and Dr Helder André, with a research portfolio to provide unpreceded cellular and molecular mechanistic views on neovascular and degenerative retinal diseases, with high focus on translational sustainable therapy strategies for patients with blinding diseases.
The Kvanta/André group conducts translational studies focused on identifying and improving treatments of several retinal diseases, including retinal degenerations, retinal vein occlusion and diabetic retinopathy. The key area of our current research is age-related macular degeneration (AMD), one of the most common and rapidly increasing sight-threatening diseases. Advanced AMD is a major cause of severe central vision loss affecting more than 180 million people globally (over 100,000 in Sweden). Despite a seemingly low incidence, AMD has one the of fastest rates of increased prevalence in the developed world as a consequence of an aging population, and is estimated to become an immense burden for healthcare systems worldwide, with massive economic implications. Due to the protracted nature of AMD, the multifactorial mechanisms involved, and current therapeutic limitations there is a great need for long-term therapies that can regenerate lost retinal cells or mitigate multiple angiogenic and inflammatory factors known to be associated with AMD, simultaneously allowing for sustainable treatments.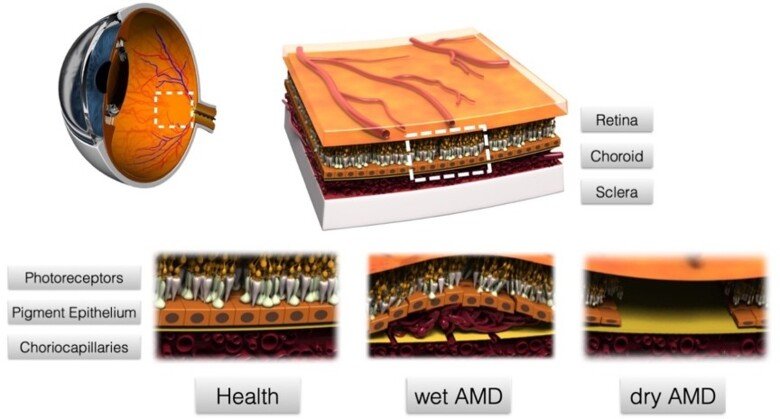 By elaborating the mechanisms behind retinal diseases and their implications to both physiology and pathology, we can then translate them into future therapies to fight blindness.
Research Projects
The common goal of the Kvanta/André Lab is to develop new treatments for neovascular and degenerative retinal disease. Our experimental projects include molecular and cell biology studies, and preclinical animal models aimed to identify new molecules and pathways relevant to the onset of neovascularization and cell death for these retinal conditions. In addition, preclinical studies are ongoing with gene therapy to treat vascular retinal diseases. Our previous and ongoing research has contributed to the successful development of break-through treatments for wet (neovascular) AMD and has laid the ground for regenerative treatment of dry (degenerative) AMD using human embryonic stem cell (hESC)-derived retinal pigment epithelial cells (RPE).
Mechanistic and therapeutic studies on ocular vascular diseases
Sustainable gene therapy for neovascular AMD
Bench-to-bedside cellular regenerative treatments of dry AMD
A platform for cellular regenerative treatments of retinal diseases
A preclinical bioengineering approach for the treatment of Diabetes
Selected Publications
Photoreceptor laminin drives differentiation of human pluripotent stem cells to photoreceptor progenitors that partially restore retina function
Hwee Goon Tay, Helder Andre, Vicki Chrysostomou, Swarnaseetha Adusumalli, Jing Guo, Xiaoyuan Ren, Wei Sheng Tan, Jia En Tor, Aida Moreno-Moral, Flavia Plastino, Hammurabi Bartuma, Zuhua Cai, Sai Bo Bo Tun, Veluchamy Amutha Barathi, Gavin Tan Siew Wei, Gianluca Grenci, Li Yen Chong, Arne Holmgren, Anders Kvanta, Crowston Jonathan Guy, Enrico Petretto, Karl Tryggvason
Mol Ther. 2023 Jan 5;S1525-0016(22)00716-X.doi: 10.1016/j.ymthe.2022.12.012.
Echinomycin mitigates ocular angiogenesis by transcriptional inhibition of the hypoxia-inducible factor-1
Flavia Plastino, Álvaro Santana-Garrido, Noemi Anna Pesce, Monica Aronsson, Emma Lardner, Alfonso Mate, Anders Kvanta, Carmen Maria Vázquez, Helder André
Exp Eye Res. 2021 Feb 25;206:108518.doi: 10.1016/j.exer.2021.108518. Online ahead of print.
Identification of cell surface markers and establishment of monolayer differentiation to retinal pigment epithelial cells
Alvaro Plaza Reyes, Sandra Petrus-Reurer, Sara Padrell Sánchez, Pankaj Kumar, Iyadh Douagi, Hammurabi Bartuma, Monica Aronsson, Sofie Westman, Emma Lardner, Helder André, Anna Falk, Emeline F Nandrot, Anders Kvanta, Fredrik Lanner
Nat Commun. 2020 Mar 30;11(1):1609.doi: 10.1038/s41467-020-15326-5.
Generation of Retinal Pigment Epithelial Cells Derived from Human Embryonic Stem Cells Lacking Human Leukocyte Antigen Class I and II
Sandra Petrus-Reurer, Nerges Winblad, Pankaj Kumar, Laia Gorchs, Michael Chrobok, Arnika Kathleen Wagner, Hammurabi Bartuma, Emma Lardner, Monica Aronsson, Álvaro Plaza Reyes, Helder André, Evren Alici, Helen Kaipe, Anders Kvanta, Fredrik Lanner
Stem Cell Reports. 2020 Apr 14;14(4):648-662.doi: 10.1016/j.stemcr.2020.02.006. Epub 2020 Mar 19.
Gaining insight on mitigation of rubeosis iridis by UPARANT in a mouse model associated with proliferative retinopathy
Filippo Locri, Noemi A Pesce, Monica Aronsson, Maurizio Cammalleri, Mario De Rosa, Vincenzo Pavone, Paola Bagnoli, Anders Kvanta, Massimo Dal Monte, Helder André
J Mol Med (Berl). 2020 Nov;98(11):1629-1638.doi: 10.1007/s00109-020-01979-8. Epub 2020 Sep 17.
Identification of Diagnostic and Prognostic microRNAs for Recurrent Vitreous Hemorrhage in Patients with Proliferative Diabetic Retinopathy
Parviz Mammadzada, Juliette Bayle, Johann Gudmundsson, Anders Kvanta, Helder André
J Clin Med. 2019 Dec 15;8(12):2217.doi: 10.3390/jcm8122217.
Gene Transfer of Prolyl Hydroxylase Domain 2 Inhibits Hypoxia-inducible Angiogenesis in a Model of Choroidal Neovascularization
Anna Takei, Malena Ekström, Parviz Mammadzada, Monica Aronsson, Ma Yu, Anders Kvanta, Helder André
Sci Rep. 2017 Feb 10;7:42546.doi: 10.1038/srep42546.
OPTICAL COHERENCE TOMOGRAPHY ANGIOGRAPHY OF THE FOVEAL MICROVASCULATURE IN GEOGRAPHIC ATROPHY
Anders Kvanta, Manuel Casselholm de Salles, Urban Amrén, Hammurabi Bartuma
Observational Study Retina. 2017 May;37(5):936-942.doi: 10.1097/IAE.0000000000001248.
Xeno-Free and Defined Human Embryonic Stem Cell-Derived Retinal Pigment Epithelial Cells Functionally Integrate in a Large-Eyed Preclinical Model
Alvaro Plaza Reyes, Sandra Petrus-Reurer, Liselotte Antonsson, Sonya Stenfelt, Hammurabi Bartuma, Sarita Panula, Theresa Mader, Iyadh Douagi, Helder André, Outi Hovatta, Fredrik Lanner, Anders Kvanta
Stem Cell Reports. 2016 Jan 12;6(1):9-17.doi: 10.1016/j.stemcr.2015.11.008. Epub 2015 Dec 24.
Hypoxia-Inducible Factor-1α Is Associated With Sprouting Angiogenesis in the Murine Laser-Induced Choroidal Neovascularization Model
Helder André, Selcuk Tunik, Monica Aronsson, Anders Kvanta
Invest Ophthalmol Vis Sci. 2015 Oct;56(11):6591-604.doi: 10.1167/iovs.15-16476.
Bevacizumab for macular edema in central retinal vein occlusion: a prospective, randomized, double-masked clinical study
David L J Epstein, Peep V Algvere, Gunvor von Wendt, Stefan Seregard, Anders Kvanta
Ophthalmology. 2012 Jun;119(6):1184-9.doi: 10.1016/j.ophtha.2012.01.022. Epub 2012 Mar 17.
Combination therapy with low-dose transpupillary thermotherapy and intravitreal ranibizumab for neovascular age-related macular degeneration: a 24-month prospective randomised clinical study
Anne-Catherine Söderberg, Peep V Algvere, Jürg C Hengstler, Pär Söderberg, Stefan Seregard, Anders Kvanta
Br J Ophthalmol. 2012 May;96(5):714-8.doi: 10.1136/bjophthalmol-2011-300721. Epub 2012 Jan 12.
Biomechanical regulation of blood vessel growth during tissue vascularization
Witold W Kilarski  1 , Branka Samolov, Ludvig Petersson, Anders Kvanta, Pär Gerwins
Nat Med. 2009 Jun;15(6):657-64.doi: 10.1038/nm.1985.
Subfoveal fibrovascular membranes in age-related macular degeneration express vascular endothelial growth factor
A Kvanta, P V Algvere, L Berglin, S Seregard
Invest Ophthalmol Vis Sci. 1996 Aug;37(9):1929-34.
Group leaders
Professor, Research group leader
K8 Department of Clinical Neuroscience
K8 Department of Clinical Neuroscience
Group Alumni
Selçuk Tunik, Associate Professor at University of Dicle, Turkey
Effat Alizadeh, Associate Professor at Tabriz University of Medical Sciences, Iran
Jóhann Gu∂mundsson, Head of Ophthalmology at Lanspitali, Iceland
Sandra Petrus-Reurer, Postdoc at Cambridge University, UK
Parviz Mammadzada, MD Ophthalmology Specialist at Örebro hospital, Sweden
Standing funding
·Novo Nordisk Collaborative support
·The ARMEC Lindberg Foundation
·ALF Medicine
·The Swedish Eye Foundation
·The Crown Princess Margareta Association for the Visually Impaired
·The Edwin Jordan Foundation
·KI Foundations and Funds
Support our research
Support our research
In balance with St. Erik Eye Hospital, the Kvanta/André lab thrives to be able to treat and cure all existing eye diseases. Help by investing in better vision in the future.
Interested in joining the Kvanta/André Lab?
Applications for PhD candidate and postdoc positions are very welcomed from applicants with financing. We also encourage early contacts to plan applications for external personal grants.