Gynecologic Cancer
Our research is primarily focused on clinical trials, cancer epidemiology and translational research in gynecological malignancies. The research is divided into three areas:
1.Clinical trials and prospective studies
The RACC-trial (Robot-assisted Approach to Cervical Cancer)
Project leader Henrik Falconer
Cervical cancer is the most common gynecological cancer worldwide. Surgery by open access (laparotomy) has represented standard of care but has gradually been replaced by minimally invasive approaches. However, recent data suggest that minimally invasive surgery confers inferior survival and many societies no longer recommend this modality. Several weaknesses have been identified in previous studies and in 2019, we initiated the RACC-trial (Robot-assisted Approach to Cervical Cancer). The aim is to explore the oncologic safety of robotic surgery by means of an international RCT. Secondary endpoint include overall survival, QoL and the accuracy of sentinel node biopsy (SNB). Accrual is estimated to close in 2024 with anticipated results 3 years later. More information is available at www.racctrial.org.
The IPLA-OVCA trial
Project leader Sahar Salehi
Surgery and chemotherapy combined constitute first line treatment in women with advanced ovarian cancer. The aim of surgery apart from staging is cytoreduction, i.e., surgical resection of tumour. Surgery presents opportunities not only for eradicating tumors but, paradoxically, also for proliferation and invasion of residual cancer cells. It increases the shedding of malignant cells into the blood and lymphatic circulations, inhibits their apoptosis and potentiates their invasion capacity. Additionally, the immune system, the inflammatory system and the neuroendocrine system react to surgery with important changes, which have been proven to promote progression of cancer. Several anesthesia-related factors play an important role in perioperative tumorigenesis such as inhalational anesthetics, opiate analgesics, local anesthetics and regional anesthesia, all of which may impact short-term morbidity and long-term mortality.
In this prospective, randomized, multi-center double-blind multicenter trial, we now determine if intraperitoneal local anesthetics administered perioperatively during 72 h leads to early start of chemotherapy compared to placebo in patients undergoing cytoreductive surgery for FIGO stage III-IV ovarian cancer (https://clinicaltrials.gov/ct2/show/NCT04065009).
The trial comprises a translational component in collaboration with the Lehti Group, Dept. Molecular, Tumor and Cell Biology, KI. The aim is to understand the effect of the surgical procedure on the cancer cell and its microenvironment and if local anesthetics may change this effect, see: Kaisa Lehti group
.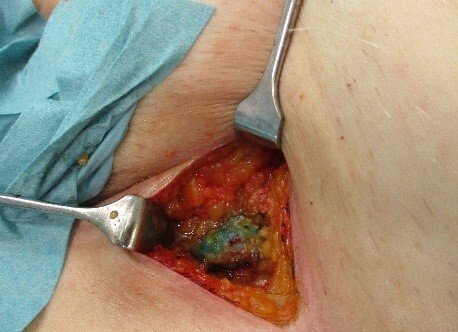 Sentinel node technique (Tc99 combined with blue dye)
Prospective studies in vulvar cancer
Project leader Diana Zach
Quality of Life, Treatment-related Morbidity, Specific Needs and Satisfaction with Care after Vulvar Cancer – a Longitudinal National Study (PROVE)
This is a nationwide, prospective, longitudinal study investigating general and vulvar cancer specific quality of life, treatment-related morbidity, levels of anxiety and depression, unmet needs, satisfaction with care and further aspects of sexual and socio-psychological well-being using a validated questinnaire. All Swedish University hospitals which are accredited to treat vulvar cancer patients since centralization of the disease in 2017 participate. Inclusion started in August 2019 and is planned to be finalized in summer 2021.
Is it possible to broaden the indication for sentinel node biopsy in vulvar cancer?  A feasibility study from Sweden (SNEX)
The aim of this study is to investigate the feasibility of sentinel node biopsy in patients currently not regarded suitable for the technique. It is a prospective national multicenter trial with participation of all four Swedish hospitals accredited for treating vulvar cancer patients.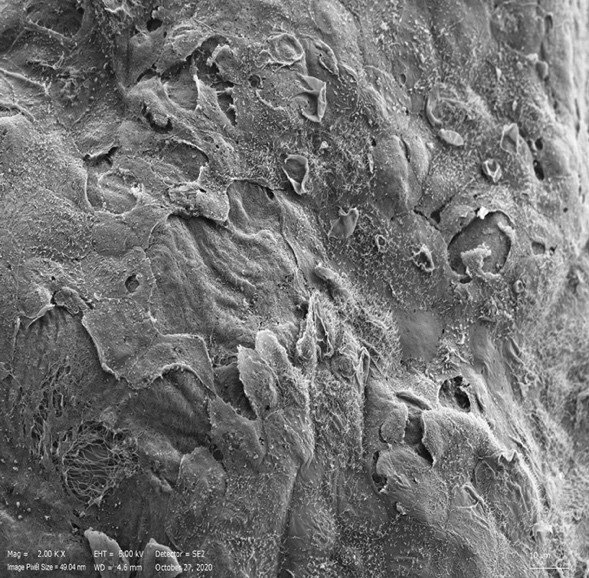 The peritoneal membrane in electromicroscope
Eligible patients who are willing to participate will undergo a sentinel node procedure as an additional part of their surgical treatment. The primary endpoints are the detection rate and the negative predictive value of the sentinel node procedure. Inclusion started in November 2019 and is planned to be finalized in spring 2022.
2. Translational research
Biomarkers and mesenchymal changes in cervical cancer
Project leader Kolbrun Palsdottir
Biomarkers
No markers are available in clinical settings to predict therapy failure and prognosis for patients after primary therapy for cervical cancer.  Human papillomavirus (HPV) infection is a necessary trigger in the pathogenesis of cervical cancer, where some types have been identified as high-risk types. HPV can be found in almost all cervical cancer lesions. It has been established in archived tumor material that HPV testing of tumor tissue at diagnosis is strongly associated with prognosis in women with manifest cervical cancer where presence of certain types seems to predict risk of recurrence. One of the objectives of the RACC trial are to prospectively study potential clinical use of HPV DNA and/or cfHPV DNA in women with early stage cervical cancer. 
The project is done in cooperation with Karin Sundström at Center for Cervical Cancer Prevention, Karolinska Institutet and Emma Tham at Clinical genetics, Karolinska University Hospital
Effects of surgery on the peritoneal membrane
Limited attention has been paid to the effects of carbon dioxide (CO2) locally in the abdomen during laparoscopic procedures. To maintain pneumoperitoneum during laparoscopic surgery CO2 is constantly flowing in to the abdomen of the patient.  The direct effect of the CO2 on the peritoneal membrane is unclear and requires further research. The objective of this study is to characterize the changes in mesothelium during surgery in women with cervical cancer and explore if there is any difference between surgical modalities. Further to examine if the attachment of tumor cells to the peritoneum is related to these changes at different time points during surgery. The hypothesis is that carbon dioxide increases permeability of the mesothelium and causes inflammation and damage that helps to induce implantation and invasion of tumour cells through the epithelium and basement membrane of the peritoneal membrane. 
3. Epidemiological projects in Gynecological Cancer
STOOVCA- The Stockholm Ovarian Cancer Project
Project leader Sahar Salehi
In Stockholm, Sweden all women with gynecologic malignancy are referred to Karolinska University Hospital for treatment regardless of which treatment that is decided and provided. For this reason, the setting of Karolinska University Hospital is unique, enabling research on the population of women with ovarian cancer in contrast to a sample of the population.
In the Stockholm Ovarian Cancer Project (STOOVCA) we investigate the effect of surgical treatment in advanced ovarian cancer by epidemiologic studies, by using the well-established and robust Swedish national population registries in conjunction with the Swedish Quality Registry of Gynecologic Oncology. Moreover, the computerized in-hospital records and operation planning database facilitates in-detail extraction of clinical variables enabling us to control for confounders not usually possible in epidemiologic and population-based studies. The STOOVCA is ongoing and has already provided evidence that has been implemented in clinic and improved the management of women with advanced ovarian cancer.
Salpingectomy – prevention of ovarian cancer
Project leader Henrik Falconer
Ovarian cancer is commonly diagnosed at an advanced stage and is associated with a dismal prognosis. Risk-reducing salpingoophorectomy (RRSO) has considerable protective effect in high-risk populations (i.e. BRCA mutation carriers) but with detrimental effects on reproduction and quality of life. A substantial body of evidence suggest that ovarian cancer may originate in the fallopian tubes as precursor cells for high-grade serous carcinomas. It has also been suggested that the fallopian tubes allow ovarian seeding of endometrial cells giving rise to clear-cell and endometrioid ovarian cancer subtypes. Previous studies from our groups suggest that salpingectomy is associated with a substantial risk reduction for ovarian cancer and may provide an opportunity for ovarian cancer prevention also among non-high-risk populations.
Research collaborations
Most of our clinical trials, translational research and epidemiological projects are conducted in collaboration with both national and international partners. Our research group works in close collaboration with the Lehti Group at MTC (KI) in both IPLA and RACC.  The translational component of the RACC-trial is conducted together with Karin Sundström at Center for Cervical Cancer Prevention (KI) and Emma Tham at Clinical Genetics, Karolinska University Hospital. Most of our prospective studies are nationwide collaborations with all university hospitals in Sweden. In addition, several international partners participate in the RACC-trial and other clinical projects.
Relevant publications
Falconer H, Yin L, Salehi S, Altman D. Association between pelvic inflammatory disease and subsequent salpingectomy on the risk for ovarian cancer. Eur J Cancer. 2021 Jan 5;145:38-43.
Time-interval to adjuvant chemotherapy and postoperative management after upper abdominal surgical procedures in advanced ovarian cancer Joneborg U, Palsdottir K, Farm E, Johansson H, Salehi S. European journal of surgical oncology. 2021;47(2):353-9.
Ultra-radical upfront surgery does not improve survival in women with advanced epithelial ovarian cancer; a natural experiment in a complete population.
Falconer H, Joneborg U, Krawiec K, Palsdottir K, Bottai M, Salehi S
Gynecol Oncol 2020 Oct;159(1):58-65
Surgery performed later in the week is associated with failure to achieve complete radical surgical resection in advanced ovarian cancer. Palsdottir K, Joneborg U, Hasselgren E, Johansson H, Salehi S. Acta oncologica. 2020:1-6.
Zach D, Kannisto P, Stenström Bohlin K, Moberg L, Kjölhede P. Can we extend the indication for sentinel node biopsy in vulvar cancer? A nationwide feasibility study from Sweden. Int J Gynecol Cancer Off J Int Gynecol Cancer Soc. 2020 Mar;30(3):402–5.
Intraperitoneal ropivacaine reduces time interval to initiation of chemotherapy after surgery for advanced ovarian cancer: randomised controlled double-blind pilot study.
Hayden JM, Oras J, Block L, Thörn SE, Palmqvist C, Salehi S, et al
Br J Anaesth 2020 05;124(5):562-570
Falconer H, Palsdottir K, Stalberg K, Dahm-Kähler P, Ottander U, Lundin ES, Wijk L, Kimmig R, Jensen PT, Zahl Eriksson AG, Mäenpää J, Persson J, Salehi S. Robot-assisted approach to cervical cancer (RACC): an international multi-center, open-label randomized controlled trial. Int J Gynecol Cancer 2019;29: 1072-1076
Group members