Hong Qian group – Leukemia niche
Our mission on research and education is to understand the role of mesenchymal niche in leukemia and tissue regeneration with the ultimate goal of identifying novel therapeutic strategies to improve treatment outcome in patients. The research group aims to build and nourish the niche for the team members to grow, while creating a supportive niche for our research projects.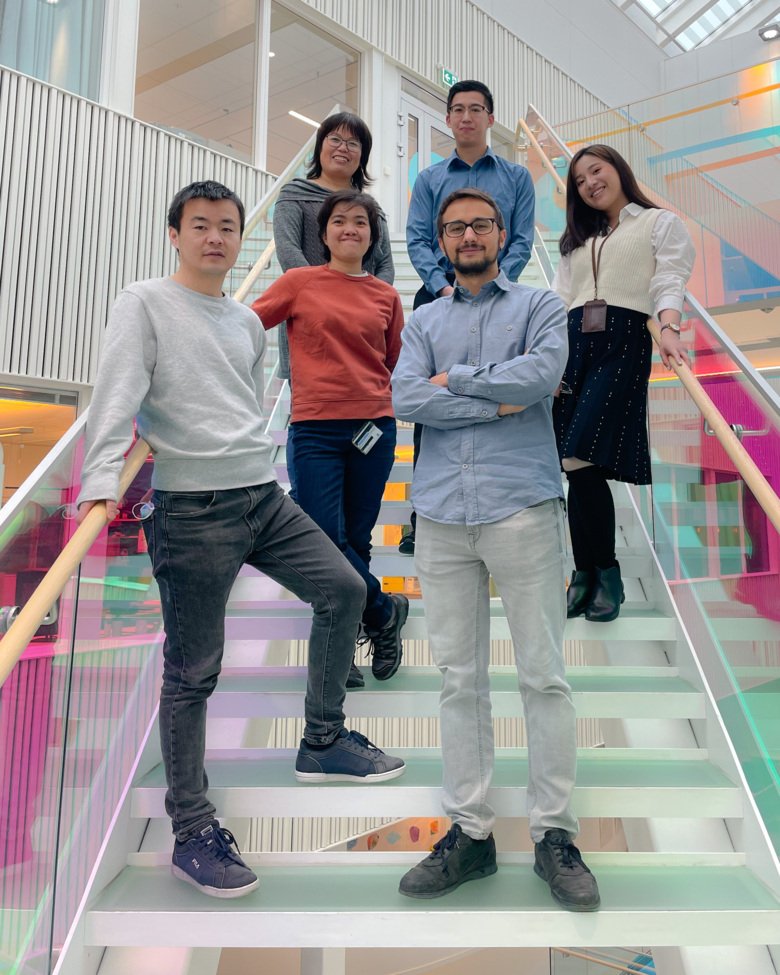 Hong Qian's research group in Neo. Photo: Amalia Kewenter
About our research
The main challenge for successful treatment of myeloid malignancies, particularly, acute myeloid leukemia (AML) has been drug resistance resulting in treatment failure, relapse and leukemia progression, which ultimately leads to death. Thus, there is a great need for more effective therapies. Recent studies have suggested that the drug resistance is attributed to the persistence of leukemia-initiating stem cells (LSCs). There is increasing evidence indicating that LSC persistence is due to the protection by bone marrow (BM) microenvironment, the so-called niche. Thus, targeting the BM niche may offer new therapeutic opportunities to improve the efficacy of current therapy for leukemia. However, so far, little is known about the critical molecular pathways mediating the niche interactions with LSCs and contributing to disease progression.
Current research focus
Our current research focus is on understanding BM niche contribution to the development of myeloid leukemia including chronic myeloid leukemia (CML) and AML and identify the key molecular pathways impacting the disease development and treatment outcome. We plan to achieve this by characterizing leukemia niche in patients and mice and functionally evaluate the impact of the dysregulated factors on the LSCs. The long-term goal is to identify the niche components that can serve as novel therapeutic targets and prognostic markers for myeloid leukemia.
Mesenchymal stem cells (MSCs) play an important role in maintaining HSC niche homeostasis and remodeling leukemia niche. Therefore, deciphering the role of the MSCs in leukemia development is one of our research priorities.
Hong Qian was recruited to Karolinska Institutet as an Assistant Professor in 2012 when she also started her research group.
She received a Ph.D. degree in Stem Cell Biology from Lund University in 2007. She did a postdoc at the Department of Clinical and Experimental Medicine (Department of Biomedical and Clinical Sciences (BKV) at Linköping University between 2008-2011.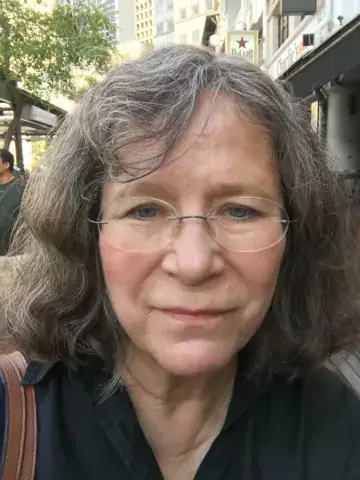 Marja Ekblom
MD, PhD, Professor Emerita in Hematology
Dr. Marja Ekblom is Professor Emerita in Hematology at the Department of Molecular Hematology, Lund University.
She has previously worked in Skåne University Hospital as a senior hematologist with a special focus of chronic myeloid leukemia. Her preclinical research focus has been mainly in molecular hematology, including cell-cell/matrix interactions, in normal and malignant hematopoiesis.
Huan Cai joined in Hong Qian's group in January 2020 as a postdoc after his PhD study at University of Copenhagen.
His current project focuses on understanding the role of bone marrow niche components, especially mesenchymal stem cells and extracellular matrix proteins like laminins, in the regulation of normal and malignant hematopoiesis.
Marcus Chang is a medical student at Karolinska Institutet. He currently works as a project student with a focus of risk niche factors for acute myeloid leukemia.
In his free time, Marcus likes to play table tennis and read books.
Elory Leonard recently obtained her master's degrees from Erasmus Mundus International Joint Master's Degree in Innovative Medicine at Ruprecht-Karls-Universität Heidelberg and Uppsala Universitet.
She has a keen interest and passion in molecular biology, drug discovery and development. Elory also has a broad experience of working on oncologic research, especially on hematologic malignancy: myelodysplastic syndrome and acute myeloid leukemia. She also has experience from other clinical research in the academic and pharmaceutical industry. 
Juan Pablo Medina joined Hong Qian's group in September 2021.
Juan Pablo received his BSc degree in Biotechnology at Francisco de Vitoria University in 2015 and completed a MSc degree in Biomedical Technologies at Carlos III University in Madrid, Spain. He earned his PhD in Molecular Biosciences in 2021, developing his work in the field of cellular therapy and inflammatory joint diseases at Fundación Jiménez Díaz Hospital, in Madrid.
Alma recently received her Master´s Degree in Medical Molecular Biology at Lund University, and did her Master Thesis project at Chalmers University of Technology.
Her project in the group mainly focuses on the role of the bone marrow microenvironment niche in chronic myeloid leukemia. She has a great interest in translational research.
Open positions
We always want to get in touch with talented potential co-workers. If you are interested in doing research within our group, as a degree project or as a researcher, please contact the group leader Hong Qian.
Previous group members
Pingnan Xiao, PhD student (2012-2017), currently Physician, first Affiliated Hospital of Zhejiang University, China.
Andranik Durguryan, Postdoc (2013-2014).
Eleni Gelali, Johannis Klang, Alexandre Piccini, Master students (2014-2015).
Monika Dolinska, PhD student (2014-2019).
Makoto Kondo, Postdoc (2014-2017), currently Assistant Professor at College of Pharmacy, Utah, USA.
Thibault Bouderlique, Postdoc (2015-2017).
Sanchari Choudhury, Yuchen Gao, Leah Hernandez-Muñoz, Moeen Ud-din, Master students (2019-2020).
Anne-Sofie Johansson, Senior Lab Manager at HERM.
Elory Leonard, Jingyi Shen, Master students (2020-2021).
Lakshmi Sandhow, PhD student (2015-2020), currently Postdoc at INSERM, France (2022).
Letian Yang, Summer student (2021), currently at KTH, Stockholm.
Oral presentations given at international conferences
Pingnan Xiao at the 56th ASH Annual meeting in San Francisco, USA (2014).
Monika Dolinska at the 17th John Goldman CML conference in Estoril, Portugal (2015).
Lakshmi Sandhow at ISSCR conference in Stockholm, Sweden (2015).
Monika Dolinska at the ESH MSC conference in Amsterdam (2017).
Makoto Kondo at the 58th ASH meeting in San Diego, USA (2016).
Lakshmi Sandhow at the ISSCR conference in Melbourne, Australia (2018).
Student and Postdoc Award
The 56th ASH abstract achievement award to Pingnan Xiao (2014).
The 58th ASH abstract achievement award to Makoto Kondo (2016).
The Incyte Award to Monika Dolinska (2018).
Travel award from International Stem Cell Research (ISSCR) to Lakshmi Sandhow (2018).
Student award from Mayo Clinic for the 8th Mayo Clinic Symposium on Tumor Microenvironment and Cancer Therapeutics in Jacksonville, Florifa, USA (2018).
The Incyte Award for hematological research to Huan Cai (2021)
Collaborations (major)
Sweden, Karolinska Institutet
Sweden, other 
Prof. Anders Blomqvist, Linköping University.
Prof. Marja Ekblom, Lund University.
Dr. Ulla Strömberg, Hematology Centrum, Uppsala University Hospital.
International
Nordic CML study group (NCMLSG).
Nordic society of pediatric hematology and oncology (NOPHO).
Prof. Nagahiro Minato, Kyoto University for MPN mouse model.
Prof. Satu Mustjoki, Hematology Centrum, Helsinki University Hospital, Finland.
Research support
Wallenberg Institutet for Regenerative Medicine (WIRM).
Karolinska Institutet Research foundation (KI fonder).
KI Funding for Doctoral Education (KID funding).
The Swedish Cancer Society (Cancerfonden).
The Swedish Research Council (Vetenskapsrådet).
The Swedish Childhood Cancer Society (Barncancerfonden).
Radiumhemmets Forskningsfonder (The Cancer Research Foundations of Radiumhemmet).
Felix Mindus bidrag till leukemiforskningen.
Dr. Åke Olsson Foundation for hematological research.
Stiftelsen Clas Groschinskys Minnesfond.
The Incyte Nordic Grant for Hematological Research.
The Knut and Alice Wallenberg Foundation (KAW), PI: Qiang Pan-Hammarström, Co-PI: Petter Brodin, Lennart Hammarström, Hong Qian.
The Blue Sky Research Grant for Innovative Cancer Research.
Publications
View all publications in Web of Science
1. Skin mesenchymal niches maintain and protect AML-initiating stem cells.
Sandhow L, Cai H, Leonard E, Xiao P, Tomaipitinca L, Månsson A, Kondo M, Sun X, Johansson AS, Tryggvason K, Kasper M, Järås M, Qian H
J Exp Med 2023 Oct;220(10):
2. Characterization of the bone marrow niche in patients with chronic myeloid leukemia identifies CXCL14 as a new therapeutic option.
Dolinska M, Cai H, Månsson A, Shen J, Xiao P, Bouderlique T, Li X, Leonard E, Chang M, Gao Y, Medina JP, Kondo M, Sandhow L, Johansson AS, Deneberg S, Söderlund S, Jädersten M, Ungerstedt J, Tobiasson M, Östman A, Mustjoki S, Stenke L, Le Blanc K, Hellström-Lindberg E, Lehmann S, Ekblom M, Olsson-Strömberg U, Sigvardsson M, Qian H
Blood 2023 Jul;142(1):73-89
3. Critical role of Lama4 for hematopoiesis regeneration and acute myeloid leukemia progression.
Cai H#, Kondo M#, Sandhow L, Xiao P, Johansson AS, Sasaki T, Zawacka-Pankau J, Tryggvason K, Ungerstedt J, Walfridsson J, Ekblom M, Qian H Blood. 2022 May 19;139(20):3040-3057. (# equal contribution)
doi: 10.1182/blood.2021011510. PMID: 34958665
4. Distinct roles of mesenchymal stem and progenitor cells during the development of acute myeloid leukemia in mice
Xiao P, Sandhow L, Heshmati Y, Kondo M, Bouderlique T, Dolinska M, Johansson AS, Sigvardsson M, Ekblom M, Walfridsson J, Qian H
Blood Adv 2018 06;2(12):1480-1494
5. Sipa1 deficiency-induced bone marrow niche alterations lead to the initiation of myeloproliferative neoplasm
Xiao P, Dolinska M, Sandhow L, Kondo M, Johansson AS, Bouderlique T, Zhao Y, Li X, Dimitriou M, Rassidakis GZ, Hellström-Lindberg E, Minato N, Walfridsson J, Scadden DT, Sigvardsson M, Qian H
Blood Adv 2018 03;2(5):534-548
6. Leukotriene signaling via ALOX5 and cysteinyl leukotriene receptor 1 is dispensable for in vitro growth of CD34+CD38- stem and progenitor cells in chronic myeloid leukemia
Dolinska M, Piccini A, Wong WM, Gelali E, Johansson AS, Klang J, Xiao P, Yektaei-Karin E, Strömberg UO, Mustjoki S, Stenke L, Ekblom M, Qian H
Biochem Biophys Res Commun 2017 08;490(2):378-384
7. Single-cell transcriptomics uncovers distinct molecular signatures of stem cells in chronic myeloid leukemia
Giustacchini A, Thongjuea S, Barkas N, Woll PS, Povinelli BJ, Booth CAG, Sopp P, Norfo R, Rodriguez-Meira A, Ashley N, Jamieson L, Vyas P, Anderson K, Segerstolpe Å, Qian H, Olsson-Strömberg U, Mustjoki S, Sandberg R, Jacobsen SEW, Mead AJ
Nat Med 2017 Jun;23(6):692-702
8. A novel Lin-CD34+CD38- integrin α2- bipotential megakaryocyte-erythrocyte progenitor population in the human bone marrow
Wong WM, Dolinska M, Sigvardsson M, Ekblom M, Qian H
Leukemia 2016 06;30(6):1399-402
9. Molecular characterization of prospectively isolated multipotent mesenchymal progenitors provides new insight into the cellular identity of mesenchymal stem cells in mouse bone marrow
Qian H, Badaloni A, Chiara F, Stjernberg J, Polisetti N, Nihlberg K, Consalez GG, Sigvardsson M
Mol Cell Biol 2013 Feb;33(4):661-77
10. Primary mesenchymal stem and progenitor cells from bone marrow lack expression of CD44 protein
Qian H, Le Blanc K, Sigvardsson M
J Biol Chem 2012 Jul;287(31):25795-807
The group has revealed the previously unrecognized roles of skin mesenchymal niches in maintaining and protecting acute myeloid leukemia (AML) stem cells under steady state and during chemotherap. For the first time, the group has shown that the AML cells hidden in the skin tissue are highly enriched with leukemia-initiating stem cells even post-chemotherapy.
The Journal of experimental medicine 2023 220;10.