Jonas Bergh's Group
The research aims to identify strategies for optimal treatment selection for breast cancer patients, based on risk profiles and treatment predictive markers. The projects described are all examples of "Team science" with several of the participating researchers being responsible for different parts, in close collaboration with different members of the group.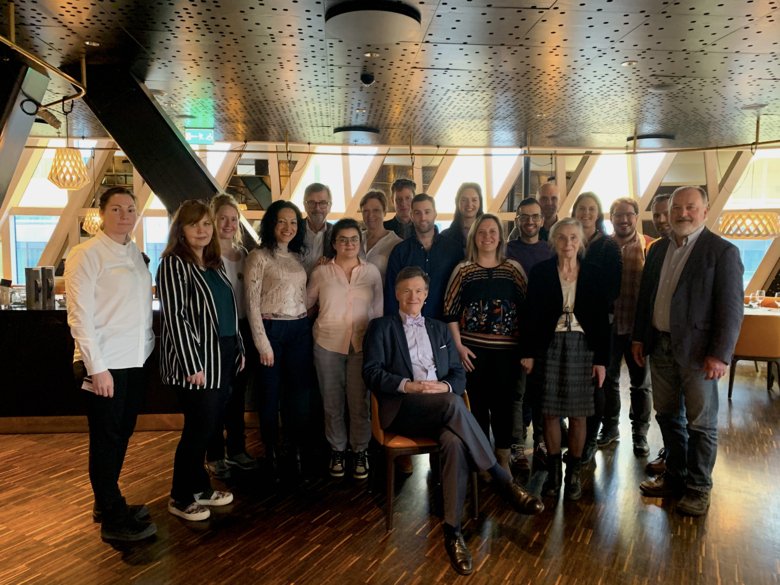 Background
Breast cancer is globally the most common malignancy in women, with about 2.3 million breast cancer diagnoses per year. In Sweden, 10,043 breast cancer diagnoses were reported in women in 2020 and 1,385 women died of breast cancer the same year. Decreasing breast cancer mortality has been recorded in many countries, probably due to the use of various systemic preoperative (neoadjuvant) / adjuvant therapies and partly due to early detection by mammography screening. A key question is why early breast cancer treated in the adjuvant or neoadjuvant situation is increasingly curable, while metastatic breast cancer is rarely cured with current diagnostic and therapeutic agents. Neoadjuvant treatment is now routinely used for Her-2 positive and triple-negative breast cancer; the great advantage is that the treatment can be modified in case of lack of treatment response, this is "never" possible with postoperative (adjuvant) treatment. It is of great importance to understand how the mechanisms of resistance in the macrometastatic environment differ from those in the micrometastatic environment.
Methods
The research includes clinical / translational breast cancer studies with combinations of conventional cancer drugs, targeted drugs and immune-related treatment as well as population-based materials, aiming at better treatment and dosing strategies. The research team performs studies of sequencing and gene signature data, protein data (immunohistochemistry) and the immune microenvironment in primary tumours (ideally with analysis of multiple biopsies over time / during neoadjuvant treatment) to identify and evaluate prognostic and treatment predictive factors. The factors are also studied during tumour progression and in corresponding metastases when tumour material is available for analysis, to investigate changes in the biology of the tumours.
Current projects
Translational analyses of biopsy material and blood from the completed randomised PANTHER study are ongoing. These include analyses of immunogenomic factors and other biomarkers correlated with clinical parameters. Genotyping data are related to the given dose level, type of toxicity and degree versus outcome, as well as reported quality of life.
Corresponding translational analyses are performed in the neoadjuvant studies EORTC10994 / BIG1–00, PROMIX, PREDIX HER2.
Further studies are ongoing and planned in population-based materials as well as registry-based breast cancer data, covering both early and metastatic breast cancer.
Overall, the research aims to design individual-based concepts – precision medicine, to prevent recurrence of breast cancer, and to preserve or improve the patients' quality of life and overall survival.
Research teams
RESEARCH TEAM KENNY RODRIGUEZ-WALLBERG
Infertility as sequela of cancer treatment has a recognized negative impact in quality of survival and performance of procedures aimed at fertility preservation are increasing in the population of young patients with cancer. My clinical research projects aim to evaluate and increase the safety and efficacy of fertility preservation and to find predictors of success for treatments using assisted reproductive technologies. My experimental research is conducted at our Laboratory of Translational Fertility Preservation at KI and Cancer Center Karolinska and it is oriented to the investigation of gonadal damage due to cancer treatment and ovarian transplantation.
Research focus:
Exploring the use of image-based artificial intelligence in precision screening and treatment optimization for breast cancer
Group members
Jonas Bergh, Professor, Group Leader
Susanne Agartz, Lab Engineer
Renske Altena, MD, PhD, Postdoc
Caroline Boman, MD, PhD student
Aafke Duinmeijer, MD, PhD student
Helen Eriksson, Personal Administrator
Louise Eriksson-Bergman, MD, PhD
Theodoros Foukakis, MD, PhD, Associate Professor, Senior Lecturer
Johanna Furuhjelm, PhD, Research Coordinator Cancer Research KI
Francesco Gatto, PhD
Anna-Maria Georgoudaki, PhD
Thomas Hatschek, MD, PhD, Associate Professor
Elham Hedayati, MD, PhD, Associate Professor
Dagmara Kaczynska, PhD Research administrator Cancer Research KI
Luisa Kessler, MD, PhD student
Una Kjällquist, MD, PhD
Johanna Klinge, PhD, Research Engineer
Maria Kouvaraki, MD, PhD
Elisabet Lidbrink, MD, PhD
Annelie Liljegren, MD, PhD, Associate Professor
John Lövrot, PhD, Bioinformatician
Georgios Manikis, PhD
Alexios Matikas, MD, PhD, Associate Professor
Antroula Papakonstantinou, MD, PhD, Postdoc
Kenny Rodriguez-Wallberg, MD, PhD, Adjunct Professor
Per Rydberg, PhD, Research Specialist   
Dimitrios Salgkamis, PhD student
Emmanouil Sifakis, PhD, Bioinformatician
Fredrik Strand, MD, PhD, Associate Professor
Jacob Thurell MD, PhD student
Maria Angeliki Toli MD, Research Assistant
Nikolaos Tsiknakis, PhD student
Evangelos Tzoras, PhD student
Birgitta Wallberg, MD, PhD
Kang Wang, MD, PhD student
Nils Wilking, MD, PhD, Associate Professor
Ulla Wilking, PhD
Hanjing Xie, MD, PhD, Associate Professor
Ioannis Zerdes, MD, PhD, Postdoc
Yajing Zhu, PhD student
Selected publications
Aromatase inhibitors versus tamoxifen in premenopausal women with oestrogen receptor-positive early-stage breast cancer treated with ovarian suppression: a patient-level meta-analysis of 7030 women from four randomised trials.
Early Breast Cancer Trialists' Collaborative Group (EBCTCG; Jonas Bergh member of Steering Committee & co-Chairman for EBCTCG & writing committee).
Lancet Oncol. 2022 Mar;23(3):382-392.
The value of anticancer drugs - a regulatory view.
Pignatti F, Wilking U, Postmus D, Wilking N, Delgado J, Bergh J
Nat Rev Clin Oncol 2022 03;19(3):207-215
Event-free Survival with Pembrolizumab in Early Triple-Negative Breast Cancer.
Schmid P, Cortes J, Dent R, Pusztai L, McArthur H, Kümmel S, Bergh J, Denkert C, Park YH, Hui R, Harbeck N, Takahashi M, Untch M, Fasching PA, Cardoso F, Andersen J, Patt D, Danso M, Ferreira M, Mouret-Reynier MA, Im SA, Ahn JH, Gion M, Baron-Hay S, Boileau JF, Ding Y, Tryfonidis K, Aktan G, Karantza V, O'Shaughnessy J,
N Engl J Med 2022 02;386(6):556-567
Interplay between copy number alterations and immune profiles in the early breast cancer Scandinavian Breast Group 2004-1 randomized phase II trial: results from a feasibility study.
Zerdes I, Simonetti M, Matikas A, Harbers L, Acs B, Boyaci C, Zhang N, Salgkamis D, Agartz S, Moreno-Ruiz P, Bai Y, Rimm DL, Hartman J, Mezheyeuski A, Bergh J, Crosetto N, Foukakis T
NPJ Breast Cancer 2021 Nov;7(1):144
Neoadjuvant Trastuzumab, Pertuzumab, and Docetaxel vs Trastuzumab Emtansine in Patients With ERBB2-Positive Breast Cancer: A Phase 2 Randomized Clinical Trial.
Hatschek T, Foukakis T, Bjöhle J, Lekberg T, Fredholm H, Elinder E, Bosch A, Pekar G, Lindman H, Schiza A, Einbeigi Z, Adra J, Andersson A, Carlsson L, Dreifaldt AC, Isaksson-Friman E, Agartz S, Azavedo E, Grybäck P, Hellström M, Johansson H, Maes C, Zerdes I, Hartman J, Brandberg Y, Bergh J
JAMA Oncol 2021 09;7(9):1360-1367
Trastuzumab for early-stage, HER2-positive breast cancer: a meta-analysis of 13 864 women in seven randomised trials.
Early Breast Cancer Trialists' Collaborative group (EBCTCG; Jonas Bergh member of Steering Committee & co-Chairman for EBCTCG & writing committee).
Lancet Oncol. 2021 Aug;22(8):1139-1150
Caring for patients with cancer in the COVID-19 era.
van de Haar J, Hoes LR, Coles CE, Seamon K, Fröhling S, Jäger D, Valenza F, de Braud F, De Petris L, Bergh J, Ernberg I, Besse B, Barlesi F, Garralda E, Piris-Giménez A, Baumann M, Apolone G, Soria JC, Tabernero J, Caldas C, Voest EE
Nat Med 2020 05;26(5):665-671
Pembrolizumab for Early Triple-Negative Breast Cancer.
Schmid P, Cortes J, Pusztai L, McArthur H, Kümmel S, Bergh J, Denkert C, Park YH, Hui R, Harbeck N, Takahashi M, Foukakis T, Fasching PA, Cardoso F, Untch M, Jia L, Karantza V, Zhao J, Aktan G, Dent R, O'Shaughnessy J,
N Engl J Med 2020 02;382(9):810-821
Avoiding over- and undertreatment in patients with resected node-positive breast cancer with the use of gene expression signatures: are we there yet?
Matikas A, Foukakis T, Swain S, Bergh J
Ann Oncol 2019 07;30(7):1044-1050
Increasing the dose intensity of chemotherapy by more frequent administration or sequential scheduling: a patient-level meta-analysis of 37 298 women with early breast cancer in 26 randomised trials.
Early Breast Cancer Trialists' Collaborative Group (EBCTCG; Jonas Bergh member of Steering Committee & co-Chairman for EBCTCG & writing committee).
Lancet. 2019 Apr 6;393(10179):1440-1452
Dose tailoring of adjuvant chemotherapy for breast cancer based on hematologic toxicities: further results from the prospective PANTHER study with focus on obese patients.
Matikas A, Foukakis T, Moebus V, Greil R, Bengtsson NO, Steger GG, Untch M, Johansson H, Hellström M, Malmström P, Gnant M, Loibl S, Bergh J
Ann Oncol 2019 01;30(1):109-114
Chemoresistance Evolution in Triple-Negative Breast Cancer Delineated by Single-Cell Sequencing.
Kim C, Gao R, Sei E, Brandt R, Hartman J, Hatschek T, Crosetto N, Foukakis T, Navin NE
Cell 2018 05;173(4):879-893.e13
Evolutionary history of metastatic breast cancer reveals minimal seeding from axillary lymph nodes.
Ullah I, Karthik GM, Alkodsi A, Kjällquist U, Stålhammar G, Lövrot J, Martinez NF, Lagergren J, Hautaniemi S, Hartman J, Bergh J
J Clin Invest 2018 04;128(4):1355-1370
20-Year Risks of Breast-Cancer Recurrence after Stopping Endocrine Therapy at 5 Years.
Pan H, Gray R, Braybrooke J, Davies C, Taylor C, McGale P, Peto R, Pritchard KI, Bergh J, Dowsett M, Hayes DF; Early Breast Cancer Trialists' Collaborative Group (EBCTCG; Jonas Bergh member of Steering Committee & co-Chairman for EBCTCG & writing committee).
N. Engl. J. Med. 2017 11;377(19):1836-1846
An HIF-1α/VEGF-A Axis in Cytotoxic T Cells Regulates Tumor Progression.
Palazon A, Tyrakis PA, Macias D, Veliça P, Rundqvist H, Fitzpatrick S, Vojnovic N, Phan AT, Loman N, Hedenfalk I, Hatschek T, Lövrot J, Foukakis T, Goldrath AW, Bergh J, Johnson RS
Cancer Cell 2017 11;32(5):669-683.e5
Effect of Tailored Dose-Dense Chemotherapy vs Standard 3-Weekly Adjuvant Chemotherapy on Recurrence-Free Survival Among Women With High-Risk Early Breast Cancer: A Randomized Clinical Trial.
Foukakis T, von Minckwitz G, Bengtsson NO, Brandberg Y, Wallberg B, Fornander T, Mlineritsch B, Schmatloch S, Singer CF, Steger G, Egle D, Karlsson E, Carlsson L, Loibl S, Untch M, Hellström M, Johansson H, Anderson H, Malmström P, Gnant M, Greil R, Möbus V, Bergh J,
JAMA 2016 11;316(18):1888-1896
Clinically used breast cancer markers such as estrogen receptor, progesterone receptor, and human epidermal growth factor receptor 2 are unstable throughout tumor progression.
Lindström LS, Karlsson E, Wilking UM, Johansson U, Hartman J, Lidbrink EK, Hatschek T, Skoog L, Bergh J
J Clin Oncol 2012 Jul;30(21):2601-8
Comparisons between different polychemotherapy regimens for early breast cancer: meta-analyses of long-term outcome among 100,000 women in 123 randomised trials.
Early Breast Cancer Trialists' Collaborative Group (EBCTCG; Jonas Bergh member of Steering Committee & writing committee).
Lancet. 2012 Feb;379(9814):432-44
TP53 status for prediction of sensitivity to taxane versus non-taxane neoadjuvant chemotherapy in breast cancer (EORTC 10994/BIG 1-00): a randomised phase 3 trial.
Bonnefoi H, Piccart M, Bogaerts J, Mauriac L, Fumoleau P, Brain E, Petit T, Rouanet P, Jassem J, Blot E, Zaman K, Cufer T, Lortholary A, Lidbrink E, André S, Litière S, Lago LD, Becette V, Cameron DA, Bergh J, Iggo R,
Lancet Oncol 2011 Jun;12(6):527-39