Multiple Sclerosis
Development of and effects of a highly challenging balance training program (HiBalance) specific to multiple sclerosis – a randomized controlled study
Method development
We have tested the psychometric properties of the primary measurement methods that we use in the project. Further, we have in the movement laboratory at Karolinska Institutet (uMOVE) conducted studies of cognitive motor interference – i.e., testing of dual task performance of two motor tasks (walking and standing) and a cognitive task. This has been accomplished with the temporal and spatial parameters measured with the APDM Mobility Lab system. This system measures postural sway with and walking with accelerometer technology. For the cognitive testing we have used the auditory Stroop task, a test which has been suggested for the assessment of cognitive motor interference in people with multiple sclerosis (MS).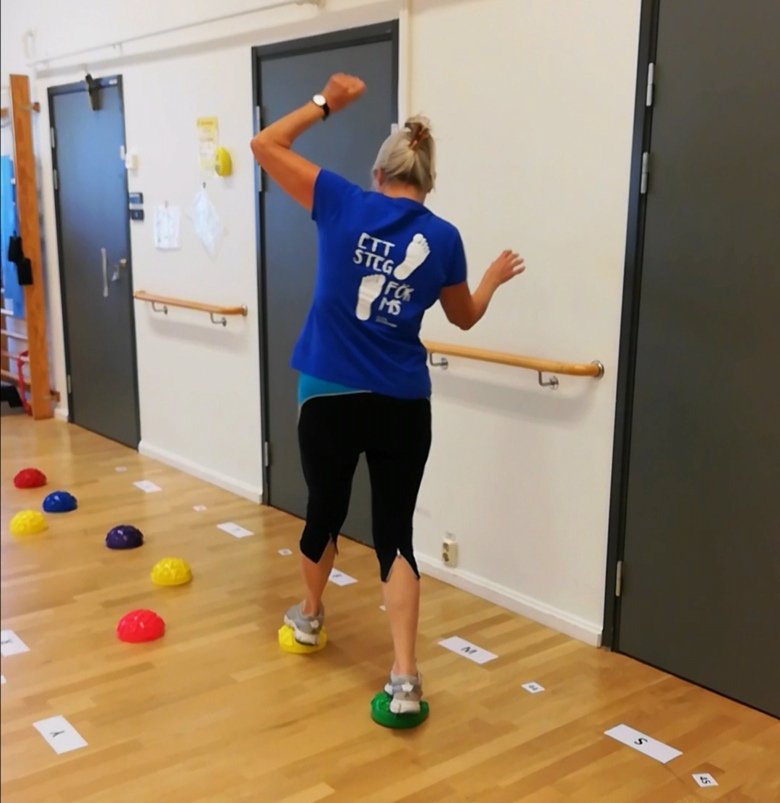 Study participator, HiBalance program. Photo: Andreas Wallin.
Efficacy
The balance training intervention developed for people with MS is based on a highly challenging balance intervention delivered as a group training (the HiBalance program), previously developed and tested in people with Parkinson´s disease. In the development process we first performed qualitative research in people with MS on the experiences of living with limited balance. To adapt the program to MS, we then employed a series of workshops. with participation of different stakeholders. We have recently performed a feasibility trial of the developed intervention. A full-scale randomized controlled trial is planned to be performed during in the coming year.