Research group - Volkan Özenci
Volkan's group focuses on improving laboratory diagnostics, and understanding infectious disease epidemiology.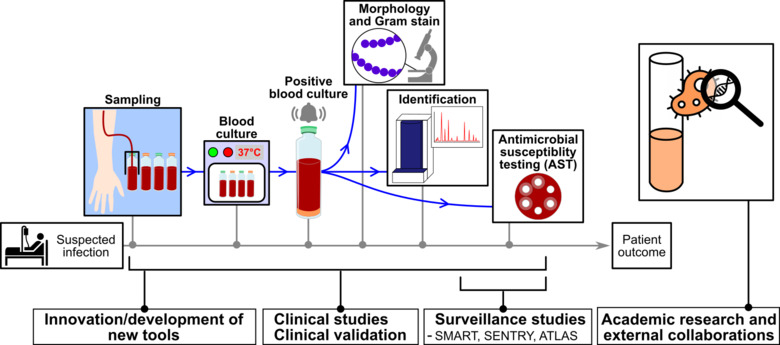 Overview of Volkan Özenci group research projects in the context of clinical microbiology diagnosis. Photo: Alicia Wong
Despite advances in medical science, infectious diseases remain one of the leading causes of morbidity and mortality worldwide. In the light of rapidly evolving pathogens, there is an urgent need for efficient infectious disease diagnosis.
Our lab employs a unique multidisciplinary approach in our research.
Our research spans the following areas:
Development, evaluation, and implementation of unique methods in clinical microbiology.
Clinical mycology.
Innovations in clinical diagnostics.
Innovations to promote an environmentally friendly laboratory.
Research on Artificial Intelligence in clinical microbiology and clinical mycology.
We endeavor to improve the current state of clinical microbiology through the evaluation of analytical and clinical performance of new microbiological diagnostic methods, and development of clinical microbiology methods for rapid detection, identification, and antibiotic susceptibility testing of clinically relevant microorganisms. We also study the epidemiology of severe infectious diseases, as well as bacteria-fungi interactions as we believe that increased understanding of these areas is instrumental in driving improvements to the infection diagnostics landscape.
H5 Department of Laboratory Medicine
Group members
Core research group
H5 Department of Laboratory Medicine
Affiliated to research group
H5 Department of Laboratory Medicine
H9 Department of Clinical Science, Intervention and Technology
External funding
Vinnova Medtech4Health: Stöd till innovatörer I vård och omsorg (2019-2022)
SSF Agenda 2030 Research Centers (ARC) (2020-2025)
Vinnova Medtech4Health: Medicintekniska samverkansprojekt (2018-2020)
JPI-EC-AMR, Joint Translational (2019-2022)
VR, Medicine and Health (2021-2023)
KTH-SLL (2016)
Teaching assignments
Course director:
"Clinical Microbiology" course for medical students.
"Applied clinical microbiology in invasive infectious diseases" elective course for medical students.
Teaching:
Undergraduate/ graduate:  medial students, dental students, nursing students, biomedical analysts students.
Clinical supervision of interns/residents: medical doctors, microbiologists, biomedical laboratory scientists.
Graduated postgraduate students:
Mohammed Almuhayawi (PhD, 2018)
Osman Altun (PhD, 2020)
Co-supervised postgraduate students:
Salah Zangenah (PhD, 2016)
Hassan Mohammed Alkharaan (PhD, 2021)
Khaled Almanei (PhD, ongoing)
Selected publications
Secondary bacterial infections and antimicrobial resistance in COVID-19: comparative evaluation of pre-pandemic and pandemic-era, a retrospective single center study.
Karataş M, Yaşar-Duman M, Tünger A, Çilli F, Aydemir Ş, Özenci V
Ann Clin Microbiol Antimicrob 2021 Aug;20(1):51
A biliary immune landscape map of primary sclerosing cholangitis reveals a dominant network of neutrophils and tissue-resident T cells.
Zimmer CL, von Seth E, Buggert M, Strauss O, Hertwig L, Nguyen S, Wong AYW, Zotter C, Berglin L, Michaëlsson J, Hansson MR, Arnelo U, Sparrelid E, Ellis ECS, Söderholm JD, Keita ÅV, Holm K, Özenci V, Hov JR, Mold JE, Cornillet M, Ponzetta A, Bergquist A, Björkström NK
Sci Transl Med 2021 06;13(599):
Comparison of Four Streptococcus pneumoniae Urinary Antigen Tests Using Automated Readers.
Wong AYW, Johnsson ATA, Ininbergs K, Athlin S, Özenci V
Microorganisms 2021 Apr;9(4):
Evaluation of Four Lateral Flow Assays for the Detection of Legionella Urinary Antigen.
Wong AYW, Johnsson ATA, Iversen A, Athlin S, Özenci V
Microorganisms 2021 Feb;9(3):
Identification of microorganisms directly from blood culture bottles with polymicrobial growth: comparison of FilmArray and direct MALDI-TOF MS.
Almuhayawi MS, Wong AYW, Kynning M, Lüthje P, Ullberg M, Özenci V
APMIS 2021 Apr;129(4):178-185
Low prevalence of bloodstream infection and high blood culture contamination rates in patients with COVID-19.
Yu D, Ininbergs K, Hedman K, Giske CG, Strålin K, Özenci V
PLoS One 2020 ;15(11):e0242533
The impact of delayed analysis of positive blood cultures on the performance of short-term culture followed by MALDI-TOF MS.
Johnsson ATA, Wong AYW, Özenci V
J Microbiol Methods 2020 10;177():106027