Spider silk biology for biomedical applications - Anna Rising
Our research is mainly focused on using spider silk technology for various medical applications.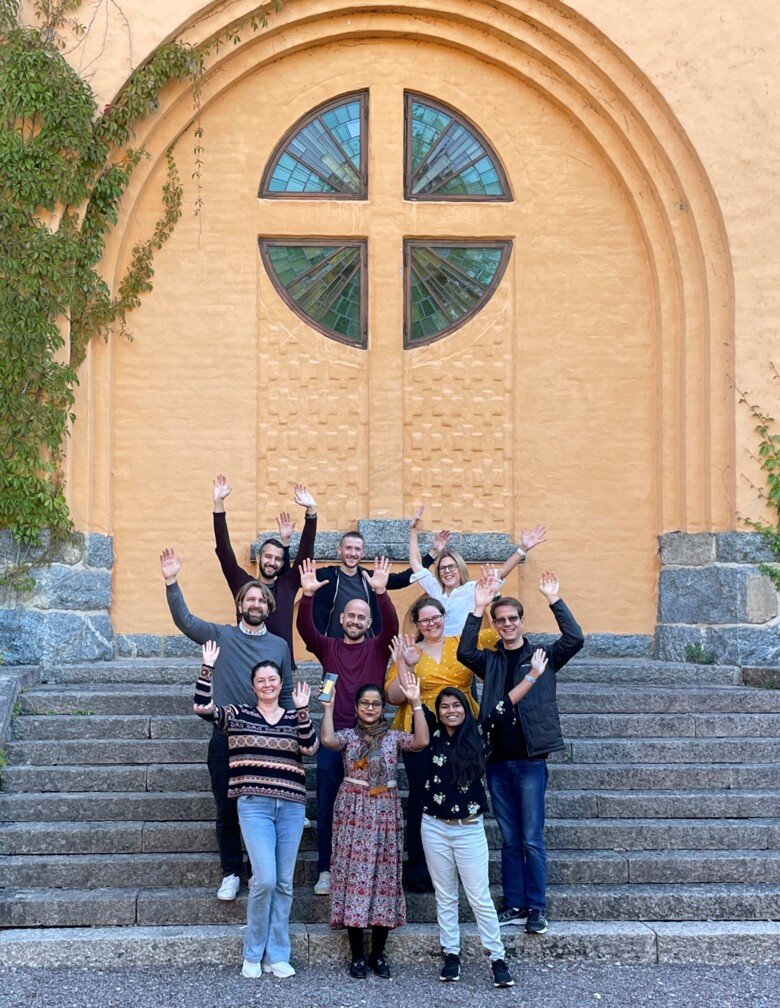 Anna Rising's group. In the picture: Benjamin Schmuck, Frederic Riviere, Anna Rising, Johan Reimegård, Gabriele Greco, Viktoria Langwallner, Tomas Bohn Pessatti, Olga Shilkova, Urmimala Chatterjee and Sumalata Sonavane.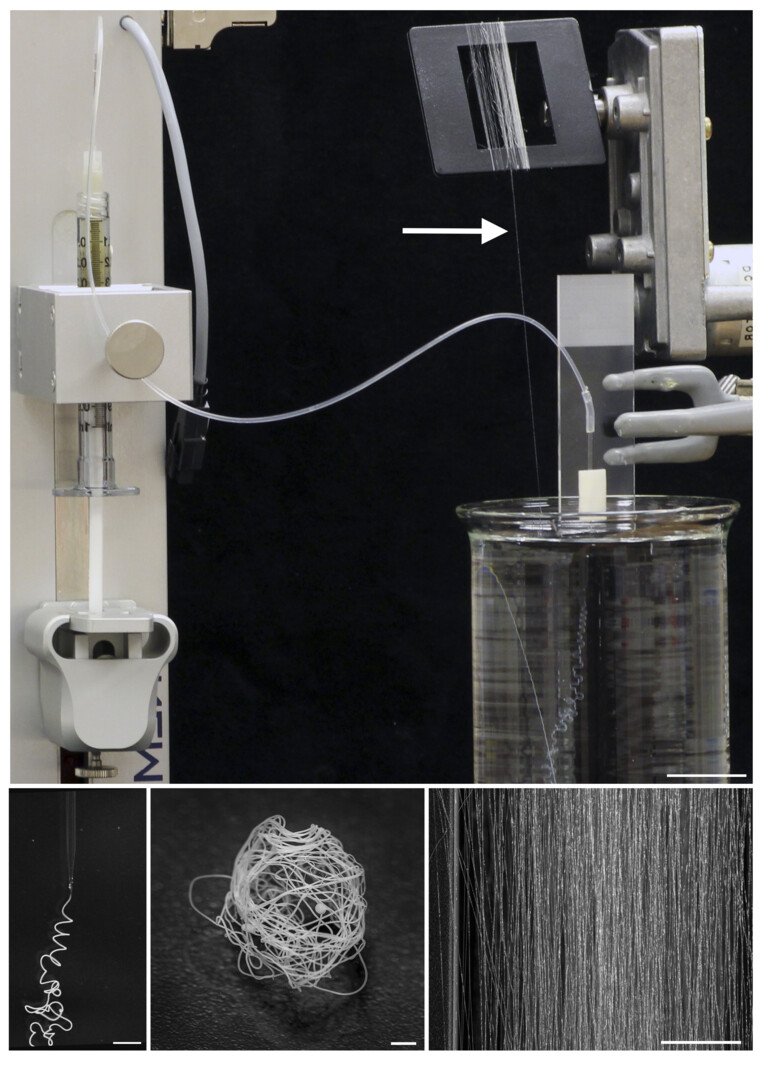 We use spider silk technology for biomedical applications. One line of our research concerns making artificial spider silk fibers and hydrogels for use in regenerative medicine. We have successfully cultured a large number of different human stem cells on our scaffolds and shown that the cells van be differentiated in the three-dimensional environment of the spider silk scaffold.
Another line of research is focused on the development of large-scale production methods for making artificial silk fibers for the fiber industry. The silk fibers we produce are sustainable and can be spun without the use of harsh solvents and high temperatures, unlike widely used petroleum-based fibers.
A third line of research concerns the use of a spider silk protein domain for efficient production of proteins and peptides. This technology can be used to produce valuable proteins but also to immobilize these in the hydrogels or fibers – thereby making bioactive materials.  
Our lab is located at Karolinska Institutet and at the Swedish University of Agricultural Sciences (SLU).
The videos above are from Andersson, Jia et al., Nat Chem Biol. 2017.
The video above is from Schmuck et al. Materials Today. 2021.
Some of our research problems
Will we be able to mimic the mechanical properties in natural spider silk fibers, in artificially made spider silk fibers? 
Will we be able to replace damaged tissues and organs by using artificially produced spider silk as implants?
Will we be able to produce valuable and aggregation prone proteins with low solubility by using Nature's own solubility increasing domain (NT)?
Group members
Part of the group that works outside of KI:
Sumalata Sonavane, PhD student, SLU
Viktoria Langwallner, PhD student, SLU
Gabriele Greco, Postdoc, SLU
Tomas Bohn Pessatti, Postdoc, SLU
Johan Reimegård, consultant, NBIS, SciLife Lab
Seminars and Lectures: Science Today – sustainable and innovative materials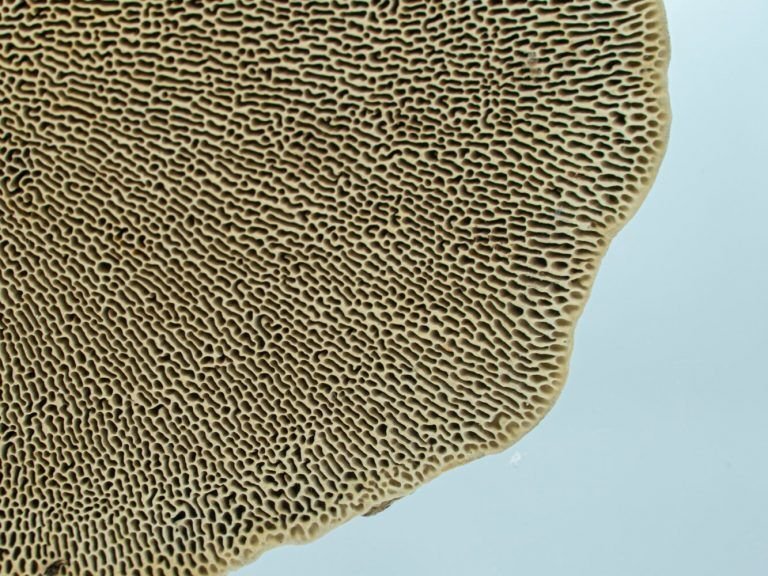 Event 24 November
Seminars and Lectures: Science Today – sustainable and innovative materials
Which innovative materials can improve our environment today? How are functional materials becoming more intelligent and what does the potential to reduce emissions look like? We will explore the future of new materials during the 6th edition of Science Today – Sustainable and innovative materials.
Science Today invites you to an AW where PhD students and postdocs from Karolinska Institute (KI), KTH Royal Institute of Technology (KTH) and Stockholm University (SU) present their research on stage. 
Viktoria Langwallner, SLU/KI
PhD student – Spider silk biology for biomedical applications
Find out more and purchase tickets.
Selected publications
Biological Materials Processing: Time-Tested Tricks for Sustainable Fiber Fabrication.
Rising A, Harrington MJ
Chem Rev 2023 Mar;123(5):2155-2199
Spidroin N-terminal domain forms amyloid-like fibril based hydrogels and provides a protein immobilization platform.
Arndt T, Jaudzems K, Shilkova O, Francis J, Johansson M, Laity PR, Sahin C, Chatterjee U, Kronqvist N, Barajas-Ledesma E, Kumar R, Chen G, Strömberg R, Abelein A, Langton M, Landreh M, Barth A, Holland C, Johansson J, Rising A
Nat Commun 2022 Aug;13(1):4695
Engineered Spider Silk Proteins for Biomimetic Spinning of Fibers with Toughness Equal to Dragline Silks.
Arndt T, Greco G, Schmuck B, Bunz J, Shilkova O, Francis J, Pugno NM, Jaudzems K, Barth A, Johansson J, Rising A
Adv Funct Mater 2022 Jun;32(23):2200986
High yield production of a super-soluble miniature spidroin for biomimetic high-performance materials.
Schmuck B, Greco G, Barth A, Pugno NM, Johansson J. Rising A.
Materials Today. 2021. Nov, 50:16-23.
Tyrosine residues mediate supercontration in biomimetic spider silk
Greco G, Arndt T, Schmuck B, Francis J, Bäcklund FG, Shilkova O, Barth A, Gonska N, Seisenbaeva G, Kessler V, Johansson J, Pugno N, Rising A
Commun Mater 2, 43 (2021). https://doi.org/10.1038/s43246-021-00147-w
Doing What Spiders Cannot-A Road Map to Supreme Artificial Silk Fibers.
Johansson J, Rising A
ACS Nano 2021 02;15(2):1952-1959
Native-like Flow Properties of an Artificial Spider Silk Dope.
Arndt T, Laity PR, Johansson J, Holland C, Rising A
ACS Biomater Sci Eng 2021 02;7(2):462-471
High-yield Production of Amyloid-β Peptide Enabled by a Customized Spider Silk Domain.
Abelein A, Chen G, Kitoka K, Aleksis R, Oleskovs F, Sarr M, et al
Sci Rep 2020 01;10(1):235
Structure-Function Relationship of Artificial Spider Silk Fibers Produced by Straining Flow Spinning.
Gonska N, López PA, Lozano-Picazo P, Thorpe M, Guinea GV, Johansson J, Barth A, Pérez-Rigueiro J, Rising A
Biomacromolecules 2020 06;21(6):2116-2124
Synthetic surfactant with a recombinant surfactant protein C analogue improves lung function and attenuates inflammation in a model of acute respiratory distress syndrome in adult rabbits.
Zebialowicz Ahlström J, Massaro F, Mikolka P, Feinstein R, Perchiazzi G, Basabe-Burgos O, et al
Respir Res 2019 Nov;20(1):245
Efficient protein production inspired by how spiders make silk.
Kronqvist N, Sarr M, Lindqvist A, Nordling K, Otikovs M, Venturi L, et al
Nat Commun 2017 05;8():15504
Degree of Biomimicry of Artificial Spider Silk Spinning Assessed by NMR Spectroscopy.
Otikovs M, Andersson M, Jia Q, Nordling K, Meng Q, Andreas LB, et al
Angew Chem Int Ed Engl 2017 10;56(41):12571-12575
Biomimetic spinning of artificial spider silk from a chimeric minispidroin.
Andersson M, Jia Q, Abella A, Lee XY, Landreh M, Purhonen P, et al
Nat Chem Biol 2017 03;13(3):262-264
Toward spinning artificial spider silk.
Rising A, Johansson J
Nat Chem Biol 2015 May;11(5):309-15
Spider silk for xeno-free long-term self-renewal and differentiation of human pluripotent stem cells.
Wu S, Johansson J, Damdimopoulou P, Shahsavani M, Falk A, Hovatta O, et al
Biomaterials 2014 Oct;35(30):8496-502
Carbonic anhydrase generates CO2 and H+ that drive spider silk formation via opposite effects on the terminal domains.
Andersson M, Chen G, Otikovs M, Landreh M, Nordling K, Kronqvist N, et al
PLoS Biol 2014 Aug;12(8):e1001921
Controlled assembly: a prerequisite for the use of recombinant spider silk in regenerative medicine?
Rising A
Acta Biomater 2014 Apr;10(4):1627-31
Recombinant spider silk matrices for neural stem cell cultures.
Lewicka M, Hermanson O, Rising AU
Biomaterials 2012 Nov;33(31):7712-7
Complete list of publications