Hildur Helgadottir's Group
Our research is focused on malignant melanoma. We study melanoma incidence, biology, genetics and different aspects related to prevention and treatment of the disease.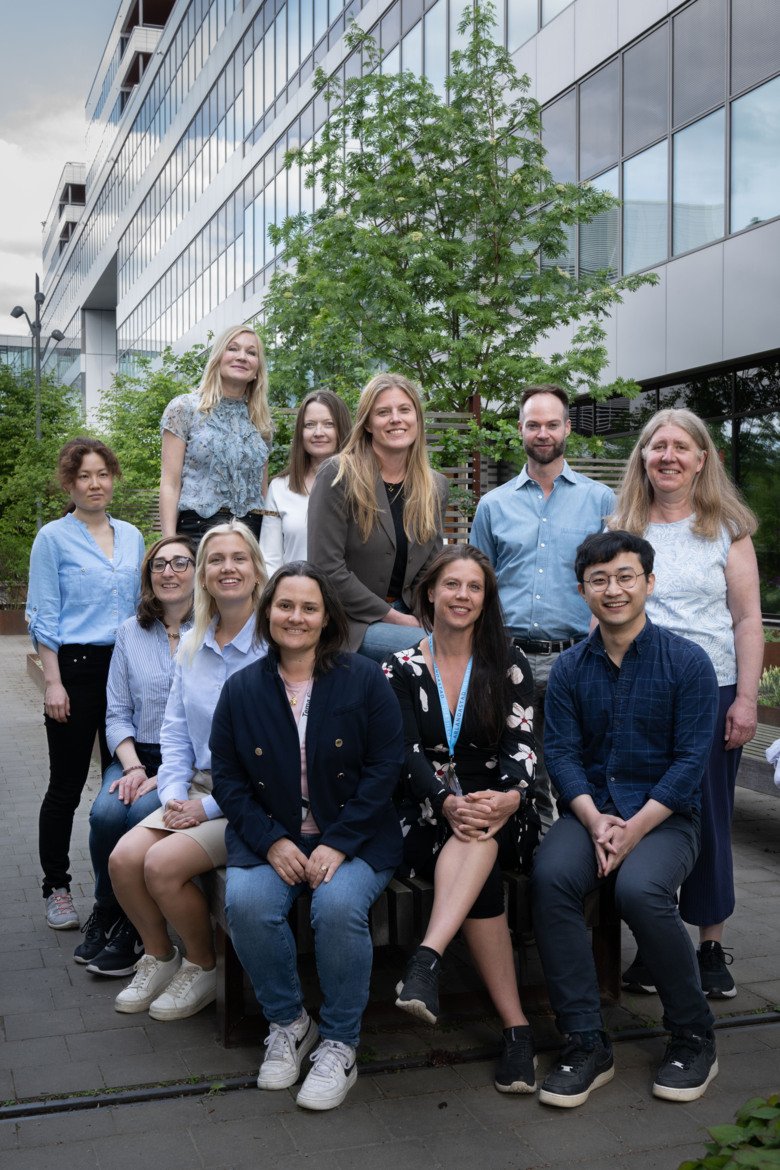 Hildur Helgadottir's research group
Group members
Hildur Helgadottir, MD, PhD, Group leader
Cissi Liu, MD, PhD student
Ellen Backlund, MD, PhD student
Fernanda Costa Svedman, MD, PhD
Francesca Portelli, MD, PhD student
Johan Falkenius, MD, PhD
Karin Kjulin, research coordinator
Karina Schultz, MD, PhD student
Muyi Yang, MD, PhD
Suzanne Egyhazi Brage, PhD, Senior research specialist, Team leader
Veronica Höiom, PhD, Senior research specialist
Our projects:
1. Epidemiological studies in which health and population registers are used to map factors linked to melanoma.
2. Preventive studies to identify high-risk individuals, such as those with genetic predisposition, and to identify unknown genetic factors associated with melanoma.
3. We are studying melanoma in younger individuals to better understand factors that are related to early onset and treatment of melanoma in young patients (MELCAYA-project). https://cordis.europa.eu/project/id/101096667
4. A phase II study in which we investigate whether the effect of immunotherapy can be improved by adding precision radiation to the metastases (the PROMMEL study). https://clinicaltrials.gov/ct2/show/NCT04793737
5. Studies to identify molecular factors that may predict treatment effect in patients with metastatic melanoma (BioMelanoma).
6. Clinically relevant issues regarding genetic predisposition, treatment prediction and the emergence of treatment resistance in metastatic melanoma are also elucidated through studies on tumor models in in vitro and in vivo studies.
Current Research Funding
The Swedish Cancer Society
The Cancer Research Funds of Radiumhemmet
Sjöbergstiftelsen
Region Stockholm grants (ALF)
Karolinska Institutet's research funds
SciLifeLab Post-doc grant
European Union Funding -Horizon Europe
Networks
Selected publications
Dynamics of plasma thymidine kinase activity in metastatic melanoma reflects immune checkpoint inhibitor efficacy.
Costa Svedman F, Jalsenius M, Grozman V, Bergqvist M, Söderdahl F, Rotstein S, Ny L, Egyhazi Brage S, Helgadottir H
Acta Oncol 2022 Sep;61(9):1116-1120
Precision radiation of immune checkpoint therapy resistant melanoma metastases (PROMMEL study): study protocol for a phase II open-label multicenter trial.
Backlund E, Yang M, Grozman V, Masucci G, Falkenius J, Eriksson H, Jovanovic B, Hammarlund K, Isacsson U, Radu C, Abel E, Karlsson K, Palanco Zamora R, Wersäll P, Edbäck U, Wickström S, Darai Ramqvist E, Egyhazi Brage S, Kiessling R, Viktorsson K, Franzén B, Lewensohn R, Olofsson Bagge R, Ullenhag GJ, Ny L, Lindberg K, Helgadottir H
Acta Oncol 2022 Jul;61(7):869-873
Inflammation and Apolipoproteins Are Potential Biomarkers for Stratification of Cutaneous Melanoma Patients for Immunotherapy and Targeted Therapy.
Karlsson MJ, Costa Svedman F, Tebani A, Kotol D, Höiom V, Fagerberg L, Edfors F, Uhlén M, Egyhazi Brage S, Maddalo G
Cancer Res 2021 May;81(9):2545-2555
Proliferation and Immune Response Gene Signatures Associated with Clinical Outcome to Immunotherapy and Targeted Therapy in Metastatic Cutaneous Malignant Melanoma.
Costa Svedman F, Das I, Tuominen R, Darai Ramqvist E, Höiom V, Egyhazi Brage S
Cancers (Basel) 2022 Jul;14(15):
Novel loss-of-function variant in DENND5A impedes melanosomal cargo transport and predisposes to familial cutaneous melanoma.
Yang M, Johnsson P, Bräutigam L, Yang XR, Thrane K, Gao J, Tobin NP, Zhou Y, Yu R, Nagy N, Engström PG, Tuominen R, Eriksson H, Lundeberg J, Tucker MA, Goldstein AM, Egyhazi-Brage S, Zhao J, Cao Y, Höiom V
Genet Med 2022 Jan;24(1):157-169
Coexpression of MTH1 and PMS2 Is Associated with Advanced Disease and Disease Progression after Therapy in Melanoma.
Das I, Tuominen R, Helleday T, Hansson J, Warpman Berglund U, Egyházi Brage S
J Invest Dermatol 2022 Mar;142(3 Pt A):736-740.e6
Multiple Primary Melanoma Incidence Trends Over Five Decades: A Nationwide Population-Based Study.
Helgadottir H, Isaksson K, Fritz I, Ingvar C, Lapins J, Höiom V, Newton-Bishop J, Olsson H
J Natl Cancer Inst 2021 Mar;113(3):318-328
Combining ERBB family and MET inhibitors is an effective therapeutic strategy in cutaneous malignant melanoma independent of BRAF/NRAS mutation status.
Das I, Wilhelm M, Höiom V, Franco Marquez R, Costa Svedman F, Hansson J, Tuominen R, Egyhàzi Brage S
Cell Death Dis 2019 Sep;10(9):663
Efficacy of novel immunotherapy regimens in patients with metastatic melanoma with germline CDKN2A mutations.
Helgadottir H, Ghiorzo P, van Doorn R, Puig S, Levin M, Kefford R, Lauss M, Queirolo P, Pastorino L, Kapiteijn E, Potrony M, Carrera C, Olsson H, Höiom V, Jönsson G
J Med Genet 2020 May;57(5):316-321
Germline CDKN2A Mutation Status and Survival in Familial Melanoma Cases.
Helgadottir H, Höiom V, Tuominen R, Nielsen K, Jönsson G, Olsson H, Hansson J
J Natl Cancer Inst 2016 Nov;108(11):