Laura Baranello's group
Topoisomerases, chromatin biology and cancer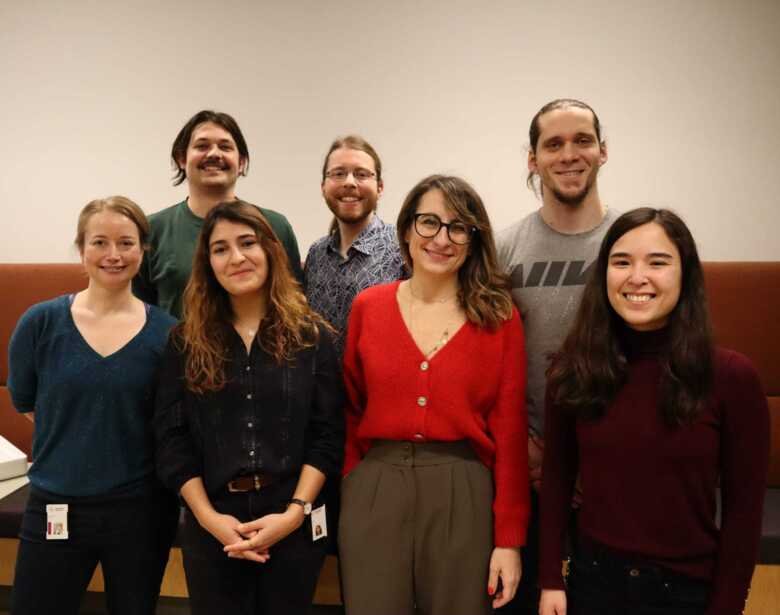 Anika Wiegard, Donald Cameron, Hajar Benredjem, Jan Grosser, Laura Baranello, Vladislav Kuzin, Kathryn Jackson. Department of Cell and Molecular Biology Photo: Jacopo Mallozzi
Cancer is a biologically complex disease that causes significant deaths in the human population. Pharmaceuticals that inhibit enzymes called topoisomerases are effective at killing many types of cancer cells. Unfortunately, the body's healthy cells are also damaged by this treatment. Development of tumor-specific topoisomerase inhibitor-based therapies will require better knowledge of the mechanism of topoisomerase activity.
Topoisomerases are important cellular enzymes; they are involved in processes in which genes are copied, or when DNA is replicated prior to cell division. They unwind the DNA double helix, so that the enzymes that are going to transcribe genes or replicate DNA strands are able to do so.
Although conventionally considered to be constitutively active enzymes, recent evidence show that topoisomerases execute their function through regulatory interactions with partner proteins that modulate their activity to affect the transcriptional outcome. Understanding the mechanism of this regulation might provide a new strategy to affect topoisomerase activity in cancer cells.
Projects
Our ongoing and future investigations are based on these findings. We use a variety of approaches including biochemical assays, next-generation sequencing techniques, genome editing and drug screens to:
Identify new proteins regulating topoisomerase 1 and topoisomerase 2 activity. Among the potential partners we focus on transcription and chromatin factors.
Understand the molecular details of how topoisomerases are regulated by their protein partners during transcription.
Identify drugs targeting the stimulation of topoisomerase activity in cancer cells.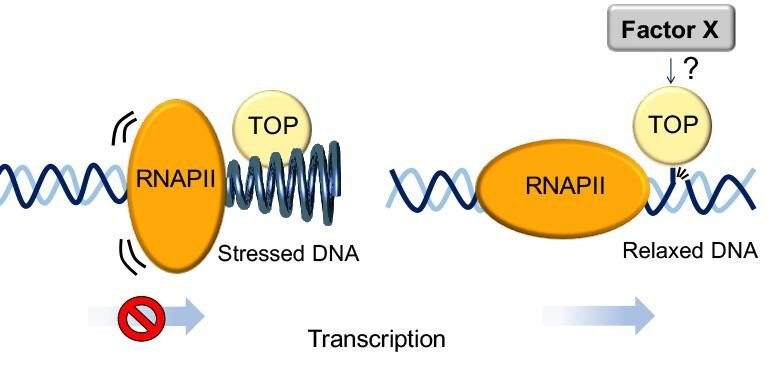 Past group members
Dr. Rashid Mehmood (Postdoc)
Dr. Anika Wiegard (Postdoc)
Hajar Benredjem (Erasmus/Master student)
Francesco Valant (Erasmus/Master student)
Marta Trullols-Rosello (Erasmus/Master student)
Ivana Karabogdan (Erasmus student)
Sara Busquet (Erasmus student)
Katrin Brosch (Erasmus student)
Frank van de Ende (Erasmus student)
Donatella Talotta (Erasmus student)
Rebecca de Sousa (Erasmus student)
Roberta d'Aulerio (Erasmus student)
Francesca Carriero (Erasmus student)
Research support
Wallenberg Foundation (Wallenberg Academy Fellow)
Vetenskapsrådet (Starting Grant)
Vetenskapsrådet (Project Grant)
NBIS
Karolinska Institutet
KID grant
VINNOVA (VINNMER Marie Curie Incoming)
Cancerfonden
Collaborations
Our research is performed with a number of national and international collaborators:
Dr. Camilla Björkegren, Karolinska Institutet
Dr. David Levens, National Institutes of Health, USA
Dr. Craig Thomas, National Institutes of Health
Dr. Mazza (San Raffaele Hospital/Italy)
Prof. Dr. Hahn (Uni Bochum/Ger)
Prof. Dr. Vindigni (Washington University/USA)
Conference organiser
EMBO workshop "DNA Topology in genomic transactions
Cell and Molecular Biology seminar series
Co-Organizer of Cell and Molecular Biology Departmental Retreat 2023
Selected Publications
NEDDylated Cullin 3 mediates the adaptive response to topoisomerase 1 inhibitors.
Meroni A, Grosser J, Agashe S, Ramakrishnan N, Jackson J, Verma P, Baranello L, Vindigni A
Sci Adv 2022 Dec;8(49):eabq0648
TOP1 CAD-seq: A protocol to map catalytically engaged topoisomerase 1 in human cells.
Kuzin V, Wiegard A, Cameron DP, Baranello L
STAR Protoc 2022 Sep;3(3):101581
MYC assembles and stimulates topoisomerases 1 and 2 in a "topoisome".
Das SK, Kuzin V, Cameron DP, Sanford S, Jha RK, Nie Z, Rosello MT, Holewinski R, Andresson T, Wisniewski J, Natsume T, Price DH, Lewis BA, Kouzine F, Levens D, Baranello L
Mol Cell 2022 01;82(1):140-158.e12
Featured Highlight article MYC in TOP shape
Topoisomerase 1 activity during mitotic transcription favors the transition from mitosis to G1.
Wiegard A, Kuzin V, Cameron DP, Grosser J, Ceribelli M, Mehmood R, Ballarino R, Valant F, Grochowski R, Karabogdan I, Crosetto N, Lindqvist A, Bizard AH, Kouzine F, Natsume T, Baranello L
Mol Cell 2021 Dec;81(24):5007-5024.e9
Featured Highlight article System reset: topoisomerase 1 clears mitotic DNA for transcriptional memory
Work represented in the Cover of the journal Molecular Cell
The Epstein-Barr virus deubiquitinating enzyme BPLF1 regulates the activity of topoisomerase II during productive infection.
Li J, Nagy N, Liu J, Gupta S, Frisan T, Hennig T, Cameron DP, Baranello L, Masucci MG
PLoS Pathog 2021 09;17(9):e1009954
Deficiency of Polη in Saccharomyces cerevisiae reveals the impact of transcription on damage-induced cohesion.
Wu PS, Grosser J, Cameron DP, Baranello L, Ström L
PLoS Genet 2021 09;17(9):e1009763
Analysis of Myc Chromatin Binding by Calibrated ChIP-Seq Approach.
Cameron DP, Kuzin V, Baranello L
Methods Mol Biol 2021 ;2318():161-185
Permanganate/S1 Nuclease Footprinting Reveals Non-B DNA Structures with Regulatory Potential across a Mammalian Genome.
Kouzine F, Wojtowicz D, Baranello L, Yamane A, Nelson S, Resch W, et al
Cell Syst 2017 03;4(3):344-356.e7
RNA Polymerase II Regulates Topoisomerase 1 Activity to Favor Efficient Transcription.
Baranello L, Wojtowicz D, Cui K, Devaiah BN, Chung HJ, Chan-Salis KY, et al
Cell 2016 Apr;165(2):357-71
DNA break mapping reveals topoisomerase II activity genome-wide.
Baranello L, Kouzine F, Wojtowicz D, Cui K, Przytycka TM, Zhao K, et al
Int J Mol Sci 2014 Jul;15(7):13111-22
CTCF and cohesin cooperate to organize the 3D structure of the mammalian genome.
Baranello L, Kouzine F, Levens D
Proc. Natl. Acad. Sci. U.S.A. 2014 Jan;111(3):889-90
DNA topology and transcription.
Kouzine F, Levens D, Baranello L
Nucleus ;5(3):195-202