Division of Biomolecular and Cellular Medicine (BCM)
Activities at the Division of Biomolecular and Cellular Medicine (BCM) focus on the application of modified biomolecules, cells and cell products as novel therapy agents as well as the identification and study of appropriate biomolecular and cellular targets for therapy and diagnosis.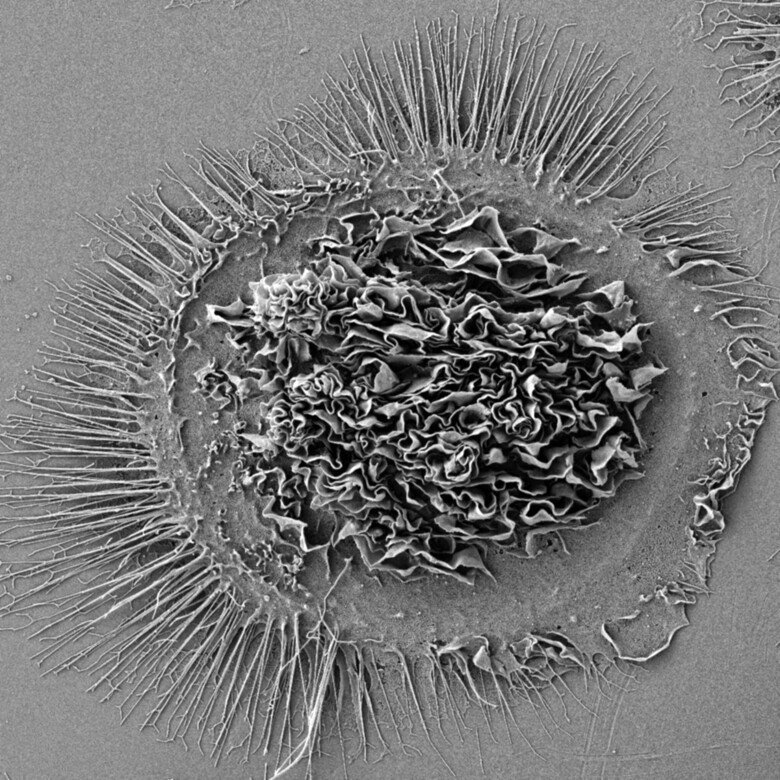 Sample of a Alveolar macrophage from a SEM microscope at the EMiL corefacility , BCM. Photo: Laszlo Szekely och Lars Haag.
Biomolecular and Cellular Medicine (BCM) consists of several research groups and core facilities. Activities are translational in nature and include fundamental molecular cell biology studies, pre-clinical testing of therapy/ diagnostic agents and related activities, certified production of cell products for clinical use, phenotypical analysis of cells and tissues as well as clinical studies of patients treated with cell therapy agents.
Research themes include the development of gene therapy agents targeting e.g. neurodegenerative diseases, the use of engineered extracellular vesicles for various biomedical applications, including treatment and diagnosis of disease, the study and improvement of cytostatic drug regimens to optimize treatment efficacy, in relation to side effects, the enhancing role of cellular microenvironments in cancer cell survival as well as clinical studies on the use of CAR-T cells in cancer therapy. Core facilities provide services to customers within and outside Karolinska Institutet. BCM contributes to doctoral education and the specialist education of clinicians as well as to the programme in medicine and the biomedical analyst programme.
In line with its translational medicine character, BCM is localised to the Clinical Research Centre at the Karolinska University Hospital in Huddinge, where a large proportion of the clinical research at this hospital site is performed. The Clinical Research Centre houses around 20 research groups with about 150 employees. The centre provides excellent and cost-effective infrastructure for biomedical and experimental clinical research.
Research groups
Experimental Cancer medicine (ECM)
Molecular Cell Biology and Gene Therapy
Research group for Cancer evolution
Samir EL Andaloussi's research group
Stephan Mielke's research group
Caroline Palm Apergi research group
The Unit for Clinical Caring Research Focusing on Immune Diseases and Immunotherapies and on Quality and Safety in Health-care
Core facilities
Morphological Phenotype Analysis (FENO)
Preclinical laboratory (PKL) Portal
Head of Division
H5 Department of Laboratory Medicine
Find us
Address
Novum
Hälsovägen 7-9
141 57 Huddinge