PHS Epidemiology alumnus Bakary builds nutrition programs in the Gambia
Name: Bakary D Dampha
Degree: Master's in Public Health Epidemiology
Graduation year: 2020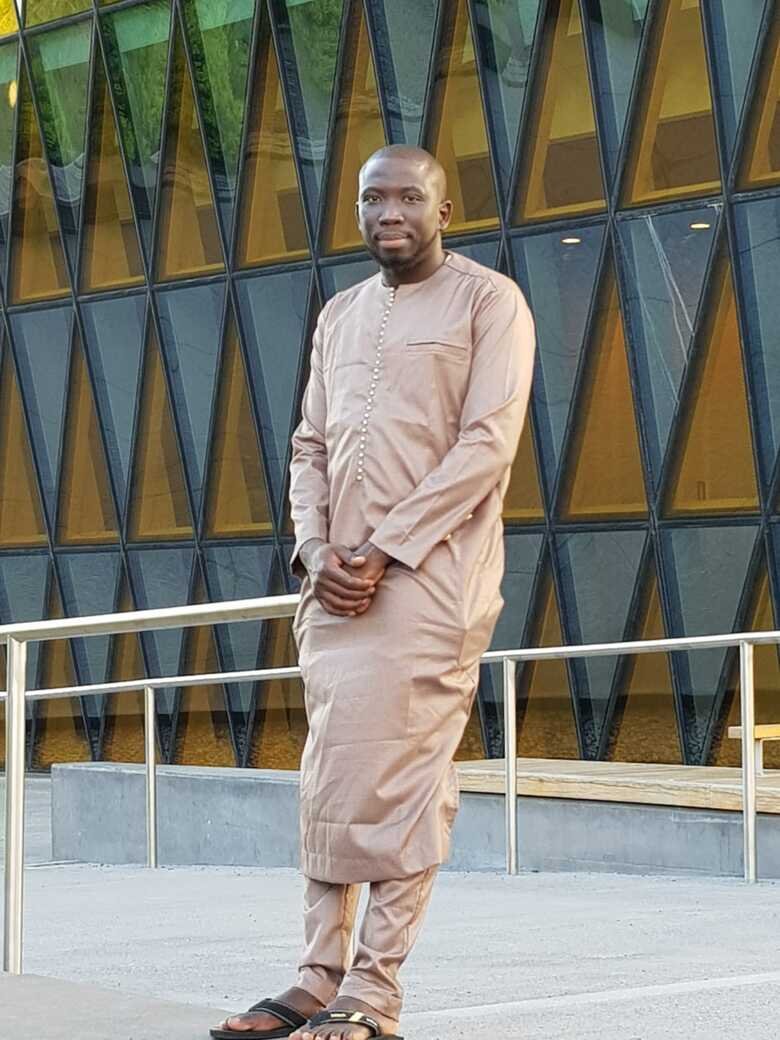 KI alumnus Bakary D Dampha Photo: Amet Jeng Sey
Tell us your story!
I studied Environmental Health at the Gambia College and graduated with a Higher National Diploma. Upon graduation from college, I worked with the Ministry of Health and Social Welfare as an assistant Public Health Officer. During my time with the ministry, I benefited from various in-service training including Monitoring & Evaluation (M&E), Entomological Surveillance, Effective vaccine management, Community-led total sanitation, Integrated Management of Acute Malnutrition, etc. just to name a few.  Following 2 years of public health service for my country, I enrolled at the University of the Gambia to study BSc in Public and Environmental Health in 2012. Upon acceptance, I came to KI in 2018.
The weather, culture, transport system, and food - everything was new to me.
This is always an exciting question for me. KI has always been my dream university, especially the epidemiology program. In my final year of Bachelor studies, I became fascinated by the basic principles of Epidemiology. I began to search for world-class universities with research-focused epidemiology programs.
When I came across the Public Health Sciences Master's programme at KI with a specialization in Epidemiology, I examined the course outline, objectives, and outcomes closely. Two key sub courses in the program caught my eye: Epidemiological methods for outcome evaluation and Epidemiological methods for determining the determinants of health. Firstly, my field experience and in-service training in M&E had already instilled in me a deep sense of love and interest for Evaluation. My passion to nurture a career in public health had always been my drive to strengthen my research skills especially on principles of public health. In short, these two courses alone were enough to fulfill my career goals. Hence, choosing KI became the only choice.  
However, in my part of the world, it is one thing to have a dream and another to achieve it. KI is a prestigious university and there was no feasible way that my civil service earnings or even a combination of my family earnings can be enough to pay for just the school's tuition fee. Hence, the only way this dream could come true was financial aid from any source. I started scouting for possible sources of funding both within the Gambia and outside. In 2016, a colleague of mine won the Swedish Institute (SI) scholarship to study MSc Public health at the University of Umea. This led to my inquiries and research about the Swedish Institute scholarships.
In 2017, I applied and got admitted to the KI PH Sciences epidemiology program, but I couldn't make it to the final list of the SI scholarships. There was no other available funding too. I had to reluctantly relinquish my conditional admission offer. In 2018, I applied for admission at KI and, with great luck, my dream became a reality! I was admitted to KI with a fully funded SI scholarship that also catered for my living cost.  
Since mid-July 2020, I am a Nutrition officer with UNICEF Gambia country Office, which supports the Government of the Gambia in nutrition programming and effective implementation of nutrition interventions. In contrast to some of my peers, I started thinking about my next step during the last term at KI. My priorities were to work anywhere in Africa as international staff, but I kept my options open. I jumped to action and created a user profile for almost all the United Nations agencies with a health agenda, and similar NGOs across Africa and Europe. 
Despite a few good leads, I got stranded due to COVID-19 restrictions in March. With persistence, I finally landed a fixed-term position with UNICEF in my home country. After the interview in April, I was told the organization intended to fill the position immediately, but since they believe I am a strong candidate they were willing to await my arrival home following graduation.  
Due to COVID-19 preventive measures and restrictions, I work from home for now.  A typical day usually entails the provision of technical, operational, and administrative assistance in the programming process for the nutrition programs and projects. The work involves different aspects of applying theoretical and technical skills in researching, collecting, analyzing, and presenting technical program information to support the development and formulation of the Nutrition Programme within the larger Country Programme. My daily work schedules also entail networking, coordination, and building partnerships for nutrition programming and implementation.  
My arrival to KI in Autumn 2018 was a new and different experience for me. I found it both challenging and interesting to adjust to life in Stockholm. The weather, culture, transport system, and food - everything was new to me.
The education system in Sweden was also very different from my experience with academics. A major difference is the student-lead applications through group work, which became the most interest aspect for me. In my country Gambia, I was used to attending lectures, visiting libraries, and learning with my efforts. The teamwork model has helped me to strengthen my weaknesses and consolidate my strength on key concepts we learned in class. 
I made a lot of close friends from all over the world: Kenya, Uganda, Finland, Germany, Russia, Greece, Iceland, Georgia, China, Taiwan, Sudan, India, Croatia, just to name a few. The "Fika" we have at the beginning of every course had always given me the right introduction to the course leaders and always made me feel welcomed into the course. I will always remember the bowling game we played together at St Eriksplan.  
Part of my scholarship was the Network for future global leaders (NFGL). I was the vice-chairperson of the KI NFGL local network. With funding from the Swedish Institute, we organized some exciting events. A visit to "Rigsdag" just after the Swedish elections and another to Astra Zeneca in Gothenburg are two exciting trips I will always remember. 
Aside from the course, I have also been an active participant at the KI gym. As a former volleyball player, I visited the KI gym to play volleyball with other students. This has been helpful to me especially during the winter. Life at KI was awesome, but those volleyball games will be my best memories.  
My program at KI focused mainly on the application of theory, ethics, and technical skills in epidemiological methods to generate and validate evidence. This provides the routine nexus of my daily work in nutrition programming and implementation.  
Firstly, I hope to continue at the UNICEF Gambia country office for at least the coming two years to contribute to and accelerate the national development efforts to improve the nutritional status of mothers, infants, and children in my country. As I build experience, I would like to move on to international appointments where I can contribute my knowledge and skills to improve the health and wellbeing of people in other parts of Africa and across the globe. Along the road, who knows?.... There is always a consideration for a Ph.D.  
What is your advice for students
I am happy to give the advice my mother gave to me when I was coming to KI "Get ahead and stay ahead!" Your time at KI is an important part of your life-stage that you should make the best use of. Do not only go through KI, but let the university go through you and bring out the better version of yourself. Explore your interests with dedication and commitment. And, finally, self-belief is important.