LCI microscopy course
From sample preparation to image analysis 2024/01/29-2024/02/17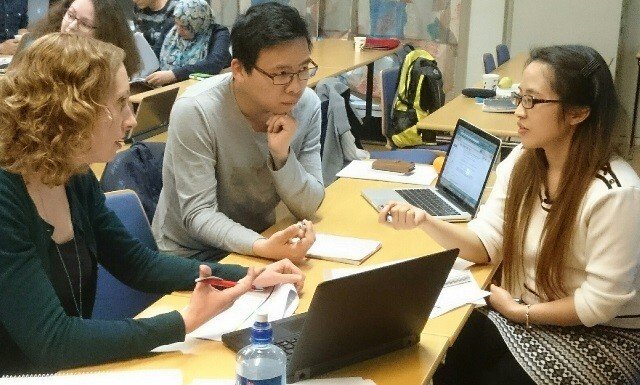 Do you feel that your sample preparation or your microscope settings could be improved? Are you unsure of your microscopy skills? With the LCI core facility microscopy course, you can learn all the fundamentals of microscopy and learn how to apply them to your own experiments: What is resolution? How to choose the pixel size on a confocal? Which objective is most appropriate for your own experiment? How to get rid of tissue autofluorescence? How to extract meaningful information from your images and handle images for publication?
To learn all this and much more, join the LCI microscopy course. This course will provide you with enough theoretical and practical knowledge so that, when you go back to your lab, you are able to fully understand how to properly use the hardware and software on your own microscope.
All lectures at the course (in blue in the schedule) are broadcasted live and accessible to anyone who is not registered as course students. There is no need to register. Just join and enjoy. 
The registrations has closed but you are welcome to send us an email at LiveCellImaging@ki.se if interested.
Where is the LCI core facility located? If you have any problem finding us, please contact LiveCellImaging@ki.se. 
Link to the LCI Youtube channel for tutorials and recordings of the course lectures. Subscribe to stay updated.
Link to the LCI microscopy blog. Subscribe to get the LCI microscopy-related news and products.
Archive 2023
Archive 2022
Archive 2021
Archive 2020
Archive 2019
Archive 2017
Archive 2016
Archive 2015
Testimonies from our students and attendees
Vintage 2023:
"The course design pushed us to deep learning, which is great. I like the interactive part of the workshops where students discussed their understanding of the lecture and their results and share ideas and experiences.#
"The content of the course is perfect. All lectures and activities are well designed for me to learn and apply the new knowledge to my project."
"Great way to always directly apply the new knowledge to my own microscope and setup! I got an immediate practical application and a better learning outcome. I understand my own set up so much better now and can change or improve anything as I want. "
"I had so much fun learning these things, knowing that it is useful for my own project! The lectures on zoom, in combination with workshops and quizzes worked really well in my opinion. Really good course!"
Vintage 2022:
"The assignments and quizzes are a very good and essential part of the course! Very helpful to consolidate the knowledge we learned before."
"I loved that we were "forced" to understand our own system also on technical details- that's very useful!"
"The student presentations were great to see that you are not the only one struggling."
"Thank you for putting so much focus on the students' projects!"
"The course clarified a lot of my misconceptions about microscopy."
"Dense, but well explained and repeated a lot. Amazing to know my own microscope so well now!"
"It was fantastic to have a private session by one of the facility microscopes and learn more about my own sample and how to image it. It provided me with confocal practice and personalized advice simultaneously."
"Nyquist sampling is something every microscopist should know about."
"Very interesting to finally understand what I am doing when clearing my tissue ????"
"I loved that we could focused on OUR microscope and OUR scientific question. I learned so much!"
"It's a good idea to build a report over 4 steps, each time improving my images and increasing the knowledge. Nice to see my own progress!"
"The LCI team was so nice and helpful. No problem to ask questions, always a joke ready and extremely friendly."
"I liked the exam! I think it was fair while testing the learning outcomes."
"I think this course was one of the most useful and applicable I've had."
"This course is the first course I learnt in KI and it is also the first course in English I learnt in my whole life. Thank you very much that recording all the lectures and workshop for us, which give me a chance to learn again and again."
"I really liked the constant feedback and possibility to ask questions regarding ones sample during the course. I also liked the image analysis workshop."
"The course enabled me to apply the knowledge gained directly to my specific ongoing research while covering most general aspects of microscopy simultaneously, which is greatly appreciated."
"Fantastic that we could focus on our own projects, microscope and images - thus the course helped me a lot with my own project"
Vintage 2021:
"I wanted to thank you for organizing such a great set of microscopy lectures! I attended the course as an outsider and I found the lectures very well planned, packed with useful information and very clearly explained. I have been using different microscopy techniques throughout my PhD but it was still extremely useful to be reminded the basic principles and get to know the new developments."
"The Signal, Background and Noise lecture provided me with tips and tricks that I could apply directly to the rest of my project".
"The workshop 'the Art of bleaching the sample' was very useful, some basic microscope skills that everyone needs."
"The Student imaging challenge one-to-one workshop when we sat by the microscope and imaged my sample was just fantastic. I really liked this one and could have been there for hours."
"The assignments and quizzes were a plus in this course as it really engaged us in reflecting on our project, our way to use our microscope and understand what we are doing while imaging."
"I particularly appreciated the Bleedthrough Assessment workshop as it taught us how to match fluorophores in any kind of system, in a simple and systematic manner!"
"The Anatomy of a microscope workshops taught me a lot about microscopes and how to handle them in general. This was great and really useful!"
"Overall, this course has been excellent. I have learned so much more than I could ever have hoped for and very much of what I have learned can be directly applied on my own experiments."
"I am very glad that I decided to take this course so early in my PhD so that I can make use of the knowledge provided here during the rest of my PhD."
"I just wanted to tell you first that the organization of the course, the lectures and the way of repeating the content in quizzes and by discussing was great! I never thought I could gain so much knowledge (and keep it) in such an short amount of time."
"I am very grateful for all the practical tips. This course truly will change the outcome of my PhD! Thank you for all the amount of work and time you invested into the course! :))"
"I found the two lectures on sample preparation tips and immunostaining troubleshooting especially helpful. I realize now there are so many aspects we can optimize to improve imaging."
Vintage 2020:
"Through this entire course I have learned both basic and advanced things about microscopy and imaging. I have got enormous knowledge about different types of microscopes, detectors and also when do you have to use it etc. The entire course helped me to learn many things which I never had clue about. This course helps me to re-create my experiment in a better way."
"My overall comment for the course is that lectures were very good and informative, best part was the quiz and discussion of each week and my learning part mostly comes from that part. ……… honestly the way you guys patiently support and kindly helping me to understand the things was the highlight of my experience during these three weeks."
"The course was very interesting, and I really enjoyed the physics behind light and how this affects imaging in microscopy. This was the basis of many new insights why we prepare and or image a sample in a certain way"
"Probably one of the best and most well-invested courses I've had, amazing job! The aim of the course was very clear and every lecture and workshop was designed to help understand and improve your own microscopy and imaging needs. Really gives context to features I hadn't even considered previously"
Vintage 2019
"The course was exceptionally good, I learned many useful tricks to improve the quality of my samples preparation and imaging. All lectures were very useful and good, with a nice balance between basic and advance concept, theory and practice. The individually student imaging challenges as well as some of the workshops, wrapping up meeting and discussion, were very useful and important to understand common imaging problem and to fix in the mind the concepts of the lectures."
"I have to say that this is the best PhD course I have taken, I learned so much valuable skills that will be extremely helpful in my own project. The best part of the course was the fact that I got to learn microscopy based on my own microscope with my own sample in mind, in this way I know feel so much more comfortable with performing my microscopy for my PhD project. I understand how my microscope work and I now know how to image and prepare my samples to get the most out of my experiment and answer my scientific question in the best way possible"
"I thought that the course was excellent overall. The range of guest speakers was fantastic, and if any of them brought the lecture to a depth beyond our knowledge, the course coordinator slowed it down and explained things carefully. I rarely, if ever, felt lost during the lectures. I also liked the range of topics discussed. Since we all come from a variety of microscopy backgrounds I feel that adequate time was spent on a range of microscopy techniques. In addition, I liked that there was a focus on the sample prep as well as the "pure" microscopy."
"The entire approach to the course, starting from very basic concepts to very difficult ones, explained in a clear way. Excellent that this course consists of both theoretical and practical lectures/workshops."
"For the first time I attended a course that wasn't just teaching but also applying what we learned to our personal research project and discuss our scientific questions with colleagues. Was really a high quality course."
Vintage 2017:
"I think it's a great course that covers the basic knowledge all people working with any type of microscopy should know about!"
"The whole course is excellent already. Highly recommended!"
"The engagement of the teachers was amazing! The lectures, the workshops, and the student challenges were all very relevant and I enjoyed attending them."
"Very helpful to understand the limitation of the microscope and how the relation between the objective parameters and the subjective impression of an image"
"I love best: Lecture contents, invited lectures and workshops. Practical information and something I can apply to my research."
"I think the course has covered a lot of the knowledge concerning imaging with microscopy. Beside the content described in the intended learning outcomes, there were also some very good lectures given by invited lecturers to cover extended and relevant knowledge."
"A very good course that covers both the basics and advanced topics about microscopy. Workshops were a very good idea"
"The course was done wholeheartedly by teachers experienced in microscopy, the mood was always good and the students felt free to ask questions and take part in the teaching."
"Student image challenge helped to understand how we should approach to our scientific question. Sylvie and Gabi's lectures about sample preparation, microscope setup etc, were very valuable to understand the big picture. I also liked the repetitions of the information to make sure that we remember the most important things. Weekly quizzes also helped to put our knowledge into the context. Homework was also very good, because that forced us to really look at our machine and understand its capabilities. And of course the cinnamon buns were excellent :)"
Vintage 2016:
"Most of the lectures and all the workshops had excellent content, perfectly organized and structured, with a lot of effort from the teachers to ensure that each student follows and understands the subject, and to put the most practically important aspects into focus. And the opportunity to bring and work with "my very own" sample was invaluable for me."
"I really liked how things evolved from very basic to a more complex level. Sylvie was making sure in each step that we understood everything. The quiz sessions were very helpful to digest the knowledge. The student sample workshop, sample preparation workshop were very helpful."
"I found extremely useful the student challenge workshop as I could practically identify the drawbacks of my sample design and decide for strategies to improve it. I appreciate a lot how devoted the course teachers were, many times spending much more time with all the students out of the scheduled time, in order to ensure that all of us understood and learnt a lot. I also liked the quiz part which helped me understand to a great extent the content of the lectures."
"It was very good that we had the opportunity to get advice regarding our own sample, in that way we would definitely learn things that will improve our future experiments.'
'Workshop and student challenge offered a valuable chance to put in perspective the lectures."
"I think that every lecture/workshop gave new insights in my research."
Vintage 2015:
"The LCI staff was motivating us and was very patient with us, always super energetic and ready to help despite the super intense program!"
"The focus on fundamental knowledge and practical workshops are very good."
"The course is one of the best I have had in my 4 years at KI."