Gel documentation and Western imaging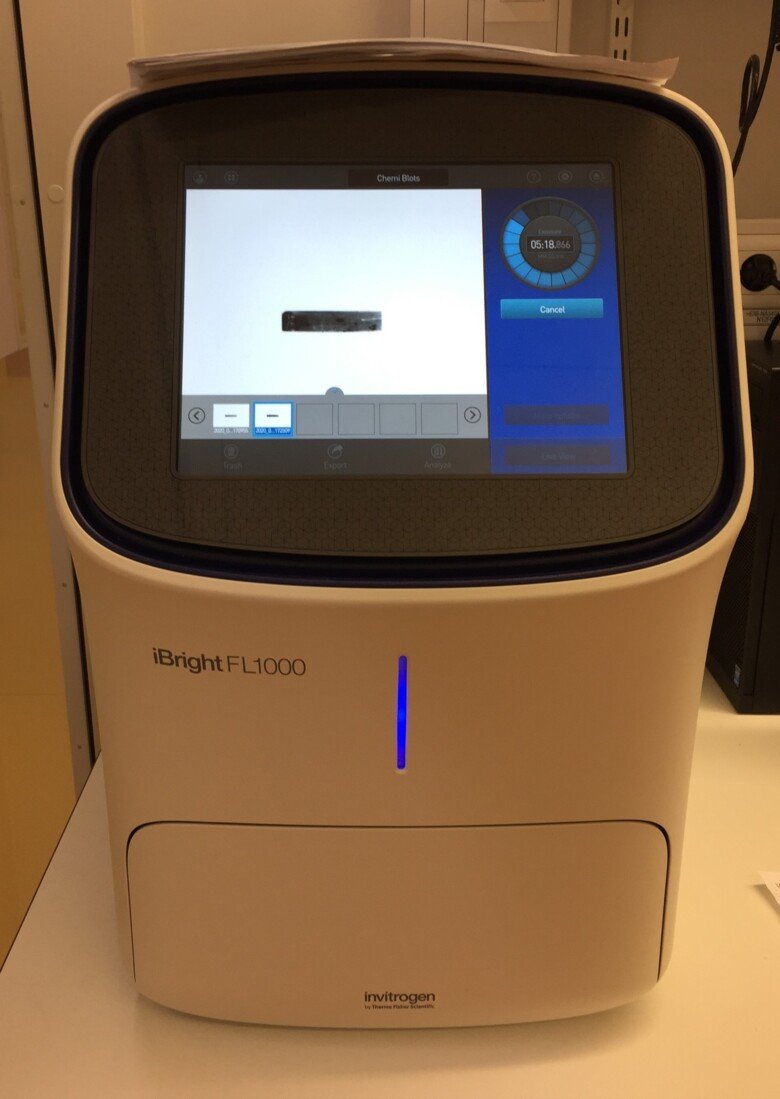 Bioclinicum J6:30
iBright FL1000/ Invitrogen by ThermoFisher Scientific
Room nr: U230 06 3700
Responsible person: Takashi Shibano takashi.shibano@ki.se  
Booking calendar: SKEDDA
General information: Equipment from Invitrogen allows both gel documentation and Western blot imaging. This is a high-performance instrument for capturing fluorescent and luminescent images and analyzing data from gels and blots. Equipped with 16-bit CCD camera and Long-life green LED-based trans-illuminator. Applications: colorimetric staining of gels, SYBR dye staining of gels, Chemiluminescence and fluorescence detection (RGB, a visible range; near-IR fluorophores, such as Alexa Fluor and Alexa Fluor Plus dyes and DyLight dyes) for Western blot imaging. Cloud connectivity with Invitrogen iBright Analysis Software enables export and storage of data, as well as the ability to access, review, analyze, and share data through the web-based Thermo-Fisher Cloud platform.
Odyssey Fc/LI-COR Biosciences
Room nr: U230 06 3700
Responsible person: Leonard Girnita's group     
Booking calendar: at the location
General information: The Odyssey imaging system allows for both the enhanced chemiluminescent (ECL) and the near-infrared (NIR) fluorescence detection using two-color detection methods for Western blots. The patented optics of the Odyssey Fc deliver uniform low background images. For Western blotting, apart from ECL, one can multiplex to detect two different protein targets in each sample lane by using secondary antibodies labeled with spectrally-distinct NIR fluorescent dyes. The NIR fluorescence delivers consistent signals that aren't affected by timing. The ImageStudio software is installed on a MacOS computer connected to the Imaging system. The software allows quick and easy acquisition, adjustment and organization of images.  ImageStudio versions can be downloaded from the LI-COR website and installed on both PC and MacOS users' computers. Before using this equipment, please, contact Leonard Girnita's group members.
LAS-1000/Fujifilm
Room nr: U230 06 3600
Responsible person: Klas Wiman's group
Booking calendar: at the location
General information: LAS-1000 from Fujifilm is equipped with a cooled CCD camera and allows both the bright field and the enhanced chemiluminescence (ECL) Western blot imaging. The equipment is more than 10-years old but is working well. The computer system is Microsoft Windows XP and the software Image Reader LAS-1000 Pro V2.6 is simple and user friendly. The quantitation software Image Gauge V. 4.0 is also available.
Bioclinicum J6:20
iBright FL1500/Invitrogen by ThermoFisher Scientific
Room nr: U220 06 3700
Responsible persons:    Weiyingqi Cui (Vicky) weiyingqi.cui@ki.se
                                            Yumeng Zhang yumeng.zhang@ki.se
Booking calendar: SKEDDA
General Information: The iBright FL1500 Imaging System supports the main imaging applications of fluorescent, chemiluminescent, and colorimetric western blots, in addition to fluorescent stained nucleic acid gels, fluorescent stained protein gels, colorimetric stained protein gels, and colorimetric membrane stains.
ImageQuant LAS-4000/GE HealthCare
Room nr: U220 06 3300
Responsible person: vacant
Booking calendar: at location
General information:
ImageQuant LAS 4000 is a digital imaging system for sensitive, quantitative imaging of gels and blots, by fluorescence and chemiluminescence and white epi-illumination imaging applications. It allows capturing and precisely quantitating weak and strong signals with high resolution and sensitivity and low noise. User-friendly image capture software ImageQuant LAS 4000 performs several capture modes for achieving optimal sensitivity and dynamic range including increment, repetition, and program modes.
Links: http://icob.sinica.edu.tw/pubweb/bio-chem/Core%20Facilities/Data/R401-core/IQ%20LAS%204000_DataFile.pdf
Gel Doc EZ imager/BioRad
Room nr: U220 06 3306
Responsible person: vacant
Booking calendar: at location
General information: 
This GelDoc Imager is a compact and automated imaging system for obtaining images of Nucleic acid-gels or protein gels and a possibility for analysis. The system provides four application-specific trays, which include a UV tray for staining of DNA gels and fluorescence imaging, a white tray for Coomassie, copper, silver, and zinc stains, a blue tray for nucleic acid applications that use SYBR® stains, and a stain-free tray for stain-free imaging. The Stain Free Sample Tray is a useful tool for visualization of protein bands on gels and blots. TGX Stain-Free Precast gels from Bio-Rad can be activated in the Gel Doc EZ after electrophoretic separation of proteins is completed. Once activated, the same protein bands can be visualized on protein membrane after transfer (Nitrocellulose or PVDF). Thus, the stain- free technology enables one to monitor electrophoretic separation and transfer efficiency without any additional staining. The ImageLab™ software makes imaging and analysis pretty easy with such options as auto image capture, auto analysis or user preferences. ImageLab software is free and can be downloaded on your PC or Mac for analysis purposes from Bio-Rad.com.
Links:
https://www.bio-rad.com/webroot/web/pdf/lsr/literature/10000076956.pdf
GelDoc system/Fujifilm
Room nr: U220 06 3300
Responsible person: vacant
Booking calendar: no booking
General information: Very old and simple GelDoc system with UV-trans-illuminator that allows visualizing and taking pictures of Nucleic acids separated in agarose gels. A small printing module is available.