SRP Diabetes postdoctoral fellowships: Call for projects
The SRP Diabetes Postdoctoral Fellowship Programme is an initiative that was launched in 2021 and this call is the first step in our third round of recruitment of 4 postdoctoral fellows for an expected start date in the autumn of 2023.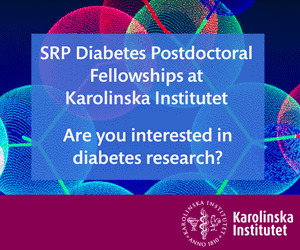 Photo: Science Photo Library
Principal investigators at Karolinska Institutet are hereby invited to submit a project for consideration to the SRP Diabetes Postdoctoral Fellowship Program within basic, translational, clinical, and/or epidemiological research with an emphasis on diabetes and its comorbidities (e.g. cardiovascular and liver disease). Projects should have a clear relevance for diabetic disease and principal investigators should document their track record in diabetes related research. Applications will be externally evaluated.
How to apply
How to submit a project for a postdoctoral fellow: Please complete the application project template and return it in Word-format labeled with your surname, by email, to Stefan Nobel (stefan.nobel@ki.se) by Tuesday January 10, 2023.
Please read the call text (below) for information on the aim of the program, applicant eligibility and general instructions on how to apply.
Application template and call text