Communications and Public Relations Office
The Communications and Public Relations Office helps KI to achieve its operational goals in research and education by coordinating and developing the university's internal and external communication.
The office plans and implements strategic and operative communication activities in alignment with the university's needs. It provides channels for effective communication, maintains and nurtures the KI brand, distinguishes KI as a university and enhances its role as a societal actor.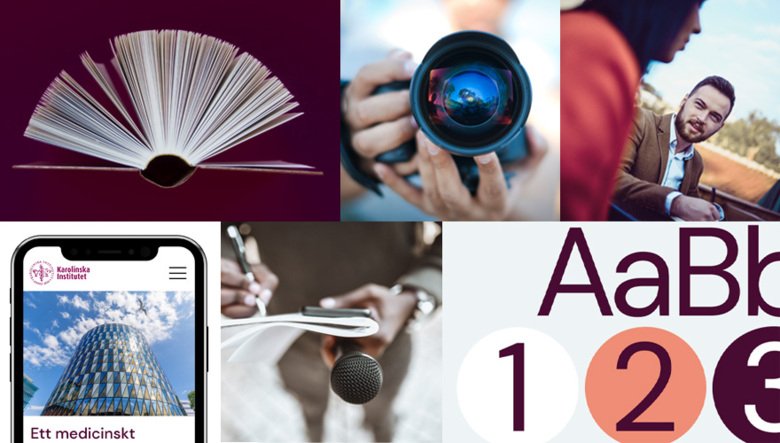 Communication tools and support for staff at KI
On the page communication tools and support we have collected our brand platform, graphic profile, templates for presentations and communication plans, translators, how you as a researcher can get support in your communication and much more.
If you think something on the pages are missing, please contact Anna Broberg, Jill Jönsson or Madeleine Svärd Huss.
If you work at a department, you can ask your local main web editors for help.
If you have questions about educational communication, you can contact the unit for educational communication, guidance and alumni relations Johanna Gasslander.
Office Management
Director of Communications
Digital Communications Development
The Digital Communications Development Unit coordinates and develops all of KI's general digital communication channels.
We coordinate overarching digital communication channel strategies, including related guidelines and regulations. We also carry out analyses, evaluations and follow-ups of these channels.​ 
We also manage and develop KI's central web, social media, blogs and web editor organisation, and conduct regular user surveys to understand target groups' needs. 
We provide support and training for content managers and web editors.
Communications Coordination and Branding
The Communications Coordination and Branding Unit provides advice and support on the planning and production of communication directed at KI's managerial and non-managerial staff.
We coordinate and carry out communications activities connected with priority projects and issues at a general university level.
We offer tools and methods for planned communication and provide training for managers and leaders on communicative leadership and other such skills.
We nurture and strengthen the KI brand and provide support on graphic design and profiling.
We initiate, maintain and develop external collaborations in the communication field in order to enhance the university's dialogue with its target groups.  
The unit includes KI's communication consultants, who offer user-related support to departments, divisions, offices and large projects.
Press Office and Editorial Content
The Press Office and Editorial Content Unit plans and produces editorial content and provides support on media relations.​
We provide a service for the media by answering questions from journalists and arranging contacts with experts.​
We publish news and stories about KI's research and education, and present KI as a university and societal actor in our general communications channels.​
We develop new formats for editorial content.​
We provide support to the organisation by offering media and communication advice and monitoring trends.
Contact
Postal address: Karolinska Institutet, Communications and Public Relations Office, SE-171 77 Stockholm
Visiting address: Nobels väg 6, KI Campus Solna