Before you get started on a project internationalising the curriculum
We believe that creating a conscious effort to work across institutions fostering the trust and respect of colleagues throughout the University to understand how various parties might take a part in the Internationalisation of the Curriculum (IoC) process is important to the success and implementation.
Now that you know what Internationalisation of the Curriculum (IoC) is, who to involve and how to make IoC sustainable, it is time to start planning the 5 steps of the process.
Before you embark on the IoC process, it is important to reflect on the existing structures and activities that will facilitate or hinder it. As educational developers our immediate attention is focused on the quality assurance mechanisms in place to provide us with a benchmark to monitor and evaluate the process. A powerful and useful tool to do this is constructive alignment. 
The figure below shows how the team reflected on the impact the IoC project would have on education at KI: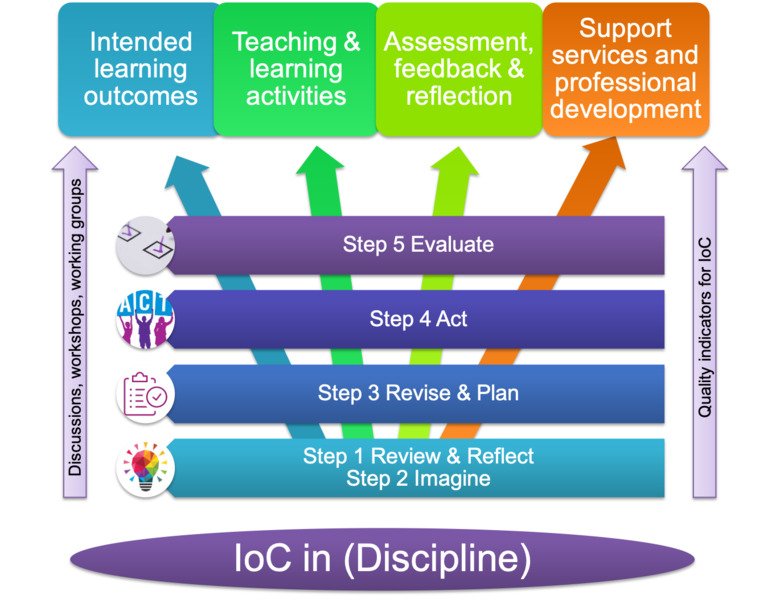 Explanation of the IoC process in five steps. Foto: N/A
From the onset, we realised that the IoC process would create many ripple effects throughout our organisation. Following each of the 5 steps of the IoC process, the discussions, workshops and working groups provided us with an understanding that the disciplinary requirements for internationalisation would necessitate: 
Integrating quality indicators in existing quality assurance mechanisms; 
Monitoring quality indicators through programme and course evaluation surveys;
Involving teacher professional development services, support services and students; 
Paying specific attention to programme-level and course-level: 

Intended learning outcomes (ILOs) 
Teaching and Learning Activities (TLAs) 
Assessment, feedback and reflection  
Programme and course evaluations
Engaging with the leadership 
Before approaching the study programmes and their teachers, we found it useful to meet the leadership involved in the IoC process at the macro level to answer questions regarding what structures and resources exist to support the IoC process but also what would hinder the process.  
Leask's short questionnaire concerning blockers and enablers to staff engagement in IoC is a useful tool to planning who will do what. We adapted Leask's questionnaire to help us understand the blockers and enablers that our leaders, program directors, teachers, support services and administrators experience at KI both at the individual level, as well as at the institutional level.  
Engagement and ownership
The team invited members from the Committee for Higher Education (KU) and from the Working Group for Internationalisation of education to provide advice and recommendations for: 
Establishing goals and objectives for the internationalisation of education at KI; 
Identifying enablers and blockers to IoC at micro, meso and macro levels; 
Identifying experts and champions across the university to support the work of IoC; 
Discussing how to evaluate the IoC process, including the effect on student learning. 
In so doing, we also facilitated leadership engagement and ownership in the IoC process, and were able to address questions and issues that focused on the formal, informal and hidden curricula. 
Using constructive alignment 
One framework that allows us to consider content alongside intended learning outcomes, learning activities and assessment is through constructive alignment. Constructive Alignment is an educational principle that combines constructivism, the idea that learners construct or create meaning out of learning with others, and alignment, a curriculum design concept that emphasizes the importance of defining and achieving intended learning outcomes (ILOs) (Biggs, 2014).
The goal of constructive alignment then, is to support students in meaning-making and learning as much as possible through a well-designed, coherent, and aligned module/course/study programme. Courses are congruent and cohere in an explicit way when there is good fit and flow between a course's intended learning outcomes, teaching and learning activities, and assessments of student learning. As explained by this short video from the University of Groningen in collaboration with FutureLearn. 
As developed and defined by John Biggs (2014), Constructive Alignment involves: 
Intentionally determining objectives for what students should learn and how they will demonstrate their achievement of these intended learning outcomes, and clearly communicating these to students; 
Designing teaching and learning activities so that students get feedback and practice in achieving these learning outcomes; 
Creating assessments that will allow students to demonstrate their attainment of the learning outcomes and allow instructors to discern how well these outcomes have been achieved. 
Working with the IoC process 
The team planned and mapped the IoC process. For every step we had to adapt or design tools to help us achieve our goal. These tools can be found and downloaded on our website in pages dedicated to each step. The following figure shows the tools adapted and developed for each step: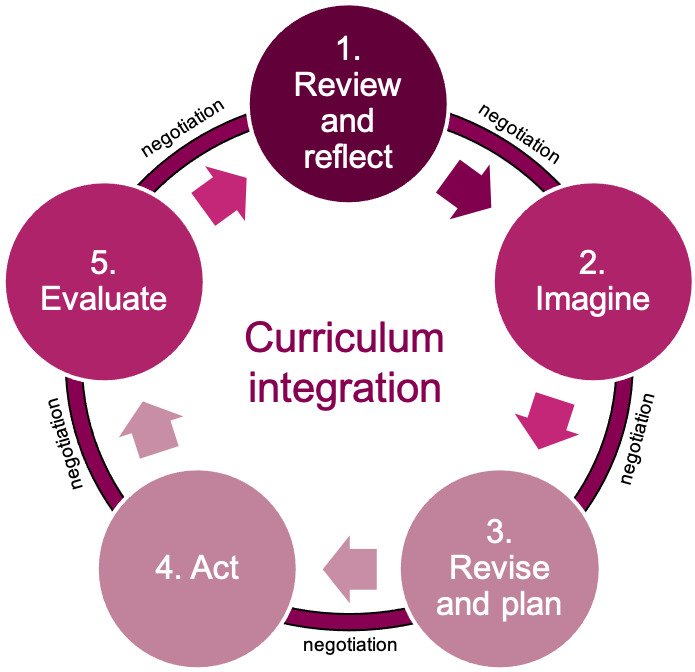 Illustration av process i 5 steg Foto: N/A