About Labmed
Our core activities are research and education. The subject area of Laboratory Medicine brings together basic scientific research, clinical research and healthcare.
As a result, the Department holds a strategic position with good conditions for translational research, thanks to its strong basic scientific capability and span, high technical content and access to clinical problems and clinical materials. The role of the Department is to transfer medical knowledge and improve it within healthcare, in collaboration with academia, healthcare services and industry actors.
We have seven divisions, of which six reflect clinics within the Karolinska University Laboratory at the Karolinska University Hospital. These divisions conduct research within clinical pharmacology, clinical physiology, clinical chemistry, clinical microbiology, pathology, clinical immunology and transfusion medicine.
LabMed is the third largest teaching department at KI, and is involved in 10 of the 19 first-cycle programmes at the Institute.
Organisational structure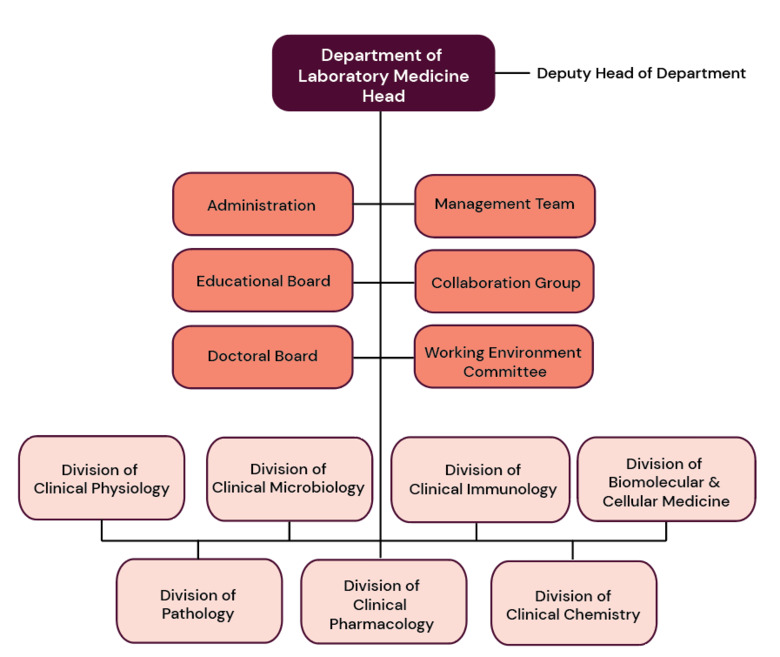 Organisational chart for Department of Laboratory Medicine. Photo: Christina Sundqvist
Vision
The Department will conduct world-leading research and education within the laboratory disciplines represented at the Department. In the next three years, we shall create a translational environment for research and education that attracts – and creates – researchers and students of the highest quality.
The history of the Department
The Department of Laboratory Medicine was established in 2003. Click here if you want to know more. (only in Swedish)