"Stem-cell-a-thon" Seminar Series
Researchers at the Department of Medicine, Huddinge (MedH) are organizing a seminar series by distinguished national and international speakers from the field of Stem Cell Biology and Regenerative Medicine.
Let's participate, share, discuss, and learn more about Stem Cells and their biology from the experts!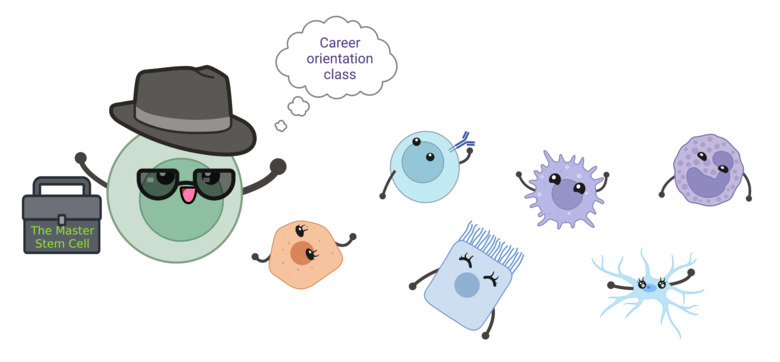 Illustration by Sophia Borate
Attend on site
Stem-cell-a-thon usually take place in Gene or Erna Möller in Neo, 5th floor, Blickagången 16, KI Campus Flemingsberg. 
Note! See the schedule/mail for any changes of venue.
Refreshments will be available for the participants after the talks.
Attend online
Zoom link will be sent out by email prior to each seminar. Contact one of the organizers for the Zoom invitation.
Schedule 2023
13:00 - 14:00
Prof. Danièle Bensoussan, Université de Lorraine, France
Title: Wharton's Jelly Mesenchymal stromal cells for the treatment of Sepsis: from bench to bedside
Location: Gene in Neo, 5th floor, Blickagången 16, KI Campus Flemingsberg and Online
Check the page again for recent updates
9th February
Speaker: Timo Otonkoski, University of Helsinki
Location: Erna Möller in Neo, 5th floor, Blickagången 16, KI Campus Flemingsberg. 
Title: Stem cell-derived islets: New possibilities for diabetes research and therapy
 
16th March
Speaker: Vivian Li, The Francis Crick Institute, London
Location: Erna Möller in Neo, 5th floor, Blickagången 16, KI Campus Flemingsberg. 
Title: WNT-driven colorectal cancer and intestinal bioengineering
 
13th April 
Speaker: Christine Mummery, Leiden University, Netherlands
Location: Online and Gene in Neo, 5th floor, Blickagången 16, KI Campus Flemingsberg 
Title: Human pluripotent stem cells to understand cardiovascular disease for drug discovery
 
4th May - Time: 12.00
Speaker: Cedric Ghevaert, University of Cambridge
Location: Online
Title: Making platelets in vitro: challenges and opportunities
 
1st June 
Speaker: Filipe Pereira, Lund University, Sweden
Location: Online and Gene in Neo, 5th floor, Blickagången 16, KI Campus Flemingsberg 
Title: Harnessing Direct Cellular Reprogramming for Cancer Immunotherapy
 
24th August
Speaker: Cecilia Götherström, Karolinska Institutet, Sweden
Location: Online and Gene in Neo, 5th floor, Blickagången 16, KI Campus Flemingsberg 
Title: Developing an advanced cell therapy for Brittle Bone Disease
 
12th October
Speaker: Dr. Heather Main from ATMP, Sweden
Location: Online
Title: It takes a village - the reality of getting cell therapy medicines to patients
 
Organizers