Karolinska Center for Transgene Technologies
The Karolinska Center for Transgene Technologies (KCTT) provides services including the generation, rederivation, and cryopreservation of genetically modified mouse (GMM) strains, mouse embryonic stem cell (mESC) lines and related techniques.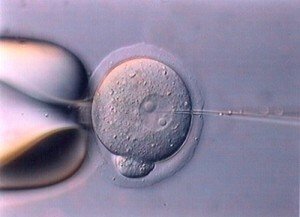 Pronuclear microinjection of a mouse zygote. Photo: KCTT, KI.
Organisation and funding
KCTT is the mouse transgenic core facility at Karolinska Institutet (KI) and is located at the Solna campus. KCTT belongs to Comparative Medicine.
We offer services primarily to research groups at KI but are also open to external customers as far as our capacity allows. We are mainly financed by a KI core facility grant and user fees.
Services offered
Production of new GMM strains by various techniques including:

CRISPR/Cas technology
Gene targeting in mESC
Pronuclear DNA microinjections

Rederivation of GMM strains from fresh or frozen embryos and sperm
Derivation of new mESC lines from existing GMM strains
How to request our services
KCTT is part of the core facility management (CFM) system iLab at KI and all requests for services should be placed through that system whether you are an internal or external customer. To find instructions how to register as a new user, internal or external, and to find more information about the system, please visit the CFM iLab project page.
As a registered user, for all services above, except rederivation, you can go directly to KCTT's iLab page to place a request. You can also register as a new user from there.
For rederivation services, please place the request at Import Portal's iLab page.
Prices and accessibility
KCTT is open to both KI internal and external customers, but priority will be given to KI research groups since we are financially supported by KI. For that reason, service charges are differentiated depending on being internal or external, academic or industry. Please contact us for a price quote for our services.
Collaborators and partners
For CRISPR/Cas technology, we collaborate with Karolinska Genome Engineering (KGE). KGE can provide the service of creating and testing the editing strategy, including design of the gRNA(s) and any repair template, before we conduct the subsequent steps necessary to generate the new GMM strain.
For GMM strain rederivations and cryopreservations, we collaborate closely with the Import Portal, which is the entry point for any live mice being imported for further processing by us according to your request.
We are a partner and node of the European Mouse Mutant Archive (EMMA), a repository for archiving and distribution of mutant mouse strains. We currently house >170 of EMMA's GMM strains in our cryobank at KI, which are searchable at the EMMA web site.
We also collaborate with the Murine Stem Cell Unit (MSCU) at the Karolinska Institutet Stem Cell Organoid (KISCO) facility that can perform directed differentiation and organoid development of new mESC lines that we derive for you.
Contact us
General queries
New GMM strain production
GMM strain cryopreservation & rederivation
mESC gene targeting & derivation