AdSafe, FORTE project
The AdSafe project aims at evaluating differences in food marketing exposure and health-related behaviors in student populations from Swedish neighborhoods with different socioeconomic characteristics.
Work Unit Ioannis Ioakeimidis.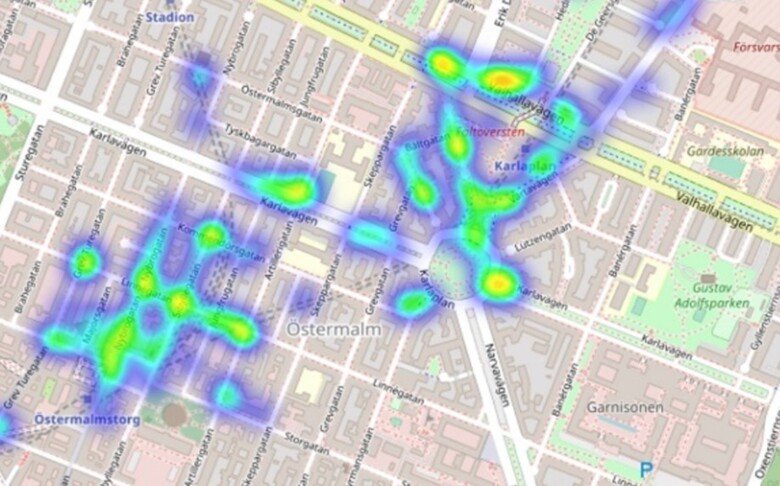 Distribution of student-reported food advertisements in Stockholm
Adsafe is a parallel effort to the UNIFOOD project, expanding the scope and the scale of the research looking into school children's exposure to advertisements for ultra-processed food and its effects on relevant lifestyle parameters (e.g., meal content and frequency and physical activity). The project aims at recruiting a large sample of Swedish students from schools located in three Swedish cities. Using mHealth tools, the project will collect data on the students' dietary habits, their physical activity, as well as evaluate their exposure to physical and digital food advertisements.
In detail, the project aims to:
Investigate if exposure to ultra-processed food advertisements differ in low vs high socioeconomic areas, around local schools and neighbourhood landmarks.
Estimate the degree of exposure of adolescents to digital ultra-processed food advertising.
Investigate if increased exposure to ultra-processed food advertisements is associated with different outcomes such as school lunch skipping, intake of unhealthy foods and beverages, physical activity levels and prevalence of overweight and obesity.
Investigate students' and teachers' attitudes and reflections towards food
marketing, school lunch skipping and health aspects, as well as potential interventions at school and beyond.
In parallel, study outcomes will be communicated back to the schools through focused workshops and lectures, engaging larger segments of the school community and creating interest about relevant lifestyle healthiness issues.
The project is funded by the Swedish agency FORTE and conducted in collaboration with Dr. Christos Diou, Assistant Professor at the Department of Informatics and Telematics, Harokopio University, Athens Greece (digital data collection and analysis support). The development of the digital tools is done by Professor Anastasios Delopoulos and his research team at Multimedia Understanding Research Group, Electrical Engineering Department, Aristoteles University of Thessaloniki, Greece.
Work Unit Leader: Ioannis Ioakeimidis