Our offer - ANA Futura BSL3 Core Facility
The ANA Futura BSL3 Core Facility is a laboratory infrastructure at KI Campus Flemingsberg, developed to meet the pre-clinical and clinical research environments needs for work with a wide variety of infectious microorganisms.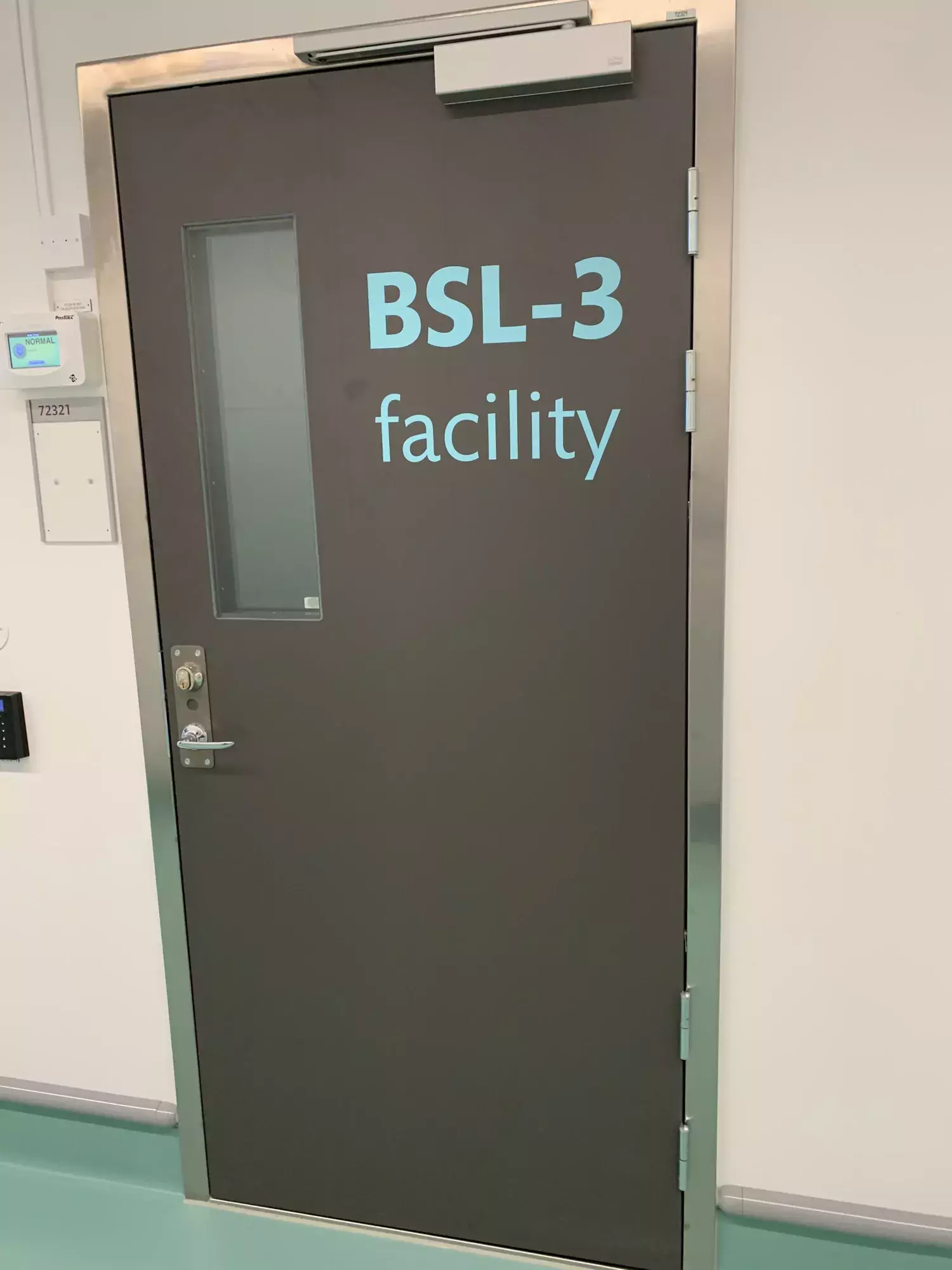 Entry to BSL3 ANA Futura.
The facility provides the users with three separate fully equipped culture rooms, one room equipped for cell sorting from infected material, and one room for equipment and chemicals. All work is conducted in the five microbiological safety cabinets class II (MSC-II) available to the users.
The BSL3 Core Facility supports large-scale propagation and concentration of infectious microorganisms, antimicrobial screening, analysis of pathogen-host interactions, and tissue/in vitro culture work. We can provide you with support and training throughout your research project.
Risk group 3 pathogens
The BSL3 Core Facility has permits and notifications from the Swedish Work Environment Authority to store and work with several infectious microorganisms.*
Viral pathogens
Coronaviridae (Coronavirus): SARS-CoV-2
Retroviridae (Retrovirus): Human immunodeficiency virus (HIV)
Hantaviridae (Hantavirus): All strains within the hantavirus family, including HFRS-causing viruses: Puumala virus, Dobrava virus, Hantaan virus, Seoul Virus and others; HPS-causing hantaviruses: Andes virus, Sin Nombre virus and others.
Flaviviridae (Flavivirus): Tick Borne Encephalitis Virus (TBEV), Dengue virus (DENV), Japanese encephalitis virus (JEV), Yellow fever virus
Flaviviridae (Hepacivirus): Hepatitis C-virus
Hepadnaviridae (Orthohepadnavirus): Hepatitis B virus
Deltavirus: Hepatitis delta-virus
Bacterial pathogens
Mycobacterium tuberculosis
Permit from the Swedish Work Environment Authority to work with R-activity GMM*
*Additional notifications and permits can be applied for upon request. 
The instrumentation at the core facility includes:
Five MSC-II
Sony MA900 cell-sorter, supporting 12 fluorescence parameters and 4-way sorting.
Tecan Spark multi-mode reader for microplates with ability to read absorbance, fluorescence, luminescence, and Alpha screen technology.
Ultra-centrifuge
Microscopes with cameras,
Cell counter
CO2 Incubators
Automatic pipetting device
Fridges
-20 to -80°C freezers
PCR machine
Centrifuges, pipettes, scale, etc.
Contact us to discuss a project
Please send a short email about your needs to bsl3-anafutura@ki.se. We will contact you and arrange for a meeting to discuss your needs and how we can help you.