About the KI Research Incubator (KIRI)
KI aims to be a pioneering university. As part of this ambition, the Committee for Research created the KI Research Incubator (KIRI), a dynamic environment strengthening innovative research with a focus on interdisciplinary breakthroughs.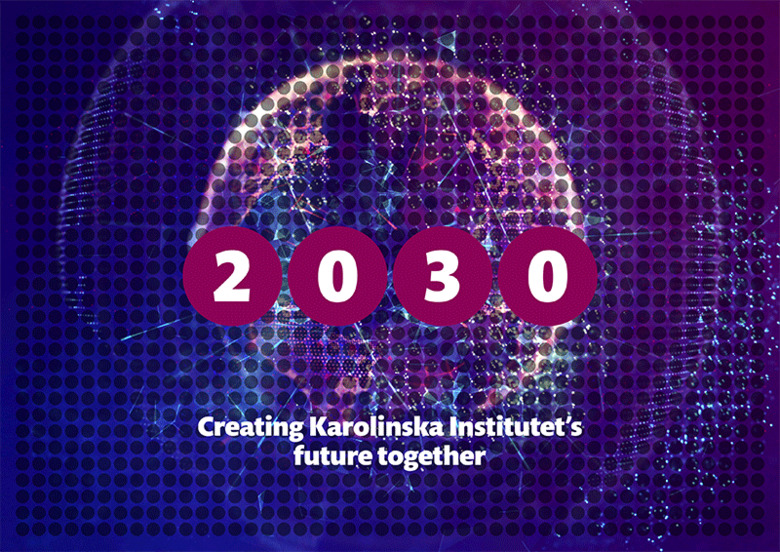 Photo: KI Strategy 2030.
Background
According to KI's Strategy 2030, the university should approach 2030 as a groundbreaking, engaged and global university. Junior researchers must be given excellent opportunities to develop their talents and achieve their goals. This is a prerequisite for creative thinking and cutting-edge research.
In 2020, the Committee for Research commissioned a working group to identify the best actions to stimulate curiosity and groundbreaking research. The working group concluded that to enable junior researchers to think in new ways and to break new ground, a new research environment needed to be established. The basis of such an environment should be to bring together researchers from different scientific fields and disciplines with the ambition to drive innovation collaboratively. The expected result is ground-breaking discoveries that can address the major medical and health needs of the future. In concert with these findings the Committee for Research launched the KI Research Incubator (KIRI) in 2022 - a new environment for collaboration, interdisciplinarity and interaction.
Establishing a KI Research Incubator (KIRI)  
With the launch of KIRI, KI has created a virtual research environment where a new generation of researchers can collaborate and develop joint interdisciplinary research projects.
KIRI is built by inviting junior researchers, who meet the set criteria, to apply to the research incubator. When applying for membership, great importance is attached to motivation and interest in interdisciplinary work. KIRI is to be primarily member-driven, with members themselves taking an active role in contributing to content and development.
Target group and membership
The core of the research incubator is its members - KIRI-fellows. The target group for membership consists mainly of junior researchers at the beginning of their careers. The eligibility criteria for membership is determined by the Steering Group in an annual call for applications. The call invites applications from interested researchers at KI who meet the criteria and are motivated to work in an interdisciplinary manner.
Funding of interdisciplinary research projects
To provide KIRI-fellows with new opportunities to collaborate in interdisciplinary research projects, funding opportunities for a limited number of collaborative projects is regularly announced.
The application period are evaluated by the KIRI steering group. The award covers the costs of a joint postdoctoral fellowship between two KIRI-fellows for 2 years. This is to support new and innovative collaborations of interdisciplinary nature.
Steering Group
The Steering Group appointed by the Committee for Research:
Konstantinos Meletis, Chairperson
Christian Giske, Deputy chairperson
Jenny Mjösberg, Faculty representative
Camilla Svensson, Faculty representative
Georgios Sotiriou, KIRI-fellow, Junior faculty