KONTAKT – A group-based social skills training method for autistic youth
Group social skills training with KONTAKT™ is a clinical intervention for autistic children and adolescents of school age. After a large research study at KIND, the method is used in the regions of Västra Götaland and Stockholm. KONTAKT has been further developed for use by school personnel based on the adapted version SKOLKONTAKT. The next step is the further development of KONTAKT online.
The Swedish National Board of Health and Welfare (sv. Socialstyrelsen) recommends social skills training in the national guidelines for care and support for ADHD and autism. A report from KIND shows that parents demand social skills training for children and young people with autism.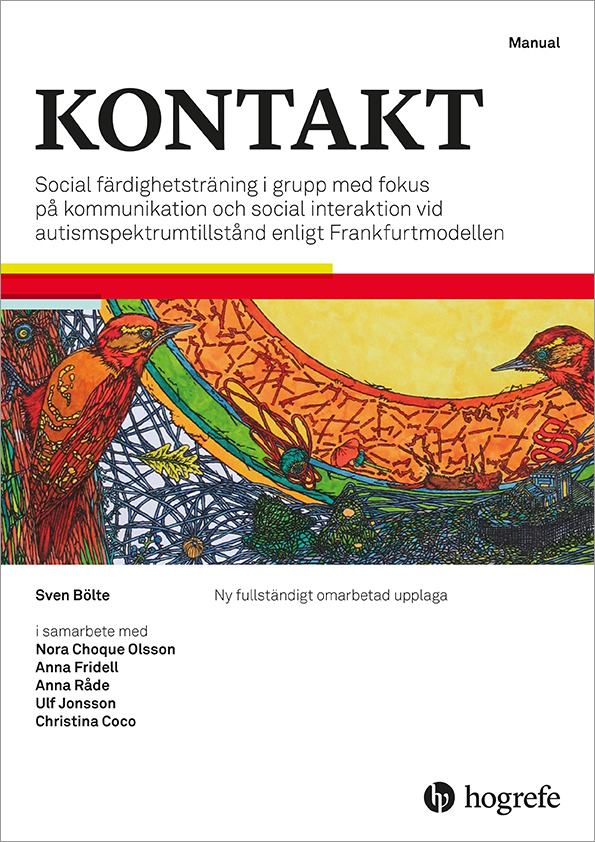 What is KONTAKT?
KONTAKT is a manual-based social skills training in groups for autistic children (8–12 years) and adolescents (13–18 years) without co-occurring intellectual disability. The method was developed by, among others, KIND's director Sven Bölte in Germany and has since been adapted and tested in Swedish healthcare services. KONTAKT is offered in clinical practice and in small groups of four to eight group participants. Participants complete either a short (12 sessions) or long (24 sessions) intervention and guardians or other supporters participate in parallel meetings at several sessions. The group meets for 1 hour (children) or 1.5 hours (youth) weekly. Each group is led by two to three clinicians with experience of working with the autistic youths and of cognitive behavioral therapeutic based principles of intervention. These principles permeate the activities of the group sessions, such as theme-based discussions and group activities. Sessions are conducted in a recurring and predictable structure. The participants' individual needs, wishes and interests are considered by individual goal-setting and weekly homework assignments. The group's common goal, as well as the purpose of the intervention, is to enhance the degree of social awareness, problem solving and practice in order to approach the unique social goals of each participant together with others in the group.
The research on KONTAKT
A large-scale, multicenter, randomized controlled trial comparing KONTAKT with treatment as usual (e.g., general cognitive support strategies) was coordinated at KIND and completed in 2016. The main aim was to investigate whether the intervention can affect social skills in participants. The results showed that the short intervention mainly has good effects on girls and adolescents. However, the long version has very good effects on both children and young people. In this study, researchers also collected samples of participants' genetic makeup in order to investigate whether genetic factors could help them understand who would benefit more from attending KONTAKT. It turned out that there was rarely any specific gene that could. However, certain genetic profiles could be associated with how well the intervention was received. Although this is not something that is used clinically today to determine who will be included in KONTAKT, it could be valuable information in the future to refine interventions for autistic youth.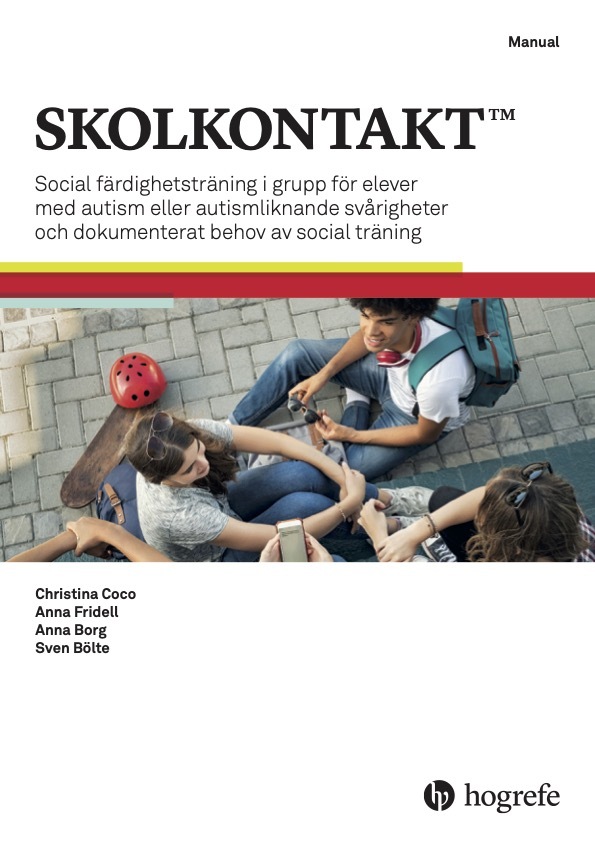 What is SKOLKONTAKT (eng. SCHOOLKONTAKT)?
SKOLKONTAKT™ is based on the same basic principles as KONTAKT but has been developed for the school's conditions. The development was carried out in dialogue with school staff, as a part of a small development study at a high school, and in collaboration with special education teacher and former principal Anna Borg (affiliated with KIND). Final adaptations and changes include, among other things, content (more school-related social situations), increased frequency of group meetings and slightly shorter meetings to better suit the student's schedule. Weekly tasks are completed during the group meetings. A significant adaptation from KONTAKT is that SKOLKONTAKT is implemented entirely at school and the groups are led by school staff.
The research on SKOLKONTAKT
The adaptation of KONTAKT to the school, in the format SKOLKONTAKT, has been evaluated in a controlled, randomized pilot study at a high school in Stockholm. The overall aim was to investigate the acceptability, safety and preliminary effects of SKOLKONTAKT in comparison with an active control group. In an interview study, it was conveyed that youth that participated in and school staff who carried out SKOLKONTAKT, but also the school management, expressed that it had been a positive experience overall, and a well-placed and motivated intervention at the school. Questionnaires showed that certain social skills developed and that the young people's self-perceived quality of life improved, more so for participants in the SKOLKONTAKT groups than in active control groups. In addition, more personally formulated, social goals were achieved if the youth attended SKOLKONTAKT.
International collaborations
KONTAKT is available in several languages and is being tested in many different countries. KIND has a close collaboration with Australia (Curtin University, Perth) where the manual and other working materials have been translated into English. In this collaboration, an adapted intervention-length version (16 sessions) was developed and has been tried in Australian healthcare services with autistic youths. The English version of KONTAKT has demonstrated good effects for adolescents in a randomized, controlled study with an active control group. It turned out that participants who attended KONTAKT were able to achieve their social goals to a greater degree and felt less anxious in social contexts in comparison to young people who had taken part in another, socially engaging activity. Testing of the English version of KONTAKT for children is currently underway in Australia. Work is also underway to develop an English version of the SKOLKONTAKT intervention.
Ongoing research on KONTAKT
Who can benefit most from KONTAKT?
Previous studies by KONTAKT have shown that participants may experience various benefits from participation. Things like language ability, gender, and age seem to play a role in how effective the social skills group training is in changing social skills after the intervention for autistic youth. We want to know more about this in order to be able to offer care and support with good quality, but also to develop the intervention so that it can be offered effectively to more people who wish to participate.
How do KONTAKT participants fare in the long term after the intervention?
The effects of group-based social skills training are usually measured immediately after the intervention ends or at a few months of follow-up. However, we know very little about the effects after the intervention much later, perhaps several years, after the intervention has ended. It may be the case, for example, that a participant's social skills, problem solving, or inclusion are only noticed some time after the intervention. We also do not know whether the effects many people show after the intervention will last in the long term. Therefore, preparations are underway to investigate the functioning of former KONTAKT participants several years after their participation in KONTAKT.
Is the KONTAKT model effective in an internet-based format?
The availability of support and interventions in health care needs to be improved for autistic children and adolescents. Autistic young people and their families ask for greater flexibility from care in how support and interventions are offered. KIND wants to investigate whether a new, not yet available, format for autistic young people can be offered safely and effectively online. It is possible that such a format reduces barriers such as geographical distance to the care provider and various difficulties for the autistic young person to get to, or participate in a group at, in a clinical, fact-to-face setting. In addition to that, it is possible that the format allows more participants to attend the intervention at the same time, which can reduce the waiting time.
For more information about these planned projects at KIND, contact doctoral student Anna Fridell (leg. psychologist): anna.fridell@ki.se
About social skills training
Social training for autistic young people has traditionally assumed that the individual needs to learn expected social behaviors in order to function in social contexts. Nowadays, we assume that even if differences in the child's way of understanding, expressing and orienting themselves in social situations can contribute to making it difficult in several social situations, the context in which the child finds himself is of great importance for their social functioning. It is fundamental in the KONTAKT-model that individual participants have different social needs, strengths and challenges that needs to be considered. It is also fundamental that, in cases where the young person experiences difficulties in managing his social life, they should have the opportunity to be offered support to reduce the risk of negative consequences of this in their life. KONTAKT is an ongoing project at KIND that is continuously developed with the aim of offering this support safely and effectively for autistic young people.
Publikationer
Other information
Are you interested in training, certification and supervision in the KONTAKT or SKOLKONTAKT methods?
Register for one of KIND's training courses.
Are you interested in purchasing manuals and workbooks for the KONTAKT or SKOLKONTAKT methods?
Contact the publisher Hogrefe.
Are you interested in participating in the KONTAKT group at the KIND clinic (BUP-KIND) (located in Stockholm, Sweden)?
BUP-KIND welcomes referrals from other BUP clinics in SLSO, Region Stockholm. Other healthcare providers also offer KONTAKT, please contact your local healthcare provider for more information.
Contact Us
We who work with KONTAKT or SKOLKONTAKT at KIND:
Professor, föreståndare KIND, enhetschef Neuropsykiatri
K6 Department of Women's and Children's Health