Histological Core Facility - Histocore
The Histological core facility at Biomedicum (Histocore) located in room B0517, has a number of cryostats, microtomes, dehydration machines and embedding platforms. At Histocore you can do anything related to histology, from tissue preparation to histological stainings. We welcome people from KI, other academic institutions and from biotech companies.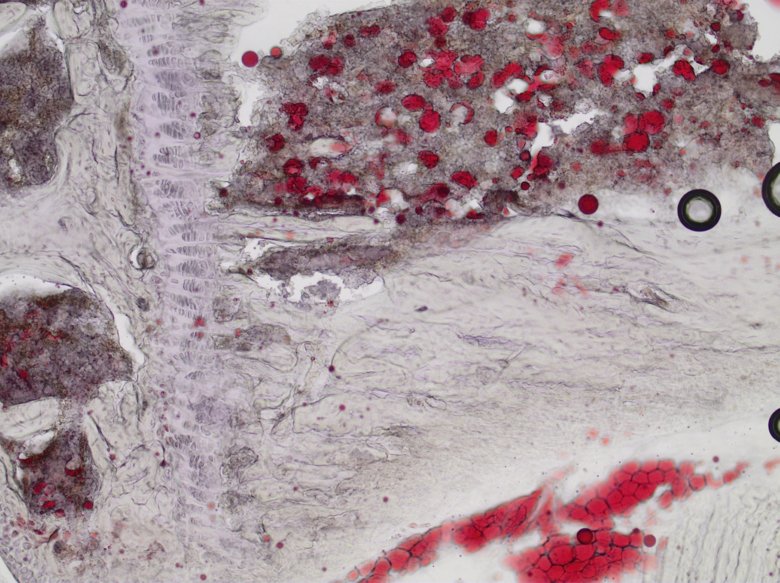 Oil-Red staining of bone
About us
The Histological core facility at Biomedicum (Histocore) offers a variety of histology-related services to the customers at Karolinska Institutet, all other academic institutes as well as commercial companies. Histocore is located in section B floor 5 at Biomedicum (KI Solna campus, Solnavägen 9a) and has a number of cryostats, microtomes, dehydration machines and embedding platforms.
We offer two modes of interaction with our customers: (i) self-service, when we train you and let you do your work by yourself, and (ii) full-service, when we do everything, you need by ourselves.
Self-service
Users get access to different histological equipment including cryostats, microtomes, vibratomes and paraffin embedding platforms. All the equipment is regularly checked and serviced. An hour long training course is required to start using the facility independent on your previous experience (separate trainings are required for cryo- and for paraffin-related job). Additional training can be offered upon demand.  
Full service
We are very professional and experienced in various histological techniques and samples, meaning that the work is done at the best possible quality and speed. We can do a part or all the histological preparations you need. It can include tissue dehydration and embedding, cryo- and paraffin sections (including those for spatial transcriptomics and tissue microarrays), various histological stains, immunohistochemistry and RNAscope. We have a special discount for RNAscope reagents from ACDbio Inc.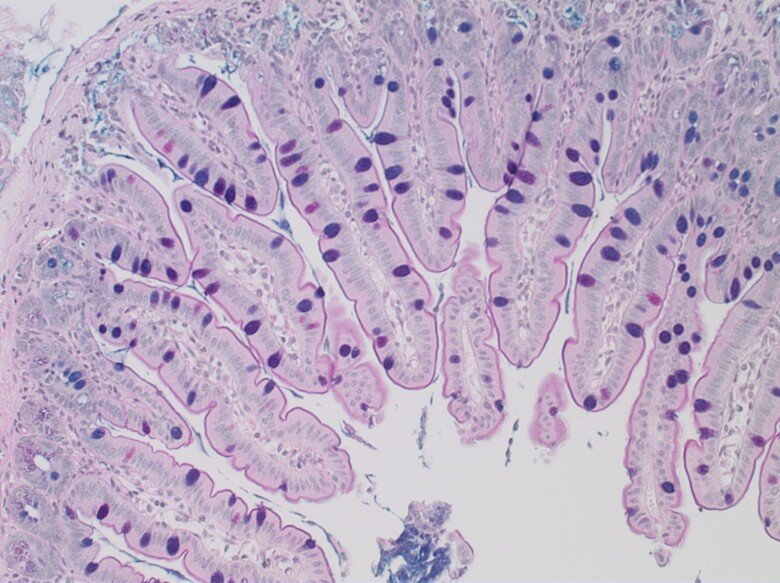 Alcian Blue PAS staning of intestin (20X)
Guidelines
To start using the facility please login to iLab booking system using your SWAMID credentials (your institutional credentials) and request training or a service.
If you are from a company or by any other reasons do not have SWAMID credentials, please create an account in iLabs to login. We are requested to manage all our activity via this system.
For self-service, upon completing the training, please send your name, date of birth, your PI name and department to Andrei and he will arrange your access to the facility. Please bring your own slides, boxes, OCT, etc for your own project. Paraffin we offer here. Please also notice that dehydration of the samples is always performed by us.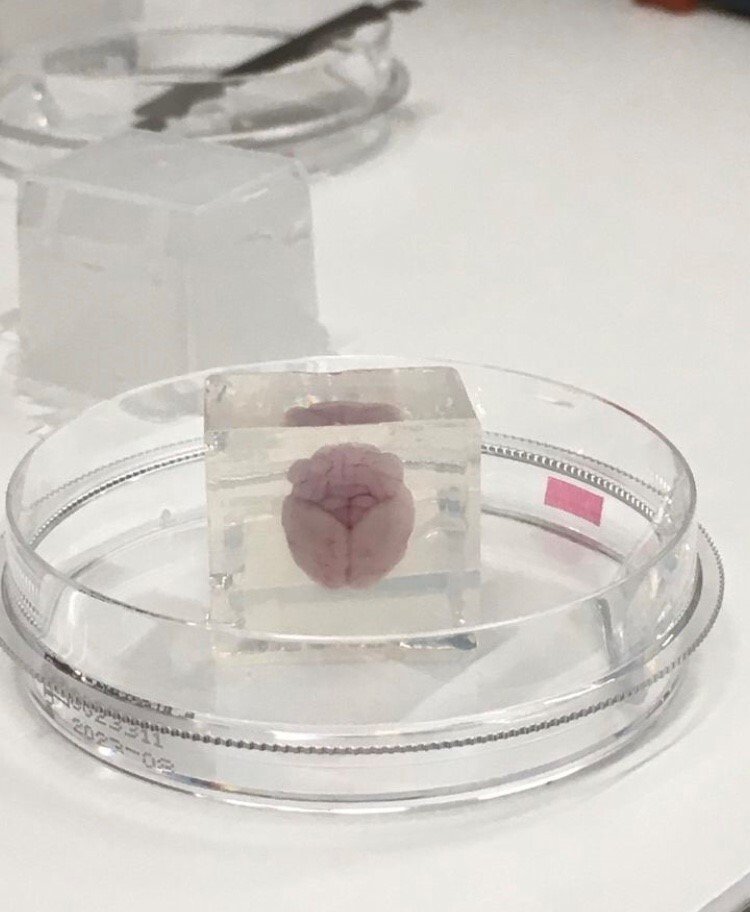 Mouse brain prepared for slicing in Vibratome Leica VT 100ST
Equipment
Cryostats (NX70 (2), Leica CM3050, HM560 (2)
Microtomes (HM360 (2)
Vibratomes (Leica VT100ST)
embedding station
dehydration machine
staining platform
Price estimates
The exact and updated prices are specified at iLab booking portal.
The approximate estimation for 2023 is 130:-/hour self-service for an average equipment for Biomedicum-based users. Prices are 50% higher for the rest of KI** and other academic customers and doubled for non-academia/health care.
For professional histological support (full service) the price can be roughly estimated based on 800:-/hour* for Biomedicum-based  customers, 50% more for other academia (including the rest of KI)** and doubled for customers outside academia/health care. Projects, which include optimization steps (i.e., immunohistochemistry, RNAscope) are discussed on a case-by-case basis.
*We can break the price per section/slide if you would prefer, but this is done in individual manner when we know the tissue, how it was fixed, embedded, etc. You cannot believe how different samples and demands we have faced over the years, and each requires its own adjustments (see pictures for examples). In all cases, we are always customer-oriented, and your demands and satisfaction are the highest priority for us. Over the four years of our work, we have hundreds and hundreds of satisfied customers and now well renown throughout the country from Gothenburg to Umea. 
If you do not know what to start from, we provide consultations at all various levels, from project design (Andrei) to specific protocols and detailed suggestions (Emma, Juliana).
**For KI/KS users outside Biomedicum: We are scientists, work for scientists and wish to keep the price affordable for scientists. The above outlined price policy is due to our unfortunate bad luck with the central KI core facility support. We are currently supported by five Biomedicum's departments (CMB, MBB, MTC, FyFa and Neuro) in terms of rent and equipment renewal. Our labor is entirely secured by the fees above. You may look for more attractive price policy at two Histology core facilities supported by KI core facility funding on Huddinge side.
Contact
Director of Histocore, Professor
C3 Department of Physiology and Pharmacology