Tracking the risk for dyslexia in children
The eye movement of a child reading may indicate an increased risk of dyslexia or reading difficulties. This discovery led to the formation of the company Lexplore that today has operations in Sweden, the UK and the US. Now, the researchers behind the breakthrough are adapting the technology to identify early Alzheimer's and Parkinson's.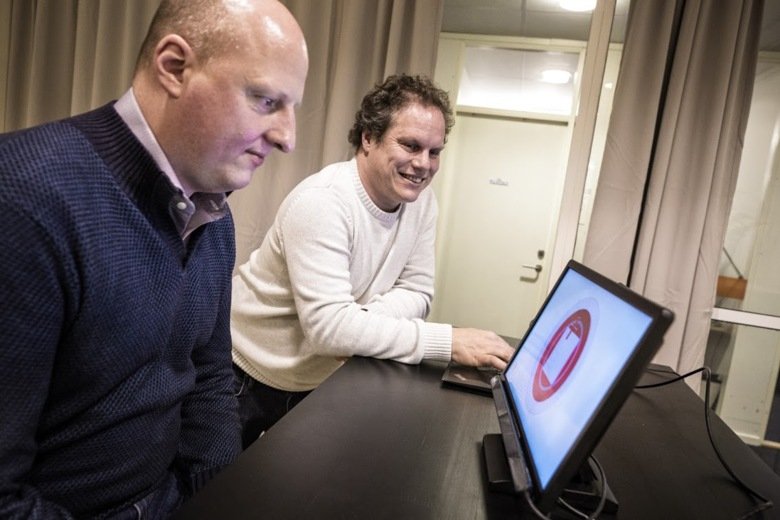 Nilsson Benfatto and Öqvist Seimyr. Lexplore. Photo: Håkan Lindgren.
To date, some 40,000 children have been screened with Lexplore's eye-tracking technology. Of those, around 10 per cent have been identified as pupils who need to have support from specialised teachers. The screening can be carried out considerably earlier than conventional dyslexia checks.
"Getting early support is crucial in cases of reading and writing difficulties because it makes it easier for younger students to develop their reading abilities than when they're older," says Mattias Nilsson Benfatto, associate professor att Karolinska Institutet, who founded Lexplore with Gustaf Öqvist Seimyr.
An archived study
The idea behind Lexplore was born when Öqvist Seimyr met researchers who had conducted a survey of reading and writing difficulties at the beginning of the 80s: the Kronoberg Project, which monitored reading and writing ability among some 200 children from school age to adulthood. The pupils' eye movement was recorded while they read with the help of cameras integrated into a large, bulky pair of glasses.
"The team were pioneers in the field and made use of what was the most advanced technology available at the time. The project was run by, among others, Dr Per Uddén who also invented the Permobil electric wheelchair," says Öqvist Seimyr, senior researcher at Karolinska Institutet.
One of the researchers behind the Kronoberg Project revealed that all the recordings still existed, stored on analogue tapes in an archive. This set Öqvist Seimyr's imagination running: he contacted his colleague Mattias Nilsson Benfatto. Both were computional linguists who had previously studied eye movement.
"We're able to to pick up the trail after 20 years and review the same data but with new methods based on machine learning and AI. And we saw a difference in eye movement between those who became strong readers and those who did not. It was fascinating and suggested that it was possible to use to identify dyslexia in children at an early stage," says Nilsson Benfatto.
Already at that point, with only preliminary results conducted, contact was made with KI Innovations.
"They were extremely encouraging and got us in touch with a business developer who subsequently became the company's first CEO. We hadn't expected such a positive response because our field differs from the clinical research typically conducted by Karolinska Institutet," says Öqvist Seimyr.
Larger study
Their primary focus, however, was not to start a business. Rather, they were set on finding ways of identifying whether the preliminary results could be replicated in a considerably larger study. Vinnova provided backing that meant the study could be scaled up to 3,000 pupils in 2015-2016 and conducted in a classroom setting. And the initial results held.
Subsequently, analysis methods and technologies have developed further and today the products are used in Sweden, the UK and the US. Something that also means that the number of screened children was increased dramatically.
"Every screening is conducted by school staff and responsible administrators get an insight into future student needs. As results from the screenings are available so quickly, this can free-up time that can instead be used to support students experiencing difficulties, says Nilsson Benfatto.
"Our screening shows which pupils are at heightened risk of dyslexia and reading difficulties. Specialised teaching staff are then available to offer continued support."
"We see commercialization as a way of also disseminating this research into wider society. "
Early diagnostics of Alzheimer ́s
In May 2016, the company received fresh backing from Vinnova to see, in collaboration with Karolinska Institutet, whether the methods could also be used to identify early Alzheimer's and Parkinson's.
"Research into the relationship between eye movement and these conditions has been conducted for a number of years, but we're the first to have developed measuring techniques for this. And thanks to our time with Lexplore, we see commercialization as a way of also disseminating this research into wider society," says Öqvist Seimyr.
Quick facts
Follow the eyes as children read
Screening is conducted by a pupil reading a text on a screen. The screen is equipped with a camera that follows pupils' eye movements. After reading, the pupil's eye movements are shown as circles on the text on screen. The size of the circle indicates how long the eye has looked at a specific place and the gaps between the circles show the eye's movement over the text. Results for someone with reading difficulties can show, among other things, repeated attempts to read given text than normal in the form of more and larger jumps over the text.