Putting a brake on Alzheimer's
BioArctic is getting closer to producing a drug that substantially limits the development of Alzheimer's.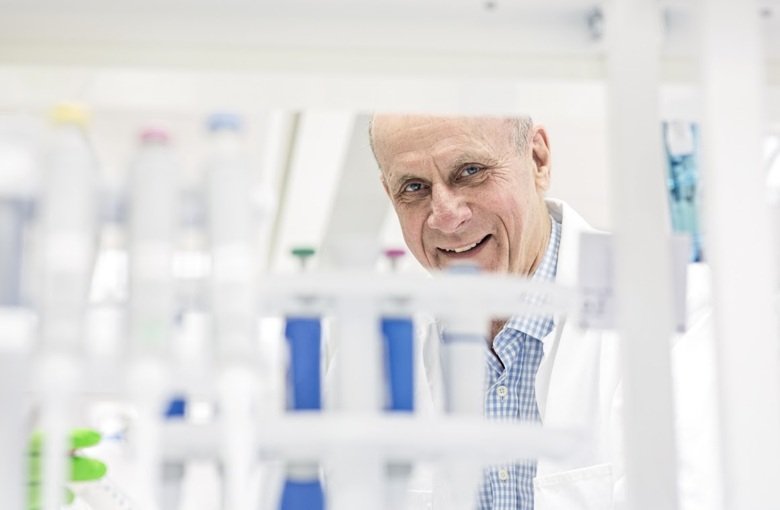 Lars Lannfeldt. BioArctic. Photo: Håkan Lindgren.
BioArctic's drug candidate is based on a discovery made at Karolinska Institutet back in 1998. This was when Lars Lannfelt received a letter from a local doctor in Umeå, northern Sweden, asking for help. At the time, Lannfelt was an authority on Alzheimer's due to research he had carried out with, among others, Bengt Winblad, senior professor at Karolinska Institutet.
"I went there and met a family that had been hard hit by Alzheimer's due to an inherited mutation, which we later named the Arctic Mutation, and that led us to the idea of a new therapy," says Lannfelt, currently senior professor at Uppsala University.
Alzheimer's is associated with the death of nerve cells in the brain, with sufferers affected by gradually deteriorating memory, finding it difficult to interpret their surroundings, to think and control movement. A damaging protein, amyloid-beta, builds up in the brain in the form of small lumps, known as plaque. Lannfelt's idea was to prevent this build-up before it started.
"My idea was to attack the soluble forms of amyloid-beta, which we call protofibrils, that we saw in the Arctic Mutation. It's the protofibrils that subsequently grow, expand and form plaque."
Difficult to develop an antibody
Work started on the development of an antibody that could attack protofibrils, meanwhile Lannfelt took up a professorship at Uppsala University. Research continued there until 2005 at which point the researchers identified a candidate with the appropriate properties.
"It was difficult to develop an antibody because the amyloid-bea protein is highly sensitive to manage. We first had to develop entirely new technologies to do this," says Lannfelt.
Lannfelt and Dr. Pär Gellerfors founded BioArctic when development was still at an early stage. Among the first investors was KI Innovations.
"You have to commit to what you believe in. I also applied early for a patent, which involved a lot of work and took about seven years to get approval. This is where you need to focus on commercial success because a patent is a business tool."
"You need to surround yourself with good people, and accept that you can't do everything yourself if you want to succeed."

Early treatments a key
The preliminary results of BioArctic's Phase 2 trial, conducted with co-operation partner Eisai, came out last summer. The condition had been significantly slowed in around 80 per cent of participants to such an extent that they could no longer be diagnosed as having Alzheimer's.
"It was extremely encouraging. I've always believed in this but having said that, there are so many unknown factors in the body. It turned out better than I could have ever imagined," he says. One of the keys to the treatment is that treatment starts early, something that is possible thanks to today's advances in diagnostics.
Today, BioArctic is a fully fledged research business that works closely with several universities. "The Swedish universities are especially important for us. You need to surround yourself with good people, and accept that you can't do everything yourself if you want to succeed."
The next step is a Phase 3 trial to confirm the results before becoming an approved drug.