About NeurotechEU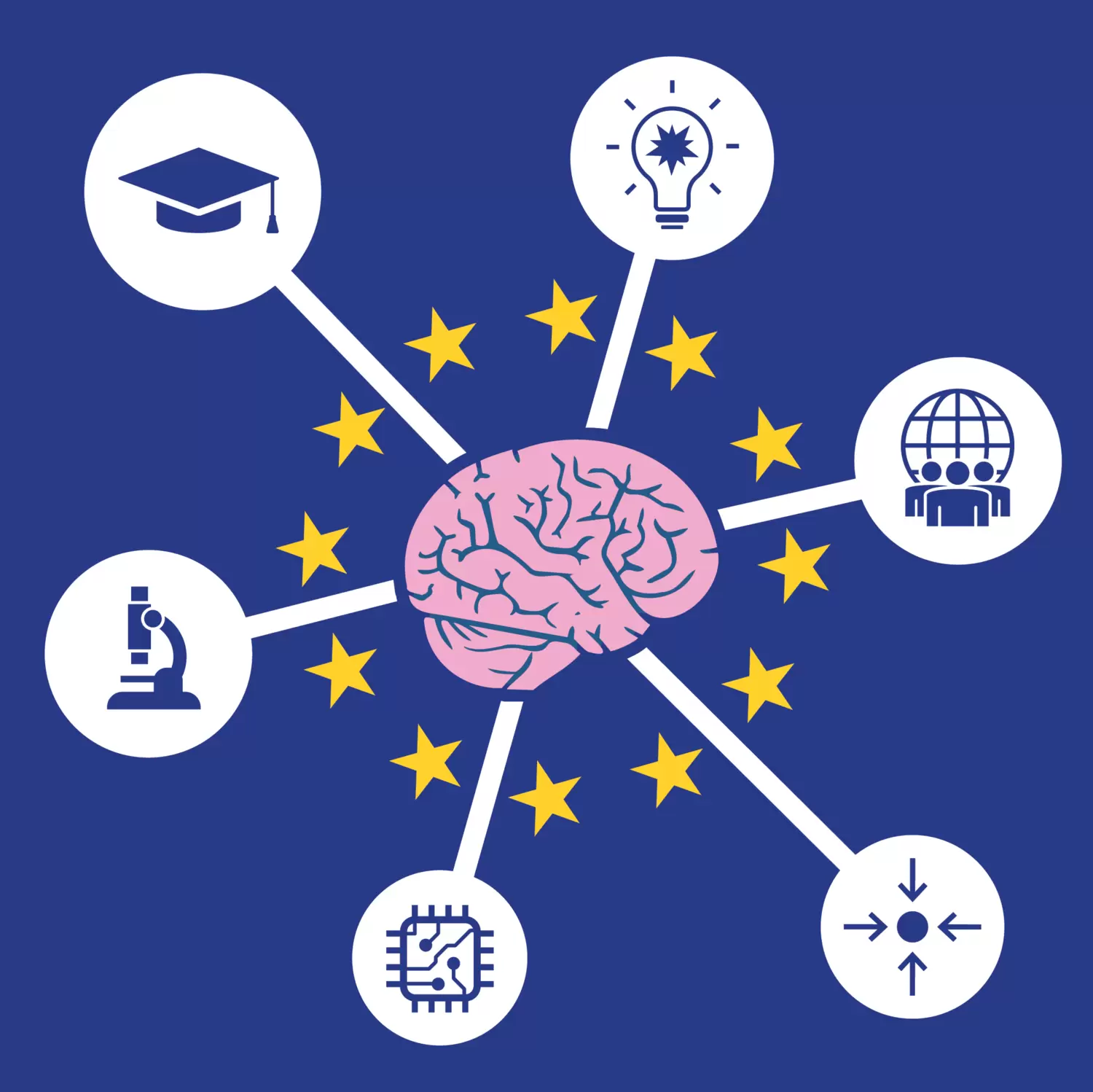 Image: NeurotechEU logotype.
NeurotechEU is:
Mission: build a trans-European network of excellence in brain research and technologies to increase the competitiveness of European education, research, economy  and society.
Vision: establish neurotechnology as an applied science and provide society with brain-centered and brain-inspired solutions by educating the next generation of scientists, engineers and health professionals.
NeurotechEU aims to:
Implement a comprehensive training program for bachelor, master, and doctoral students while promoting life-long learning in all segments of society
Facilitate technological and societal innovation through research
Provide multidisciplinary professional training and mobility to scientists and engineers
Promote direct access to cutting-edge infrastructure for fundamental, translational and applied research
Help Europe become the global leader in brain research and neurotechnologies
About NeurotechEU
From health and healthcare to learning and education, Neuroscience has a key role in solving some of the most pressing challenges that we face in Europe today. Whether the challenge is the translation of fundamental research to advance the state of the art in prevention, diagnosis or treatment of brain disorders or explaining the complex interactions between the brain, individuals and their environments to design novel practices in cities, schools, hospitals, or companies, brain research is already providing solutions for society at large. 
Neuroscience has also a great promise to become an applied science, to provide brain-centered or brain-inspired solutions that could benefit masses and kindle a new economy in Europe. NeurotechEU aims to be the backbone of this new vision.
NeurotechRI - Research and Innovation
NeurotechRI is a parallel and interconnected project to NeurotechEU that brings together the same eight universities in Europe to transform cooperation in research and innovation.
The purpose of this project, funded by Horizon 2020, is to set up an actionable and sustainable plan to develop a pan European, inter-institutional and inter-sectoral strategy to help Europe realise its full potential in the global knowledge economy.
NeurotechEU consists of 8 European universities which together have 170 000 students, 400 000 alumni and 70 000 employees. 
NeurotechEU partners:
Radboud Universiteit (Netherlands) -  coordinator for NeurotechEU, responsible for management and coordination of the network and activities
Universidad Miguel Hernández de Elche (Spain)
Karolinska Institutet (Sweden)
Rheinische Friedrich-Wilhelms-Universität Bonn (Germany)
Boğaziçi Üniversitesi (Turkey)
University of Lille (France)
Reykjavik University (Iceland)
Universitatea de Medicină și Farmacie "Iuliu Hațieganu" din Cluj-Napoca (Romania)
NeurotechEU activities
A central goal of NeurotechEU activities is the continuous integration of education, research and innovation.
NeurotechEU activities are coordinated in work packages (WPs)
Each partner university leads one WP
All universities have representatives in all WPs
Associated partners
In addition to the eight universities, the network also consists of 250+ associated partners:
1 university network 
2 European University Alliances
3 technology transfer offices
6 regional innovation networks
8 NGOs
9 public bodies
14 research centres
29 higher education institutions
200+ companies
NeurotechEU - Phase 1 (2021-2023)
During Phase 1 the alliance organisation, management and digital frameworks was established to enable the planning of research, education and innovation activities. In addition to developing an efficient and inclusive way of working, mobility and exchange programs for students and staff were implemented.
NeurotechEU - Phase 2 (2024-2027)
Following the successful building of the foundation of the NeurotechEU community during Phase 1, the activities of Phase 2 will be focused on removing administrative and cultural borders between partners in order to deliver the NeurotechEU Masters and PhD educational programmes, as well as facilitating research and innovation collaborations across partners.
NeurotechEU - Phase 3 (2028-2040)
While a limited number of new partners will be recruited during Phase 2, the focus of Phase 3 will be a wider global development of NeurotechEU through the integration of new partners universities and neuroscience organisations outside of EU borders.
NeurotechEU Campus+ will create the crucial shared virtual space, an extension of the partnering organizations, where students, teachers, and administrators work together without administrative, cultural and societal obstacles.
NeurotechEU Graduate School will provide co-tutelage education at master's and doctoral level to train top-flight researchers in a multidisciplinary and inter-sectoral setting. It will promote innovation and an entrepreneurial mindset.
NeurotechEU Life-long Learning Centre will support the continued training of its graduates and society at large. It will provide the necessary knowledge, skill sets, and competences for individuals to adapt to the changing personal, civic, societal and employment-related needs and provide them opportunities in brain research and technologies.
NeurotechEU Spaces will be the virtual collaboration platform. Based on a suite of open source software, the Spaces will provide the necessary tools to communicate, create, share and store information safely. It will address the needs of users from any background, from a scholar studying the philosophy of mind to students jointly working on robotic control algorithms.
NeurotechEU Ecosystem will help universities to focus on their education, talent development and innovation efforts based on the world's current and future needs. NeurotechEU will form its ecosystem by synergising stakeholders in society, education, research and innovation sectors across the continent.
Student exchange within NeurotechEU
The NeurotechEU Student Council is composed of elected representatives from all partner universities. NeurotechEU graduates will be well equipped to continue their careers in any related field, from medicine and engineering to social sciences and economy.
A survey of NeurotechEU students' needs
As NeurotechEU needs to know how to design NeurotechEU programmes accordingly to students' needs, a survey was distributed and 3514 students responded:
90% of the responding students consider it important to have an experience abroad
91% agree that automatic recognition of academic qualifications and learning periods abroad would be useful
93% think that it would be useful to create EU degrees delivered by networks of European universities
offering students the chance to study in different EU countries, with a flexible choice of courses or modules offered within the network
97% of the respondents agree that it would be useful to give students the chance to work on innovative projects alongside academics, researchers and companies from different companies
At least 90% think that a range of services provided by a European Student Card would be useful
1/3 declare themselves unable to study in more than one language
Contact 
Would you like to know more or get involved as a student representative in NeurotechEU, feel free to contact Julia Spielbauer
KI for NeurotechEU
Interview: Ole Petter Ottersen about NeurotechEU
The purpose of the European Universities Initiative is to shape the future of Europe – with respect to research, education, innovation and societal development. KI now has the opportunity to contribute within the specific area of Neuroscience to this development through participation in NeurotechEU. 
KI has a lot to gain by being part of this consortium, including access to newly developed digital training courses, research infrastructures unique to partner universities, and a network of industrial partners through which to innovate research findings. Internally, KI also has the possibility to unite neuroscientists within KI together, irrespective of their departmental affiliation, as never before. 
Phase 2 (2023-2027)
The second phase of the European University alliance NeurotechEU will run for 4 years and involve all groups within KI: students on bachelor and master level, doctoral students, teachers, researchers, administrative staff and management.
Communication and local implementation
Implementation of the project within KI will be conducted widely through the university's various decision-making bodies, committees and groups. It is of great importance that the entire university is involved in designing the content of the project and identifies how and in what ways KI benefits the most from the collaboration in the future. For the success of the project, well-coordinated decisions will be required at all levels.
Access to a dedicated network for enhanced cooperation in education and mobility
Access to interdisciplinary cooperation opportunities, infrastructure and skills that we are otherwise unable to build. 
Participate in an emerging European educational landscape
Not being part of a network can pose a potential risk (most other major higher education institutions are involved) 
Networks can provide fast track to strategic funding from other sources
A central goal of NeurotechEU activities is the continuous integration of education, research and innovation.
NeurotechEU activities are coordinated in work packages (WPs)
Each partner university leads one WP
All universities have representatives in all WPs
Work package "Neurotech2040"
Of all the work packages, WP3 Neurotech2040 is the very heart of the NeurotechEU mission, and KI has the responsibility of leading this work package.
WP3 is a 'think tank' that will look into the future (2040) to predict what will be the status of neurological diseases in society, the healthcare burdens, the innovative therapies, the state-of-the-art of neuroscience with respect to both research and education at all levels.
Achieving the task of WP3 is a neurochallenge in itself, and will rely on clinicians, preclinicians, teachers and researchers exchanging their views, thoughts, visions and past experiences in a collaborative effort to predict the future. 
NeurotechEU Partners on Google map

Image: Logotypes of NeurotechEU partner universities.