Education at the Division of Obstetrics and Gynaecology
This division conducts education at several different levels. We participate in the education of students within the medical program's theme 6 as well as two courses self-selected by the students (SVK).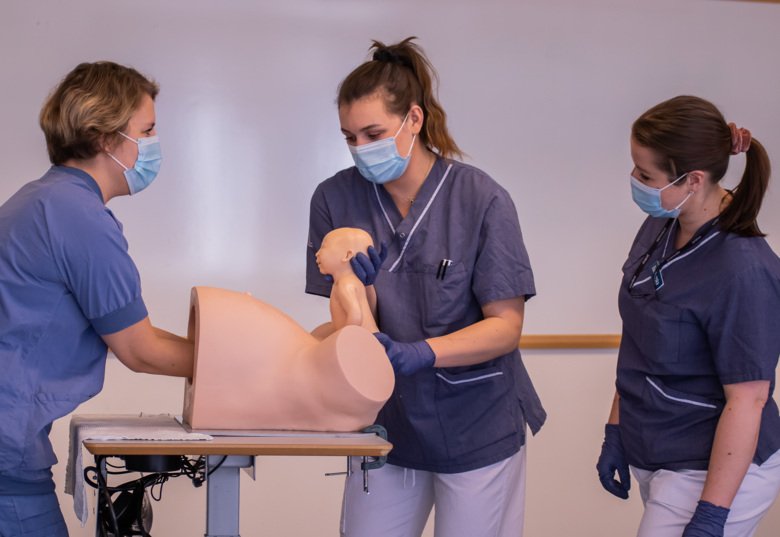 Photo: Cecilia Hultqvist
We also conduct postgraduate studies and offer doctors during their specialist training the opportunity to read a course giving specialist competence (specialistkompetenskurs or SK-kurs) in cooperation with the National Board of Health and Welfare.
Medical students
At our division we receive medical students within theme 6 (10th semester) and a number of Erasmus-students from our neighboring Nordic countries studying a course called "Clinical Medicine - Moment Reproduction" (the course in Obstetrics and Gynecology). Work-based training is an integral part of this course and great emphasis is placed on the perspective of primary care, disease prevention as well as diagnostic principles and strategies. The course also includes learning about women's vulnerability in family and society as well as relevant statues and laws. During the course new knowledge is integrated with previous scientific and clinical knowledge.
More information regarding the course can be found at the course-page for Clinical Medicine - Reproduction and development.
International students are also given the opportunity to participate in work-based education (verksamhetsförlagd utbildning) with us as a part of the course Clinical rotation - Gynecology obstetrics, 12 credits (12 hp). The focus of the course is on clinical service, with patient-based supervised teaching and learning with individual feedback so that skills are further developed. Opportunities with differing degrees of active participation in the work are given based on the student's experience and knowledge.
The Division of Obstetrics and Gynecology also works with the course SVK Perinatologi, 7,5 hp, which is usually attended by students in the Medical Program's 6th semester. Students taking the course partly get instructions to learn theoretical aspects of perinatology and part of their learning is work-based.
Postgraduate education
The Division of Obstetrics and Gynecology has several students working on their postgraduate degrees (Masters, PhD, Postoc) in clinical and preclinical research. You can read more about the division's postgraduates on our web-pages. Information for postgraduate students can be found at the CLINTEC:s web-page for postgraduate students. Positions for doctoral students are advertised on Karolinska Institutet:s website for education.
Our division collaborates with the University of Toronto in organizing and conducting a course on Medical Developmental Biology, an exchange course for doctoral and post-doctoral students. More information about the course can be found in the course catalog for postgraduate education on Karolinska Institutet's website and on the University of Toronto's website.
Several of the division's researchers are active as lecturers on courses for doctoral students. Our division contributes, among other things, to the course Gene Regulation in the Early Human Embryo, part of the doctoral program for Development and Regeneration (DevReg).
Links
Special competence courses
In collaboration with the National Board of Health and Welfare the unit conducts the specialist competence course Grundkurs i Cervixcancerprevention. The course is aimed towards future gynecologists. Information about how to apply to attend the course is available on the National Board of Health and Welfare's website.
Research Networks
The active research network Tissue and Motion is operated within the division, you can read more about the network and other research networks at Karolinska Institutet.
Educational Awards
In 2021, Hedvig Engberg, medical specialist in gynecology and obstetrics and previous division amanuensis, received an award for best supervisor from the Swedish Medical Association, Stockholm student division.