"Now we can finally offer young people timely help"
An old man's story of serious dental phobia spurred psychologist and researcher Shervin Shahnavaz on to develop treatment that can be given early in life.
Name: Shervin Shahnavaz
Title: Psychologist, psychotherapist and researcher at Karolinska Institutet's Department of Dental Medicine and Department of Clinical Neuroscience respectively.
Current with: He has developed an internet-based CBT for children and adolescents with dental phobia. He also carries out research into the treatment of refugees and unaccompanied child refugees suffering from psychological problems.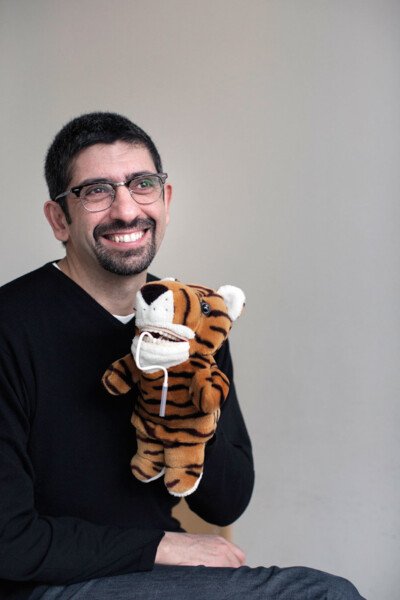 "You could probably describe him as typical of men of his generation – not particularly accustomed to discussing his inner life, to putting his emotions into words. However, he spoke to me of how his fear of dentists arose during childhood, of being bullied at school and how he experience visiting a stern school dentist as an extension of this bullying. In his mind, dentistry had developed into a super bully to be avoided at all costs. This man had gone through life with this phobia. Only as a pensioner was he able to now meet a psychologist – me – and obtain help.
When he was given the homework of drawing the vicious circle of reactions from which he suffered when considering phoning the dentist, he returned with a complete schematic! His job had been in manufacturing circuit boards and he was now able to utilise his professional knowledge to meticulously trace the connections between different, thoughts, emotions and behaviours.
He became so productive in our therapy sessions that it actually resulted in a stage play as well. That too began as a homework assignment; the description of the nightmare contra dream scenarios of visiting the dentist. This resulted in two extremely telling scenes and, with the man's permission, we employed students from a stage school to act them out, including at a number of courses. Despite his infirmity, he attended the premier and he beamed.
The man lost his fear, although unfortunately too late – most of his teeth were past saving. He was determined that others should get help earlier. This is what much of my research has dealt with over the almost two decades that have elapsed since then. Now, there is finally both a standard and an internet-based version of cognitive behavioural therapy for children and adolescents with dental phobia. The studies we have carried out show very good results."
Text: Anders Nilsson, first published in Swedish in the magazine Medicinsk Vetenskap, No 1/2018.