ALASCCA study
Every year, 7,000 Swedes are diagnosed with colorectal cancer and 2,700 die from the disease. Worldwide, more than 1,4 million men and women are diagnosed with the disease and more than 50% will die. Thus, there is a high need for more efficient adjuvant therapies to improve survival in colorectal cancer.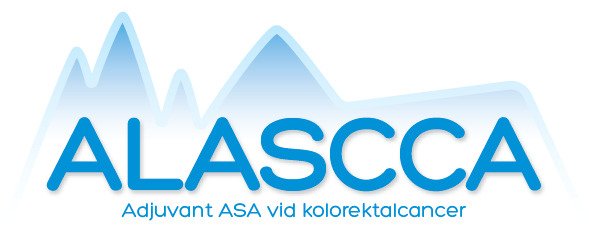 Recent retrospective studies suggest that adjuvant treatment with common ASA (acetylsalicylic acid) – such as Trombyl or Aspirin – after a colorectal cancer diagnosis significantly improves survival for patients with alterations in the PI3K signaling pathway. Given that alterations in the PI3K signaling pathway are found in 30-40% of all colorectal cancer this finding, if found to be proven true in a well designed prospective study, could have tremendous improvement potential in enhancing survival in colorectal cancer.
ALASCCA is a prospective, randomized, double blinded, placebo controlled, multicenter, biomarker-based study of adjuvant treatment with ASA in colorectal cancer. A total of 3,900 patients will be screened. The primary objective of ALASCCA is to determine whether adjuvant treatment with 160 mg ASA once daily for 3 years can improve time to recurrence in patients with colorectal cancer with somatic alterations in the PI3K signaling pathway.
ALASCCA will provide treatment strategies that that can save 300-500 lives per year in Sweden within five years. The potential for saved lives globally is 90,000-150,000 lives per year. In addition, the ALASCCA study will facilitate the provision of a unique genomic database covering 600 genes commonly associated with cancer and detailed clinical follow-up. The database will be used to identify additional signaling pathways that could potentially be treated with adjuvant therapies to reduce the mortality in colorectal cancer
The ALASCCA study applies a translational, multidisciplinary approach that uses unique Swedish advantages such as our personal identification number, national health registries and national academic cooperation providing the patient to be screened. Furthermore, the team leading the ALASCCA study has experience of running large investigator driven studies and implementing the findings in clinical care. This makes it possible to carry out ALASCCA in a short time period, at a low cost and with highest data quality.
The ALASCCA study protocol is finalized and the study has been granted ethical approval. One technical pilot has been conducted and another end-to-end pilot will be conducted in the fall of 2015. Patient inclusion for the main study will start in the first quarter of 2016. Study closure is expected Dec 31, 2024.
The budget for the ALASCCA study is 43 MSEK. We have received grant funding of 24.6 MSEK from the Swedish Research Council. We are now looking for an additional 18 MSEK to have the study fully financed.