The Wallenberg laboratory animal facility (KM-W)
KM-W at Karolinska Institutet is an animal facility enabling care and use of mice based on a barrier concept. The facility specializes in core breeding of gene-modified colonies, and immune-compromised mice, serves as the import portal for KM and allows the possibility to do quick evaluations of new research models before rederivation.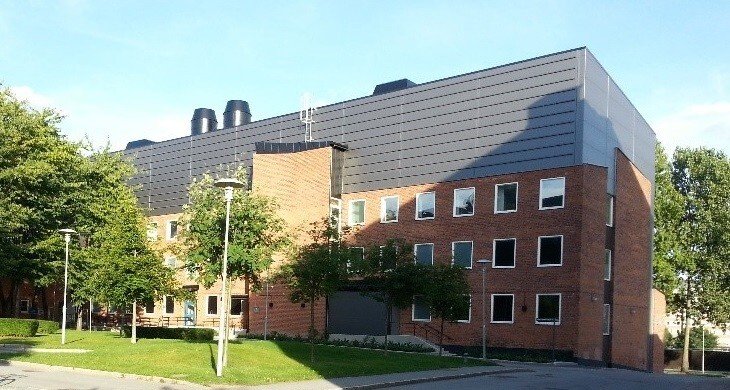 KM-W (the Wallenberg laboratory)
The facility
The Wallenberg laboratory is the first facility developed according to the barrier concept at KI. The barrier concept aims to standardize animal health status and facilitate collaboration between research groups at KI. There are at present three different barriers in the facility: Barrier A, B and E.  
The facility comprises
The core breeding unit (B2-barrier) 
The transgenic production unit (B1-barrier, read more about KCTT) 
The Fast Track unit (E-barrier) for short/mid-term housing and experiments
The Import Portal, a unit for quarantine of imported living mice (A-barrier) 
Offered services
The facility provides a wide range of qualified services to the scientific community for work with different mouse strains. All mice in the facility are housed in individually ventilated cages (IVCs) in a strictly controlled environment.
Technical services such as tissue collection can be performed upon request pending the availability of the facility.
Core breeding
The core breeding unit provides a unique possibility to reduce breeding of animals in the research units, and aims to maintain the highest possible health standard. The core breeding unit is restricted for researcher access, and animals can only enter the core breeding after embryo transfer. Read more about core breeding at the Wallenberg laboratory.
Fast Track
The Fast Track unit is a resource for short-term and mid-term maintenance of mice in experiments. Often, mice can enter this facility with only a quick quarantine period (less than 2 weeks) which allows for the evaluation of research models before undergoing costly rederivation procedures.
This facility is not intended for expansion of mouse colonies, but short-term breeding is possible.
Within Fast Track, animal experiments can be performed in the state-of-art laboratories. Experiments with animals infected with microorganisms (risk group 2) can be performed in a fully equipped biosafety laboratory (level 2). It is also possible to use soundproof laboratories where you can perform behavioral tests on animals. Read more about housing in barrier E.
For your work in the facility
If you have a KI ID, log in at KM facilities to find hands-on resources and forms to begin your research at the Wallenberg laboratory.
Contact us
Researchers, research institutes and private enterprises are welcome to make use of the facilities at the Wallenberg laboratory for their research. Contact us for further information and prices.
Research units and core-breeding queries
For E-barrier
Please see Housing at barrier E.
For import and quarantine of animals
Please see Import portal