Optimat - research project about optimizing and improving school meals
The Swedish school meal scheme offers a unique opportunity to foster healthy and sustainable dietary habits among the younger generation. This 5-year research project started in October 2016 and ended in December 2021. It was led by researchers at Karolinska Institutet and was financed by the Swedish Research Council Formas.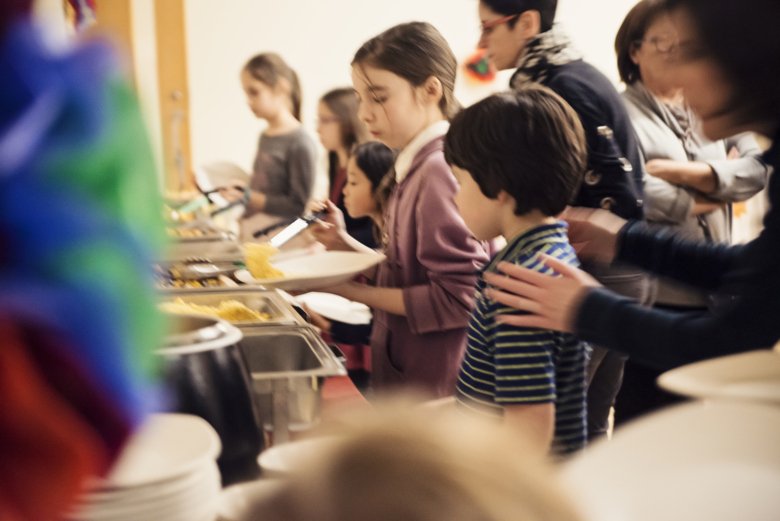 Children standing in line for school lunch. Photo: iStock. Photo: istock
The aim of the project was to develop a holistic model for designing health-promoting, affordable, and socially acceptable school meal plans optimized for environmental sustainability (greenhouse gas emissions) and to test the applicability in practice.
Seminar
Seminar 10 November "Hållbara måltider för alla – hur kommer vi dit till 2030?" (In Swedish)
Background to OPTIMAT
The food system is responsible for 25-30% of total greenhouse gas emissions (GHGE), a figure which needs to be reduced significantly in order to mitigate climate change. Furthermore, unhealthy diets contribute significantly to the global burden of disease by increasing risks for cardiovascular diseases, obesity, cancers and type-2 diabetes. The adoption of healthy and sustainable diets, in conjunction with a reduction in food loss and waste presents major opportunities for simultaneously reducing the climate impact from food systems and improving health outcomes.
Public procurement of food for e.g. school meals has the potential to change demand, and thereby the food produced and consumed, in the short and long term. Fully subsidized school lunches are served daily in Swedish primary schools to all 1.3 million children aged 6 to 15. Thus, improved school meals have considerable potential to shape children's diets and reduce food related GHGE.
Planning of school meals is challenging and must take many aspects into account: the food must be healthy, have a low environmental impact, be appealing to the pupils and be affordable on tight budget.
One method to meet these demands simultaneously is through linear optimization. In OPTIMAT, food purchasing lists (i.e. all foods purchased in a given time period) are optimized using linear programming. From the optimized list of the same foods but in new proportions, a new meal plan can be produced by an experienced meal planner.
The overall OPTIMAT project also includes an updated assessment of the contribution that school meals make to children's total diets today in a national sample of school children.
Summary of studies
OPTIMAT consisted of four sub-studies:
The first assesses the contribution that school meals make to children's total dietary intake among a representative sample of 2002 Swedish school children. Results indicate that school meals are somewhat more nutritious than meals consumed outside of school and that they can play a beneficial role in compensating for lower quality meals in families with a low socioeconomic status.
The second sub-study is a methodological paper describing the development of a strategy to reduce GHGE in the Swedish school food supply by linear programming, without compromising its nutritional adequacy, affordability, and cultural acceptability.
The third sub-study is a real-life intervention testing a four-week lunch menu plan with a 40% reduced climate impact based on this optimization strategy. The evaluation showed no significant increase on food waste, and no change in consumption and pupils' school meal satisfaction.
The fourth sub-study is qualitative and concerns barriers and facilitators of implementation of the new climate-friendlier school meals as experienced by pupils and meal staff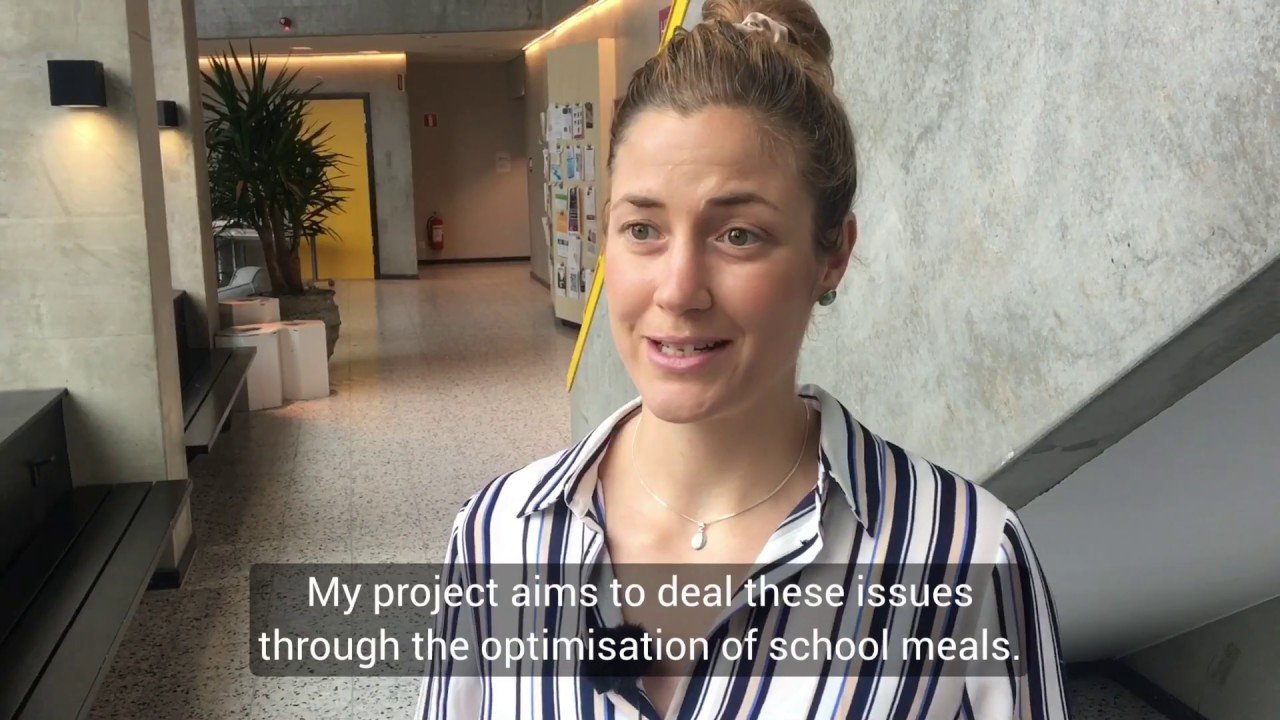 PhD student Patricia about the OPTIMAT project and Agenda 2030
The sustainable development goals (SDGs) are a collection of 17 global goals set by the United Nations General Assembly in 2015 for the year 2030. 
Other participants in the film are PhD students Anders Klingberg och Juliet Aweko. 
A collaborative project
The project constitutes collaboration between the hosting university Karolinska Institutet, the National Food Agency, and the University of Copenhagen.
Publications
"What works to improve school lunch nutritional quality - legislation or self-audit? Patterson E, Andersson F, Elinder LS. Public Health Nutr 2022 Mar 31;1-25. doi: 10.1017/S1368980022000817.
Barriers and facilitators to successful implementation of sustainable school meals: a qualitative study of the OPTIMAT™-intervention. Eustachio Colombo P, Elinder LS, Patterson E, Parlesak A, Lindroos AK, Andermo S. Int J Behav Nutr Phys Act 2021 07;18(1):89
Pathways to "5-a-day": modeling the health impacts and environmental footprints of meeting the target for fruit and vegetable intake in the United Kingdom. Eustachio Colombo P, Milner J, Scheelbeek P, Taylor A, Parlesak A, Kastner T, Nicholas O, Elinder LS, Dangour A, Green R. American Journal of Clinical Nutrition. Am J Clin Nutr 2021;114(2): 530-539 https://pubmed.ncbi.nlm.nih.gov/33871601/
Potential health impact of increasing adoption of sustainable dietary practices in Sweden. Patterson E, Milner J, Eustachio Colombo P, Green R, Elinder LS. BMC Public Health 2021;21:1332. https://bmcpublichealth.biomedcentral.com/articles/10.1186/s12889-021-1…
Designing Nutritionally Adequate and Climate-Friendly Diets for Omnivorous, Pescatarian, Vegetarian and Vegan Adolescents in Sweden Using Linear Optimization.
Eustachio Colombo P, Elinder LS, Lindroos AK, Parlesak A. Nutrients. 2021 Aug; 13(8): 2507. https://www.ncbi.nlm.nih.gov/pmc/articles/PMC8398609/
Successful Implementation of Climate-Friendly, Nutritious, and Acceptable School Meals in Practice: The OPTIMAT™ Intervention Study. Elinder, L.S.; Eustachio Colombo, P.; Patterson, E.; Parlesak, A.; Lindroos, A.K. Sustainability 2020, 12, 8475.
Sustainable and acceptable school meals through optimization analysis: an intervention study. Eustachio Colombo P, Patterson E, Lindroos AK, Parlesak A, Elinder LS. Nutrition Journal volume 19, 2020.
The importance of school lunches to the overall dietary intake of children in Sweden: a nationally representative study. Eustachio Colombo P, Patterson E, Elinder LS, Lindroos AK. Public Health Nutr 2020 Apr;():1-11
Optimising school food supply: integrating environmental, health, economic, and cultural dimensions of diet sustainability with linear programming. Eustachio Colombo P, Patterson E, Elinder LS, Lindroos AK, Sonesson U, Darmon N, Parlesak A. International Journal of Environmental Research and Public Health (2019).
Fostering sustainable dietary habits through optimized school meals in Sweden–OPTIMAT (2018). Eustachio Colombo P, Elinder LS, Parlesak A, Lindroos AK, Patterson E. WHO PANORAMA, 557 
Researchers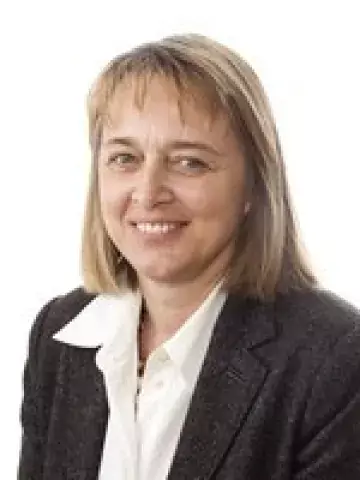 Liselotte Schäfer Elinder
Adjunct professor in Public Health
Liselotte Schäfer Elinder (PI) is adjunct professor in Public Health Sciences at the Department of Global Public Health, Karolinska Institutet, and leader of the research group "Community nutrition and physical activity".  She is also employed at the Centre for Epidemiology and Community Medicine, Region Stockholm.
ORCID: orcid.org/0000-0001-7270-1162
Profile page at ki.se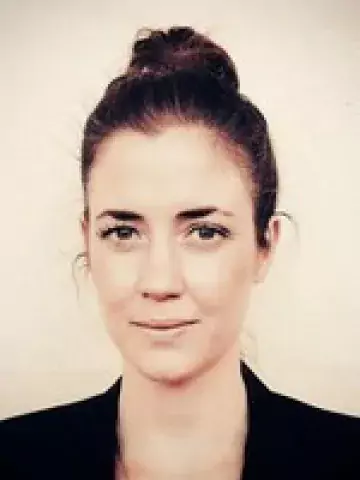 Patricia Eustachio Colombo
Postdoc
Patricia Eustachio Colombo is a Postdoc at the London School of Hygiene and Tropical Medicine. Her past and current research revolves around exploring relationships between food systems, the environment and health mainly through optimization analyses and intervention research.
ORCID: orcid.org/0000-0002-8505-116X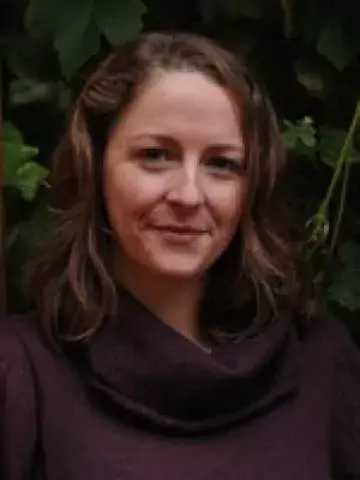 Emma Patterson
Associate Professor
Emma Patterson is an Associate Professor affiliated to the Department of Global Public Health, Karolinska Institutet. She is employed at the Swedish Food Agency. Until 2020 she was employed at the Centre for Epidemiology and Social Medicine at Region Stockholm where she was responsible for SkolmatSverige.
ORCID: orcid.org/0000-0003-1208-0936
Profile page at ki.se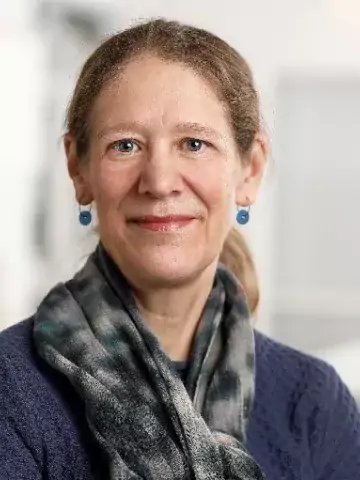 Anna Karin Lindroos
Risk and benefit assessor
Anna Karin Lindroos (PhD) is Risk and benefit assessor at the National Food Agency in Sweden. She is also adjunct senior lecturer at the Department of Internal Medicine and Clinical Nutrition, the Sahlgrenska Academy, University of Gothenburg.
ORCID: orcid.org/0000-0002-4748-4300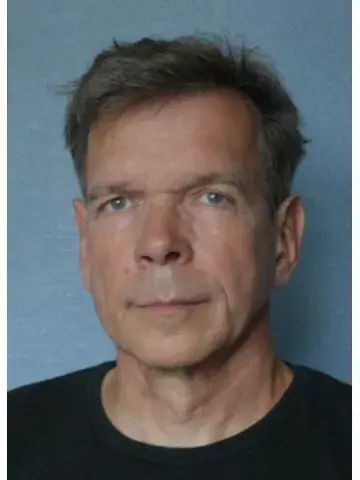 Alexandr Parlesak
Associate Professor
Alexandr Parlesak works as Researcher in the Personalized Nutrition group at Duale Hochschule Baden-Württemberg (Germany) and is a guest Senior Researcher at the Institute of Nutrition, Exercise and Sports (NEXS), University of Copenhagen, Denmark.
ORCID: orcid.org/0000-0002-8973-3467
 
Seminar 10 November " Hållbara måltider för alla – hur kommer vi dit till 2030?