nanoString nCounter® analysis system
- gene expression analysis
- copy number variation
- miRNA profiling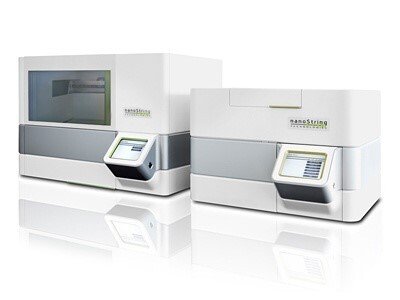 The nCounter® System from nanoString Technologies supports applications for gene expression analysis, copy number analysis and miRNA profiling. The system is flexible with the ability to detect RNA, miRNA and DNA in a variety of sample types, including tissue (fresh, frozen, formalin-fixed, paraffin-embedded (FFPE), cell lysates, blood, saliva, and single cell (requires minimal amplification).
The system provides a method for direct labelling of nucleic acid targets with single target-specific color-coded probes (nCounter reporter probes) without the use of reverse transcription or amplification. Up to 800 targets can be detected in a single reaction. The probe set, the CodeSet, can be pre-designed or custom-made. The CodeSet probes are about 100 bases in length. Therefore the system is very resistant to lower RNA quality and is suited for critical samples such as FFPE samples.
Workflow
The nucleic acids are hybridized to the selected CodeSet overnight. 12 samples can be processed simultaneously.
After hybridization the samples are placed on the automated fluidic handling nCounter Prep Station, where they are purified and subsequently immobilized in the sample cartridge.
The cartage is placed in the nCounter Digital Analyzer that collects data by taking images of the immobilized fluorescent reporters in the sample cartridge with a CCD camera through a microscope objective lens. Images are processed internally and the results are exported as a.csv file.
Download the free nCounter Analysis Software for QC, normalization and analysis of the data.
Service levels
 "Hands-on" service
KIGene staff provides technical start up assistance and the users can after that book and operate the instruments themselves under our expert guidance.
"Hands-off" service
Researchers are responsible for purchase of CodeSet and Master Kit (consumables) directly from nanoString. Note that one part of the Master Kit has short expire date. Do to order this kit several months before setting up your experiment.
Samples are diluted by the user to the appropriate concentration depending on the Code Set of choice and placed in strip tubes in row order for efficient processing of batches of 12.
Please contact core staff for further sample submission requirements.
The core facility will store the remaining RNAs one month after completion of the study. The samples will after that be disposed of without further notification.
Prices and bookings
https://karolinska.corefacilities.org/service_center/show_external/3698/