Bioanalyzer
Agilent 2100 Bioanalyzer, NanoDropTM 1000 spectrophotometer and Qubit 2.0 Fluorometer for Quantity and quality control of DNA, RNA and proteins.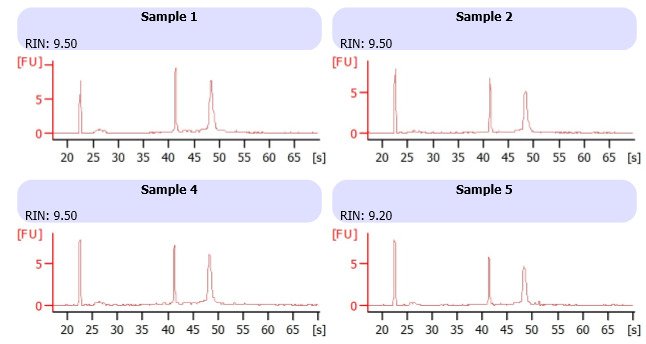 Agilent 2100 Bioanalyzer for
- small volume quality determination of DNA, RNA and proteins
The Agilent 2100 Bioanalyzer uses micro fluidics technology for the analysis of biological samples. It is the industry standard for RNA sample QC and has replaced labour-intensive gel electrophoresis for this application. There are many advantages over conventional gel electrophoresis, including improved data precision and reproducibility, short analysis time and minimal sample consumption.
Prices and bookings
https://karolinska.corefacilities.org/service_center/show_external/3698/
NanoDropTM 1000  spectrophotometer and Qubit® 2.0 Fluorometer for
- small volume quantity and quality determination of DNA, RNA and proteins
Thermo Scientific NanoDropTM 1000 Spectrophotometer enables highly accurate UV/Vis analyses of small volume (1 µl) quantification of DNA, RNA, proteins and dye incorporation. The patented sample retention system eliminates the need for cuvettes and capillaries which decreases the measurement cycle time. In addition, the high absorbance capability eliminates the need for most dilutions.
The Qubit® 2.0 Fluorometer accurately measures DNA, RNA, and protein using the highly sensitive Qubit® quantitation assays. The concentration of the target molecule in the sample is reported by a fluorescent dye that emits a signal only when bound to the target, which minimizes the effects of contaminants—including degraded DNA or RNA—on the result.
For prices and bookings contact KIGene staff.