The Orofacial Pain Research
Chronic musculoskeletal pains are among the commonest reasons for longtime disability and thus are associated with high costs for the society.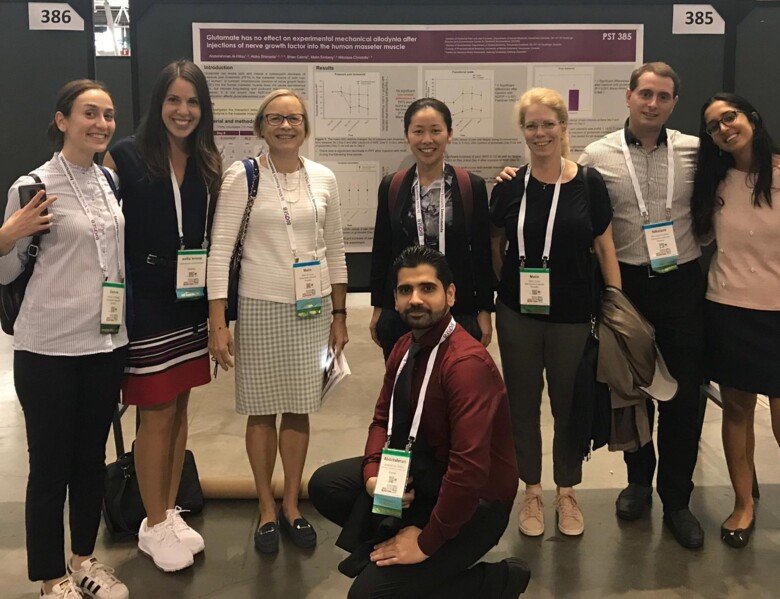 The research group of Malin Ernberg. Photo: N/A
In the orofacial area temporomandibular disorders (TMD) are the most frequent chronic pain conditions. TMD is a collective term embracing chronic conditions affecting the temporomandibular joint (TMJ) or the masticatory muscles (myalgia). It affects about 5%–10% of the population and is more prevalent in women than men. In children prevalence as high as 20% has been reported. Symptoms include pain especially on function, tenderness, restricted jaw opening, joint sounds and locking as well as headache and, thus, reduces patients' quality of life.
The main focus of the research is on orofacial pain of muscular origin, from causes to treatment in both children and adults, and its sex differences. Another area is orofacial pain in children with juvenile Idiopathic arthritis. The group also conduct pedagogic research.
The research is translational, spanning from basic research conducted in patients and matched pain-free controls via human experimental studies where pain is induced experimentally, to clinical intervention studies. The research methods include e.g. intramuscular microbiopsy, microdialysis, blood and saliva sampling for immunohistochemistry, biochemical, genomic and proteomic analyses (in collaboration with other researchers), conditioned pain modulation, exercise-induced analgesia, quantitative sensory testing (sensory and pain thresholds for warmth, cold and mechanical stimuli), transcranial magnetic stimulation (TMS), electromyography (EMG) and jaw tracking.
The Orofacial Pain Research Group is part of the larger Orofacial Neuroscience Group at the Department of Dental Medicine, which in turn collaborates with other leading research groups in Malmö and Aarhus, via the Scandinavian Center for Orofacial Neuroscience (SCON). The group also has a close collaboration with the Specialist Clinic for Orofacial Pain at the Eastman Institute in Stockholm. Group members and projects follow below.
Group members
Malin Ernberg, DDS, PhD, Professor
Nikolaos Christidis, DDS, PhD, Associate Professor
Britt Hedenberg-Magnusson, DDS, PhD, Associate Professor
Sofia Louca Jounger, DDS, PhD
Hajer Jasim, DDS, PhD
Giancarlo De la Torre Canales, DDS, PhD
Malin Collin, DDS, PhD Student
Golnaz Barjandi, DDS, PhD student
Maria Erkapers, DDS, PhD student
Auliki Yögi, MSci student
Anna Wieslander Fältmar, MSci student
The role of the kynurenine pathway and oral microbiota in chronic muscle pain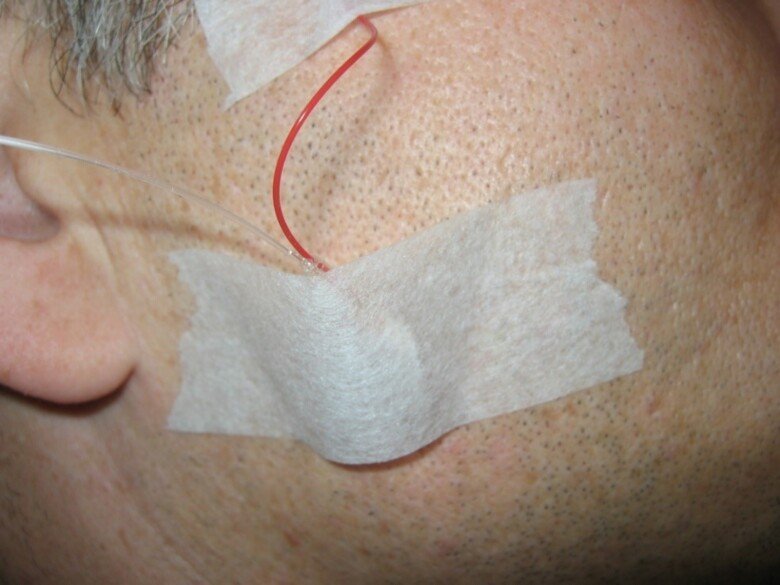 Intramuscular microdialysis of the masseter. This is a method developed by us that allows the collection of different substances from the extracellular environment in-vivo. A hollow catheter is inserted into the masseter muscle and slowly perfused with a buffered saline solution via a transparent tubing. Through a permeable membrane at the end of the catheter, molecules in the muscle tissue diffuse inti the perfusion fluid and are collected via a red tubing into small vials for later analysis. Photo: Malin Ernberg
PI: Malin Ernberg
The aim of this project is to explore if a shift in the tryptophan metabolism and salivary microbiome participates in the pathogenesis of chronic musculoskeletal pain and includes patients with TMD myalgia and myofascial pain as well as fibromyalgia. Methods involve intramuscular microdialysis and blood samples that are analyzed with novel techniques. The project started 2018.
Group members: Golnaz Barjandi and Britt Hedenberg-Magnusson
Collaboration: Professor Eva Kosek, Professor Sophie Erhardt, and Professor Georgios Belibasakis, all at KI.
Jaw motor control in patients with severe tooth wear
PI: Malin Ernberg
The project aims to investigate different aspects of jaw motor control, jaw function and oral health impact on quality of life in patients with severe tooth wear before and after comprehensive oral rehabilitation. In this project, novel technologies are used influences from a prosthetic intervention concerning parafunction, temporomandibular symptoms, and oral health impact on quality of life is unclear and is desirable to clarify. The project started 2019.
Group members: Maria Erkapers
Collaborations: Professor Peter Svensson, Aarhus University; PhD Susanna Segerström, Uppsala University.
Diagnostic and prognostic salivary biomarkers in chronic muscle pain
A typical 2-DE gel map illustrating the salivary protein pattern and expression in one patient with myogenous TMD. The proteins are expressed as dark spots; the darker the spot is the higher is the expression. Network analysis of important proteins for separating patients from control on a group level shows that the majority of proteins were related to the regulation metabolic processes (yellow), stress (green) and immune response (red). Photo: Hajer Jasim
PI: Hajer Jasim
The aim of this project is to identify salivary proteins that may be of importance in the pathophysiology of myogenous TMD. Better understanding of the mechanisms behind the disorder will improve prognosis assessment and ultimately develop improved personalized treatments. Saliva and blood samples is collected from participants based on our previous protocol and clinical assessment are performed. Methods involved are affinity-based and 2DE proteomics, multiplexed immunoassays, ultra-sensitive protein quantification and enzyme-linked immunosorbent assays. The project started 2022.
Group members: Malin Ernberg
Collaboration: Professor Bijar Ghafouri and Professor Björn Gerdle, Linköping University; PhD Claudia Fredolini, Royal Institute of Technology, Stockholm; Professor Eva Kosek, KI.
Expression of pain receptors and proteomics in healthy and painful human muscle tissue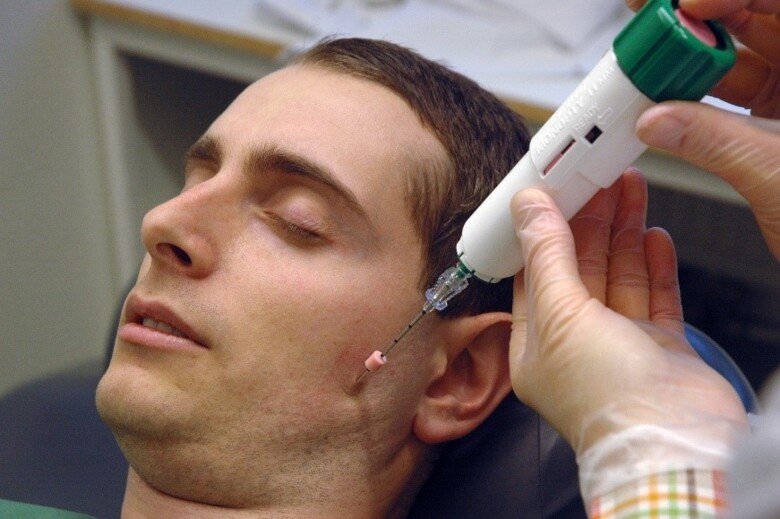 The microbiopsies are obtained through the skin-surface overlaying the superficial masseter muscle. 30 min before this procedure topical anesthesia (EMLA®, 25mg lidocaine and 25 mg prilocaine, AstraZeneca, Södertälje, Sweden) will be placed over the skin at the area to be penetrated. A Bard®TruGuide™ coaxial needle (BARD Norden, Helsingborg, Sweden) will be inserted to a depth of 10 mm and used to guide the biopsy instrument (Bard® Monopty® disposable core biopsy instrument with a penetration depth of 11 mm and a diameter of 18G). Photo: Per Alstergren
PI: Nikolaos Christidis
The aim of the project is to investigate if muscle pain is associated with changes in expression of peripheral pain receptors and the muscle proteome. The project includes clinical and human experimental studies in which muscle microbiopsies are taken and analyzed with immunohistochemistry, in-situ hybridization, and proteomics. The project started 2015 and has resulted in a PhD thesis and several publications.
Group members:  Auliki Yögi and Malin Ernberg
Collaborations: PhD Abdelrahman Alhilou, Umm Al-Qura University, Mecca, Saudi Arabia; PhD Akiko Shimada, Osaka University, Japan; Professor Brian Cairns, University of British Columbia, Canada; Professor Peter Svensson, Aarhus University, Denmark; Professor Camilla Svensson, KI.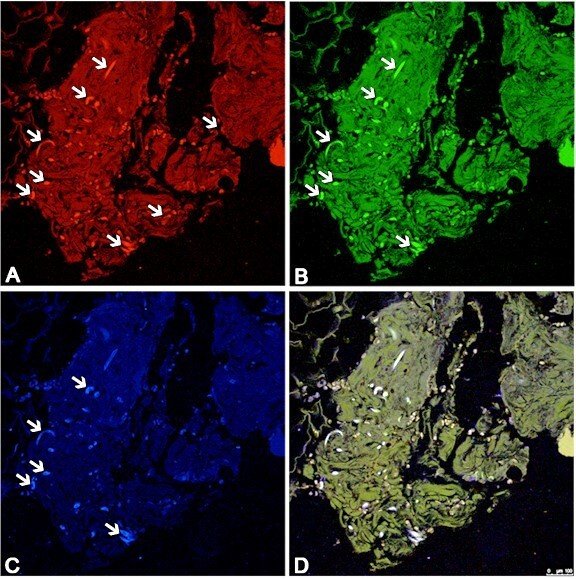 Example of high-power photomicrographs, with a 40-fold magnification, from the masseter muscle of a healthy man. The photomicrograph shows fluorescent signaling of PGP 9.5 (A); NMDA-receptor2B (B); and Substance P (C) by masseter peripheral nerve fibers. (D) represent the composite image. Photo: n/a
Peripheral TMD Pain Mechanisms and the effect by botulinum toxin A. A prospective, randomized, controlled double-blind study
PI: Malin Ernberg
This NIH-funded project started 2022 and includes two sub-projects. In the first we will investigate the innervation and cell plasticity of the temporomandibular joint (TMJ) and masticatory muscles in TMD patients in biopsies obtained during TMJ surgery and muscle microbiopsies. Differences in gene expression epigenetic signatures, and cells plasticity will be compared between a painful (TMJ/masseter muscle) and pain-free (TMJ/anterior tibialis muscle) in the same individual, which will considerably reduce the sample size. The second subproject includes a randomized controlled trial, in which the effect of botulinum toxin on gene expression epigenetic signatures, and cells plasticity in the painful masseter muscle will be compared with that of the untreated, pain-free anterior tibialis muscle. The effect of treatment on clinical variables (pain, physical and emotional function) will also be investigated. The project started 2022.
Group members: Nikolaos Christidis and Giancarlo De la Torre Canales
Collaborator: Professor Armen Akopian, University of Texas Health Science Center San Antonio (UTHSCSA); Assistant Professor Lindsey Macpherson University of Texas San Antonio (UTSA); Assistant Professor Mario Danilo Boada, Wake Forest University School of Medicine, all in USA; PhD Mattias Ulmner, KI.
Mastication in Jaw Muscle Pain

Chewing performance can be assessed by mixing, here illustrated with costume made two-colored chewing gums, by comminution, or by assessing different forces applied on force-transducers. Photo: N/A
PI: Nikolaos Christidis
This project investigates if acute or chronic pain in the orofacial muscles or temporomandibular joints affect the human biting behavior or if absence of sensory input does affect the human biting behavior. It is a clinical/experimental study using patients and experimental pain settings, analyzing biting and chewing behavior with jaw-tracking, muscle EMG, and chewing performance by mixing and splitting different foods. The project started 2015 and is ongoing. Until now it has resulted in a PhD thesis and several publications.
Group members: Malin Collin
Collaborations: PhD Samaa Al-Sayegh, Distriktstandvården, Stockholm; PhD Anastasios Grigoriadis and PhD Abhishek Kumar, DentMed, KI.
PICTOR – A picture of the oral health and oral illness in children and adolescents and identification of risk-factors for developing oral illness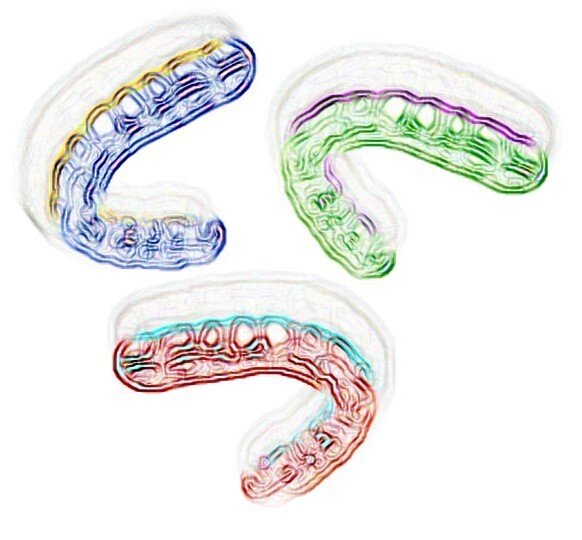 The use of occlusal appliances as treatment of painful temporomandibular disorders is supported by literature, but only for permanent dentitions/adults. By: Nikolaos Christidis.
PI: Nikolaos Christidis
The purpose of this project is to provide a general picture of the oral health and oral illness in children and adolescents aged 7-15 years in Sweden as well as to investigate possible risk-factors for developing oral illness. Secondarily, the outcome of this project will also address the treatment need of oral illnesses in children and adolescents within the different odontological specialties in Sweden.
To investigate the oral health as well as the prevalence and incidence of all aspects of oral illness will not just decrease the individual suffering, psychological distress, but will also reduce the absence from school due to orofacial pain and headaches or the psychological distress caused by esthetic factors. These factors would then in turn improve their future, since a large absence from school leads to worse study results, psychological distress resulting in decreased working ability as an adult.
The definition of oral health is multifaceted and includes the ability to speak, smile, smell, taste, touch, chew, swallow, and convey a range of emotions through facial expressions with confidence and without pain, discomfort, and disease of the craniofacial complex. However, most studies investigating oral health in children and adolescents mainly focuses on presence and absence of particularly caries and periodontal disease. However, they have not yet considered the multifaceted nature of oral health including orofacial pain and discomfort, jaw function, malocclusions, dental agenesia/aplasia, traumatic dental injuries, dental fear or early signs and symptoms of child abuse. The project started 2019.
Group members: Anna Wieslander Fältmars, Hajer Jasim, Sofia Louca Jounger, and Malin Collin.
Collaborations: Associate Professor Georgios Tsilingaridis, DentMed KI; PhD Pernilla Larsson-Gran, Folktandvården Druvan, Östergötland; PhD Amal Al-Khotani, Ministry of health, Jeddah University, Jeddah, Saudi-Arabia; PhD Lillemor Dimberg, PhD Lars Fredriksson, and DDS Mathias Lemberger, Eastman Institute, Stockholm.
Prediction of disease activity and TMJ in patients with juvenile idiopathic arthritis
PI: Britt Hedenberg-Magnusson
In this project we will evaluate the potential usefulness of the diagnostic criteria Research Diagnostic Criteria for Temporomandibular Disorders (RDC/TMD) in combination with panoramic and CT imaging in monitoring disease activity and severity in TMJ involvement in children and adolescents with JIA. We also aim to valuate if analyses of potential salivary biomarkers can be a useful tool in monitoring disease activity in JIA in general. The project stared 2013.
Group members: Malin Collin, Nikolaos Christidis and Malin Ernberg
Collaborations: Associate Professor Stefan Hagelberg, KI; Professor Thore Larheim and PhD Linda Arvidsson, Oslo University, Norway.
Research support
National Institute of Health (NIH)
Clinical Scientist Training Program (CSTP), KI (Golnaz Barjandi).
Region Stockholm/KI – SOF
Region Uppsala
The Swedish Dental Association
The Swedish Rheumatism Association