Seeking mechanisms behind neurodegenerative disorders
Eric Westman combines brain imaging with machine learning to search the whole brain for the mechanisms behind neuro-degenerative disorders. An important element of his research is to identify different subtypes of diseases such as Alzheimer's.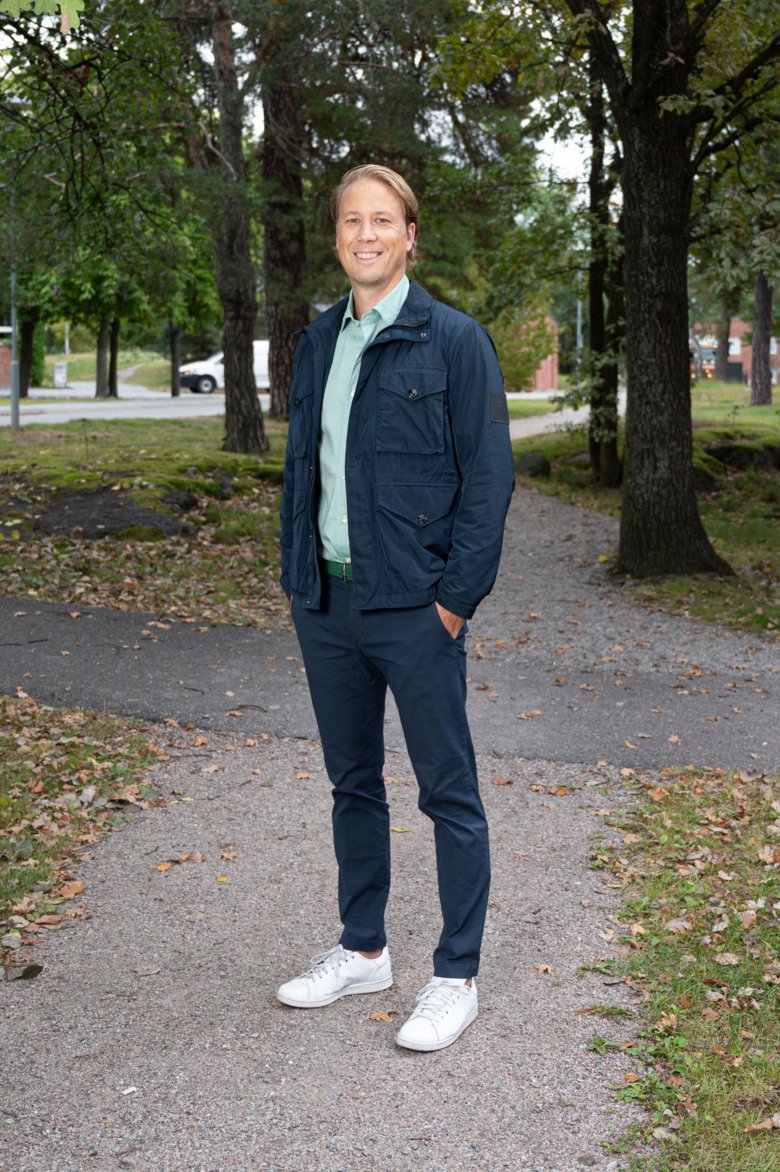 Photo: Stefan Zimmerman
What are you researching?
"We use medical imaging techniques, such as magnetic resonance ima­ging (MRI), and positron emission tomography (PET), to study neuro-degenerative disorders. Much of our research concerns Alzheimer's disease, but we also study Parkinson's and frontotemporal dementia, among other diseases. We seek to under-stand the mechanisms of neuro­cognitive disorders so that we can contribute to better diagnosis and treatment. An important element of this is to define different variants of each respective diagnosis. What we presently consider a disease is, in many cases, actually a group of diseases with similar symptoms. We have made a number of interes­ting findings within this field about different subtypes of Alzheimer's."
How do you go about it?
"Previous research on the mecha­nisms behind dementia has often focused on specific parts of the brain, such as the hippocampus, and it is becoming clear that this is not sufficient. My research team uses machine learning and multivariate analysis to be able to identify disease patterns in the large patient material that we use as a starting point. In ad­dition to brain imaging, this includes clinical data, markers from the blood and cerebrospinal fluid. A great breadth characterises our research in several respects – in the techniques we use, the materials we analyse, the research questions we ask, in our external collaborations, and also in the composition and expertise of our research team. For example, I have an engineering background. We col­laborate with researchers and clinics around the world to build up exten­sive databases, something that is a prerequisite for this type of research."
What are your hopes and aspirations over the long term?
"I hope that we identify biomarkers that in the future will enable health-care providers to make an early and correct diagnosis of neurodegenera-tive diseases before permanent damage to the brain has occurred. And that we will then be able to offer the patient a cocktail of effective treatments, based on the subtype of the disease that the individual has."
Text: Anders Nilsson, first published in the booklet From Cell to Society 2020.
About Eric Westman
Professor of Neurogeriatrics at the Department of Neurobiology, Care Sciences and Society
Eric Westman was born in Stockholm in 1975 and graduated from KTH Royal Institute of Technology with a master's degree in engineering in 2004. He defended his doctoral thesis obtaining a PhD from KI in 2009, after a period as a doctoral student that also included six months as a guest researcher at McGill University in Montreal, Canada.
During the years 2009-2011, West­man was a postdoc at KI and in 2011- 2012 at the Centre for Neuroimaging Sciences, King's College, in London, UK. In 2012, he returned to KI becoming an associate professor in 2014 in the Department of Neurobiology, Care Sciences and Society (NVS). At NVS, Westman has been Head of the Division for Clinical Geriatrics since 2015 and Acting/Vice Head of the Department since 2017.
Eric Westman was appointed Pro-fessor of Neurogeriatrics at Karolinska Institutet on February 1, 2020.