Teresita Diaz de Ståhl's Group
Genomic and epigenomic studies of brain tumors.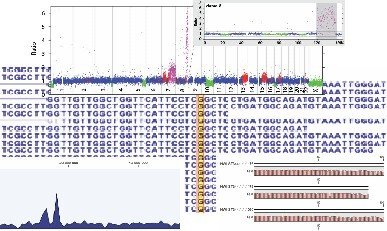 Brain tumors comprise a large spectrum of malignancies often associated with severe neurological symptoms and fatal outcome. Tumors are characterized by histology or immunohistochemistry, which yields information about tumor type, origin, state and prognosis. This however, cannot predict the underlying biochemical and genetics events that are important for patient outcome. Molecular biomarkers are required to extend and refine prognostic and predictive information, providing more individualized and optimized treatment options. In our research we are applying several robust approaches, with extra high resolution and coverage to deeply characteriz of different types of brain tumors. The specific approaches includes exome-seq, RNA-seq, ChIP-seq and array-cgh.
This provides important insights into the molecular mechanisms controlling tumor development and allow for the detection of novel candidate genes that may serve as biomarkers to improve disease stratification as well as targets for future therapies. Progress in genetic testing is needed to allow the use of personal therapy, which seeks to deal with each patient depending on their individual characteristics. Results from our projects will contribute to this development.
Group members
Teresita Diaz de Ståhl, PhD, Associate Professor
Johanna Sandgren, PhD, Assistant Professor
Selected publications
Age dependence of tumor genetics in unfavorable neuroblastoma: arrayCGH profiles of 34 consecutive cases, using a Swedish 25-year neuroblastoma cohort for validation.
Cetinkaya C, Martinsson T, Sandgren J, Träger C, Kogner P, Dumanski J, et al
BMC Cancer 2013 May;13():231
Novel amplifications in pediatric medulloblastoma identified by genome-wide copy number profiling.
Nord H, Pfeifer S, Nilsson P, Sandgren J, Popova S, Strömberg B, et al
J. Neurooncol. 2012 Mar;107(1):37-49
Common pathogenetic mechanism involving human chromosome 18 in familial and sporadic ileal carcinoid tumors.
Cunningham JL, Díaz de Ståhl T, Sjöblom T, Westin G, Dumanski JP, Janson ET
Genes Chromosomes Cancer 2011 Feb;50(2):82-94
Recurrent genomic alterations in benign and malignant pheochromocytomas and paragangliomas revealed by whole-genome array comparative genomic hybridization analysis.
Sandgren J, Diaz de Ståhl T, Andersson R, Menzel U, Piotrowski A, Nord H, et al
Endocr. Relat. Cancer 2010 Sep;17(3):561-79
Focal amplifications are associated with high grade and recurrences in stage Ta bladder carcinoma.
Nord H, Segersten U, Sandgren J, Wester K, Busch C, Menzel U, et al
Int. J. Cancer 2010 Mar;126(6):1390-402
Characterization of novel and complex genomic aberrations in glioblastoma using a 32K BAC array.
Nord H, Hartmann C, Andersson R, Menzel U, Pfeifer S, Piotrowski A, et al
Neuro-oncology 2009 Dec;11(6):803-18
Phenotypically concordant and discordant monozygotic twins display different DNA copy-number-variation profiles.
Bruder CE, Piotrowski A, Gijsbers AA, Andersson R, Erickson S, Diaz de Ståhl T, et al
Am. J. Hum. Genet. 2008 Mar;82(3):763-71
Profiling of copy number variations (CNVs) in healthy individuals from three ethnic groups using a human genome 32 K BAC-clone-based array.
Díaz de Ståhl T, Sandgren J, Piotrowski A, Nord H, Andersson R, Menzel U, et al
Hum. Mutat. 2008 Mar;29(3):398-408
High-resolution array-CGH profiling of germline and tumor-specific copy number alterations on chromosome 22 in patients affected with schwannomas.
Díaz de Ståhl T, Hansson CM, de Bustos C, Mantripragada KK, Piotrowski A, Benetkiewicz M, et al
Hum. Genet. 2005 Oct;118(1):35-44
Chromosome 22 tiling-path array-CGH analysis identifies germ-line- and tumor-specific aberrations in patients with glioblastoma multiforme.
Díaz de Ståhl T, Hartmann C, de Bustos C, Piotrowski A, Benetkiewicz M, Mantripragada KK, et al
Genes Chromosomes Cancer 2005 Oct;44(2):161-9