Elizabeth Arkema presenting her research at KI Discovers seminar
Elizabeth Arkema at our department was selected for presenting her research at a Karolinska Institutet Discovers seminar.
We asked her to describe the studies, and why they are important.
"Our aim was to find out whether patients with sarcoidosis are at a higher risk of serious infection and whether there are certain groups of patients who are at a higher risk than others. Sarcoidosis is an inflammatory disease which mainly affects the lungs and lymph nodes. Although we know that patients with other inflammatory diseases have an increased risk of infection, not a lot is known about infection risk in sarcoidosis. Serious infection, which requires hospitalization, causes a reduced quality of life, high costs and contributes to increased mortality. We were especially interested in rates of serious infection to better understand whether sarcoidosis patients should be considered high risk of infections such as coronavirus."
How was the study performed?
"We used Swedish national registers to follow patients with sarcoidosis for 11 years and estimate the rate of hospitalized infection. Sarcoidosis was associated with an 80% increased risk of serious infection compared to people without sarcoidosis and the highest risk was observed within two years after sarcoidosis diagnosis. Sarcoidosis patients experienced more recurrent infections than the general population. Patients who were treated with immunosuppressants around the time of diagnosis had a three-fold increased risk of serious infection compared to people without sarcoidosis. These data stress we should consider whether measures such as vaccinations, closer follow-up or prescription of steroid-sparing medications could alleviate the excess risk of serious infection in these patients"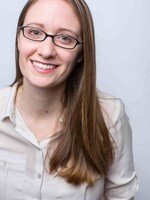 Elizabeth Arkema Foto: Prospect Photography
Could you tell us a little about yourself?
"I am an epidemiologist with a special interest in complex chronic inflammatory diseases and have established a team aiming to better understand the causes and consequences of sarcoidosis, a disease which we still know very little about. Understanding the relationship between sarcoidosis and infection is extremely important for our ability to minimize the long-term consequences of the disease and improve treatment strategies. We also conduct research on other chronic inflammatory diseases such as systemic lupus and rheumatoid arthritis and enjoy bringing together what we learn from different fields (epidemiology, biostatistics, rheumatology and pulmonology) to approach each project."
Your study is an example of collaboration between epidemiological and clinical scientists - what do you see as the advantages of working together?
I strive to make my research useful to clinicians and the patients. This project was done in close collaboration with my clinical colleagues at the Respiratory Unit at the Department of Medicine Solna. Over the past few years, we have worked together to identify and answer clinically important research questions. It has been an extremely rewarding experience, and the results have even been included in the National Care Program for Sarcoidosis (Svensk Lungmedicinsk Förening, Vårdprogram för Sarkoidos) to update the guidelines for care for sarcoidosis patients.