Karolinska Anaesthesia Research Group for Major Surgery (KARISMA)
The main objective of our research group is to improve outcome after major surgery. We focus on the development of methods for monitoring circulation and ventilation during anaesthesia as well as clinical studies on fluid management, cognitive recovery and risk factors for complications after major surgery.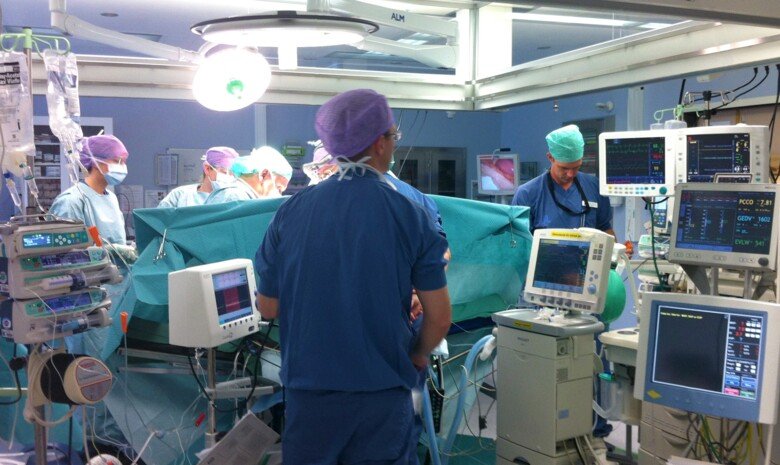 The research group is located at the Department of Anesthesiology, Surgical Services and Intensive Care Medicine (ANOPIVA) at Karolinska University Hospital, Solna.
Projects
Development of a capnodynamic method for monitoring circulation and ventilation during anaesthesia
Major surgery is associated with a high risk of postoperative complications. Hemodynamic and respiratory optimization has been shown to improve outcome in high-risk surgical patients. In this setting it is important to accurately monitor cardiac output and lung mechanics. In collaboration with the Micro and Nanosystems lab at The Royal Institute of Technology and the research department at Maquet Critical Care AB, we are developing a new carbon dioxide based method for assessment of cardiac output and effective lung volume during anaesthesia and intensive care. The method is continuously validated using both experimental and clinical studies.
Risk factors for post-operative complications in high risk surgery
In order to optimize the perioperative management, we need to correctly identify patients with a high risk for post-operative morbidity. In collaboration with several University Hospitals in Sweden, a prospective multicentre cohort study will start in 2015. The focus of the study will be to update the criteria for high risk surgery in Sweden and to assess the predictive strength of various risk factors.
Fluid management and acute renal injury in HIPEC surgery at Karolinska University Hospital
Cytoreductive surgery with hyperthermic intraperitoneal chemotherapy (CRS/HIPEC) is a treatment option for selected patients with peritoneal carcinomatosis. The HIPEC procedure has improved the five-year survival rate from 5% to 30-50% in this group of patients and was introduced in 2013 at Karolinska, Solna. CRS with HIPEC may adversely affect renal function due to hemodynamic instability, fluid shifts and the potential nephrotoxic effects of the chemotherapeutic agent. We will prospectively study how risk factors, perioperative events including shifts in temperature, electrolytes and fluid will affect renal function and the incidence of acute kidney injury.
Albumin volume kinetics in the perioperative setting
Internationally, albumin is considered one of the first line colloids used for plasma expansion in the perioperative setting. However, the volume kinetics during anaesthesia and surgery is not extensively studied. Our study involves healthy subjects, patients having general anaesthesia for minor surgery, and patients in a presumed state of inflammatory response following major surgery. Volume kinetics, the duration and rate of plasma expansion including capillary leakage will be assessed, as well as effects on the endothelial glycocalyx layer.
Group members
PhD students
Collaborators
Mikro och Nanosystem, Kungliga tekniska högskolan
Kristinn B Gylfason, Med Dr
Floria Ottonello Briano, doktorand
Maquet Critical Care AB utvecklingsavdelning
Mats Wallin, Med Dr
Magnus Hallbäck, Med Dr
Financial support
Karolinska Institutet
ALF-medel
KTH/SLL (HMT)Vinnova
European Society of Anaesthesia
Maquet Critical Care AB