Diagnosis of dental caries with the aid of optical based technologies, also used as adjunct methods for evaluate the effect of caries preventive treatments
The correct management of the caries disease is dependent on the operators' ability to identify the early symptoms of the caries disease, as well as the differentiation of lesions in need of restorative treatment from those that can be treated preventively. This is however highly reliable on the diagnostic method used, as well as the operator interpreting the results and making the treatment decisions.
The changes in prevalence and pattern of the caries disease in Swedish children and adolescents have changed the routines for caries detection and the general therapeutic approach. The routinely used radiographic examination has been questioned due to its limitations for early detection of lesions, and the possible hazardous effect of exposure to ionizing radiation. The limited information on lesion cavitation does also increase the risk for overaggressive restorative treatment decisions.
New optical based technologies, such as the Quantitative Light-induced Fluorescence method (QLF), Figure 1A and 1B, have been developed to aid or replace the radiographs for detection of dental caries and monitoring of lesions. The need for evaluation of these instruments in comparison to the more traditional methods concerning accuracy, therapeutic outcome and health economical outcome is therefore of great importance. These new optical based methods instruments for caries detection are also used to evaluate the effect of different novel anti-caries potential treatments such as probiotic bacteria, casein phospopeptide-amorphous calcium phosphate (CCP-ACP), fluoridated milk, ozone, as well as post-brushing strategies.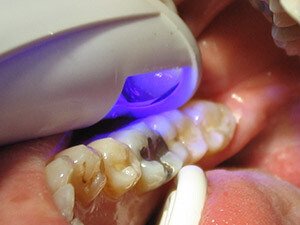 Fig. 1: Quantitative Light-induced Fluorescence method (QLF): Light of certain wavelengths is lead by an optic fibre from the light source to a hand piece with a micro Charge Couple Device video camera. Photo: Lena Karlsson Photo: N/A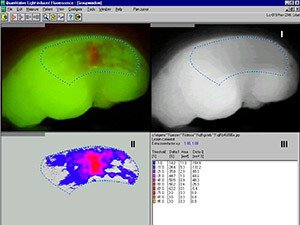 Fig 2: Quantitative Light-induced Fluorescence method (QLF): The image can be captured and saved for later analysis, with the aid of a computer program: Quantitative Light-induced Fluorescence method. Photo: Lena Karlsson
Another increasingly more pronounced pathological condition of the dental hard tissues is the dental erosions. The problems concerning management of this condition have been addressed in the literature with special focus on the problems associated with the identification and monitoring of the condition. The development and validation of new methods for erosion-detection is therefore of increased importance.
Principal Investigator
Lena Karlsson, Senior Lecturer
Projects
Observers reliability and diagnostic outcomes
Early caries detection and therapeutic outcome
New instruments for caries detection – application and validation
Caries clinical trials and evaluation of different caries preventive methods
Diagnostic instruments for detection and monitoring of erosions
Financing
Swedish Revenue Fund for research in preventive odontology, Svenska Tandläkare-Sällskapet, Karolinska Institutet. The Patent Revenue Fund for Research in Preventive Odontology. KI grants. American Dental Society of Sweden
Collaborations
National academic collaborations
Professor Svante Twetman, Cariology at the Faculty of Health Sciences, University of Copenhagen, Denmark, as well as a member of The Swedish Council on Health Technology Assessment in Health Care, and his research group. Professor Jan van Dijken, Department of Odontology in Umeå, and his research group. Professor emeritus Dowen Birkhed and his research group, department of odontology, Sahlgrenska akademin. DDS, PhD Astvaldsdóttir Astvaldsdóttir, Karolinska Institutet. DDS, PhD Marianne Kjaeldgaard, Karolinska Institutet.
International academic collaborations
Professor Anderson Gomes and his research group, Department of Physics, Universidade Federal of Pernambuco (UFPE), Recife, PE, Brazil. Professor Anderson Gomes also serves as Secretary of State for Science, Technology and Environment of Pernambuco, Superior Council of FACEPE, CNPq, and CAPES, Brazilian Agencies. Professor Adrian Lussi, Head of the Department of Operative, Preventive and Paediatric Dentistry, University of Bern, Switzerland. Professor William Peter Holbrook, University of Iceland, Faculty of Odontology, Iceland, as well as editor in Acta Odontologica Scandinavica. Professor John Featherstone, MSc, PhD, Preventive and Restorative Dental Sciences at the University of California, San Francisco (UCSF) and Dean of the School of Dentistry.