Transporting drugs using endogenous vesicles
Transporting drugs to the right place and into the right cells is a major challenge. Samir EL Andaloussi researches how tiny vesicles called exosomes, which naturally transport material between cells, can be used for this purpose.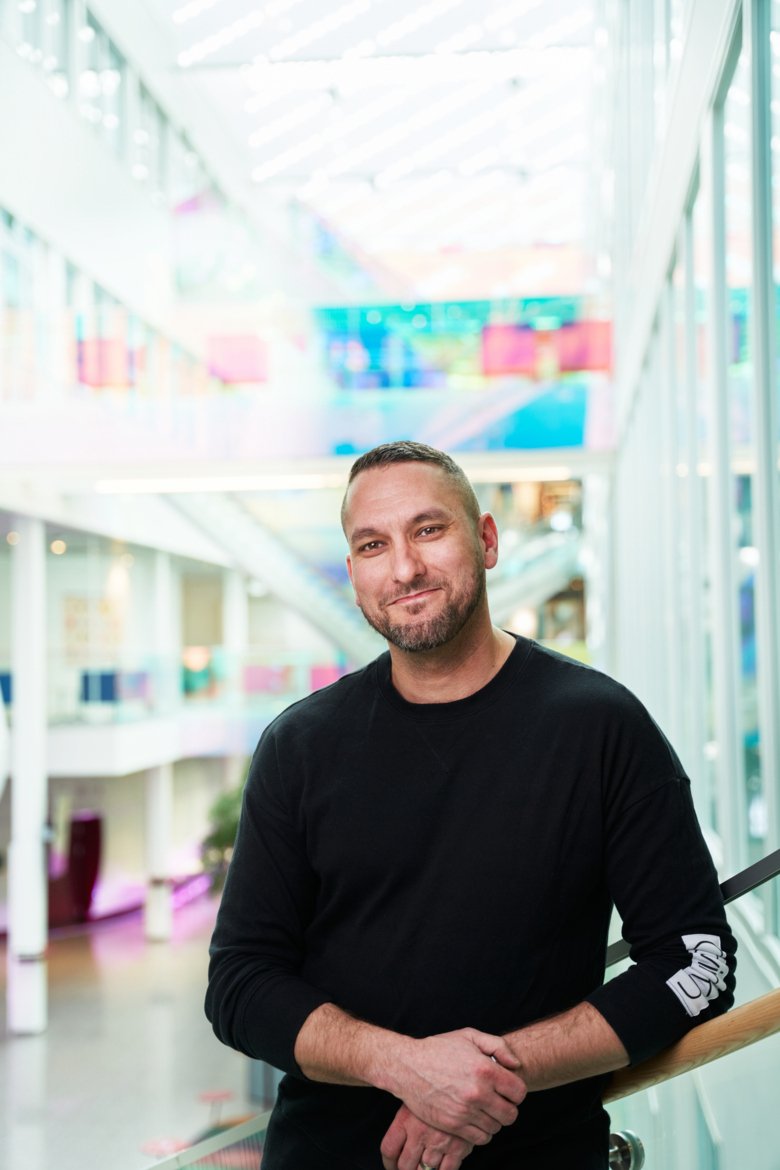 Samir EL Andaloussi, Professor at the Department of Laboratory Medicine. Photo: Erik Flyg
What are you researching? 
"I'm researching ways of transporting new therapies in the body using exosomes, small fluid-filled vesicles that the cells naturally produce. They have the ability to bind to a certain cell and penetrate it, and in that they're endogenous, they are accepted by the immune system." 
Why is this necessary? 
"Being able to deliver pharmaceutical substances to the right place in the right way is one of the major challenges that many potential treatments being researched today have to overcome – especially in gene therapy. You can't just inject RNA or DNA into the body and expect it to find its own way. Exosomes are the body's own delivery method, which makes exploiting their properties an extremely enticing prospect. Besides new therapies, we can also conceive of them being used to improve existing treatments. In our research, we manipulate cells so that they produce therapeutically useable exosomes. We've put a lot of work into establishing the protocols needed to make this doable on a large scale in the lab. We're also researching another avenue in which the exosomes are produced in the body instead of in the lab. I've received a large grant – an ERC Consolidator Grant – for establishing such a therapy for a certain kind of Parkinson's disease." 
What is your long-term goal? 
"To help bring new and better therapies to the market. We still have far to go, and there's currently no fully developed drug based on this technique. But one actor has just started its first phase 1 study. Every new exosome-delivered drug will require its own research, but some of the hurdles are common to all, so it will gradually get easier. Inflammatory diseases, cancer and neurodegenerative diseases are the diagnosis groups that we're currently focusing on." 
Text: Anders Nilsson, in translation from Swedish
First published in the booklet 'From Cell to Society 2022'
About Samir EL Andaloussi 
Professor of Biomolecular Medicine and Advanced Therapy at the Department of Laboratory Medicine 
Samir EL Andaloussi was born in Kalmar in 1978. He graduated with a degree in Molecular Cell Biology from Södertörn University College in 2002 and earned his PhD at Stockholm University in 2008. 
He did postdoc research at Stockholm University from 2008 to 2010, at KI's Department of Laboratory Medicine (LabMed) from 2010 to 2012 and at Oxford University, UK, from 2011 to 2013. He was also a research fellow at Oxford between 2013 and 2018. 
EL Andaloussi returned as a researcher to KI in 2013. He was made docent in 2018 and deputy head of LabMed's division for Biomolecular and Cellular Medicine in 2021. 
Samir EL Andaloussi was appointed Professor of Biomolecular Medicine and Advanced Therapy at Karolinska Institutet on 1 November 2021.