Translating images into data
Torkel Brismar researches how X-ray and other medical images can be translated into quantitative data for use in the assessment of diseases such as cancer and osteoporosis as an aid for doctors in their decision-making.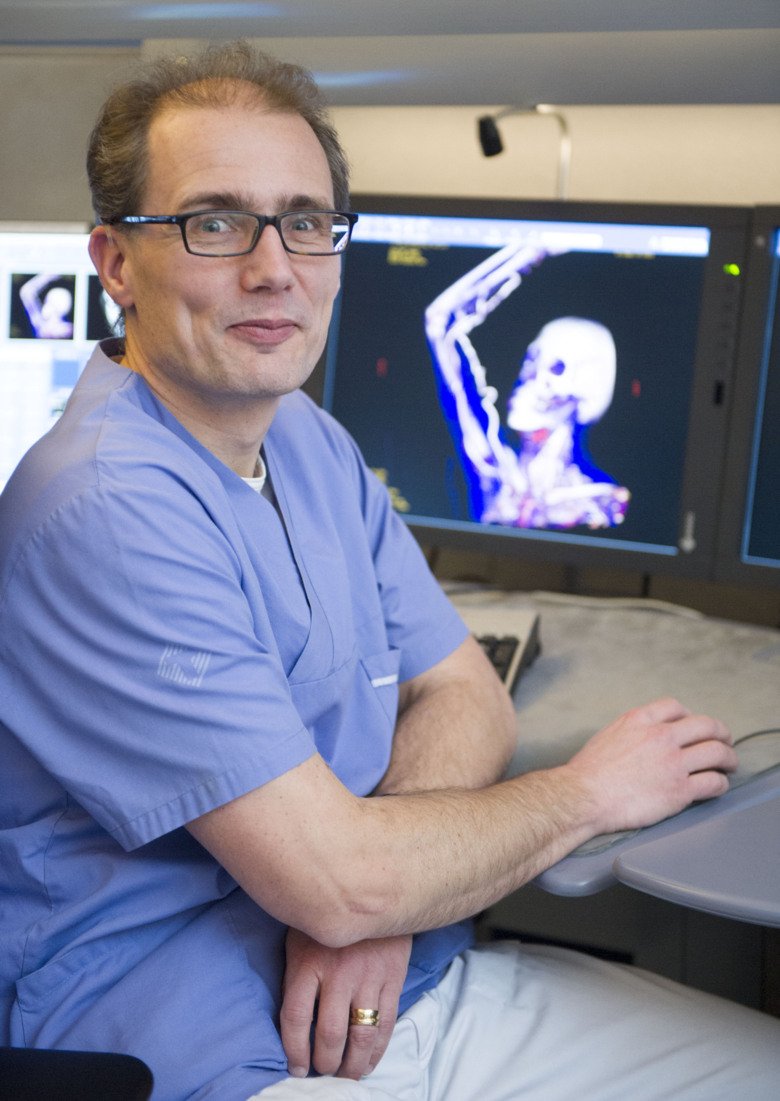 Torkel Brismar is a professor of medical radiology. Photo: Ulf Sirborn
What are you researching?
"I'm a radiologist and am researching new, improved X-ray and MR methods. My main interest is in developing new metrics, or quantitative radiology as it's called. The images often contain more information than is conveyed to doctors today and if this can be condensed into simple numerical measurements it could help them to assess degrees of morbidity, malignancies, and prognoses and to choose appropriate treatments. At first, my research focused on measuring osteoporosis, and we have shown that it would be simple to screen for the disease in connection, for example, with mammography."
What areas have you extended your research to?
"We are collaborating a great deal now with renal medicine, in part to develop metrics to identify patients whose impaired kidney function is damaging their heart and blood vessels. Another line of research involves assessing how much of the liver can be surgically removed in cases of cancer without the patient suffering liver failure. We're also developing new types of digital image analysis to enable us to read from radiographs how aggressive a tumour is, for instance.
We're also running several projects involving contrasting agents for imaging, including doses that produce the best quality image. Currently, contrasting agent doses are determined by bodyweight, which isn't optimal. We're examining whether measures of heart capacity and the fat/muscle ratio can be used to im- prove dosage determination. We're also evaluating a new MR contrasting agent for patients with impaired kidney function, something that the market is currently lacking."
What will be your next step?
"We've just begun our first project, in which we'll be training an AI system to assess radiographic data. The idea is that it will learn from a large bank of computed tomographs to identify patients at a high risk of hip-joint fracture. Machine learning is superior to humans when it comes to weighing up multiple variables, so this is a vital step in our research."
About Torkel Brismar
Professor of Medical Radiology at the Department of Clinical Science, Intervention and Technology
Torkel Brismar was born in Stockholm in 1970 and studied at KI, earning his medical degree in 1995. He obtained his MD licence in 1999 and his PhD at KI that same year. In the spring of 1999 he did his postdoc research at the University of California San Francisco, USA.
Torkel Brismar was made docent in 2006 and has been engaged at KI as senior lecturer, researcher, and adjunct professor. As a clinician, he has worked throughout at Karolinska University Hospital, where he is currently radiology specialist, consultant, and head of clinical trials at the radiology clinic.
Torkel Brismar was appointed Professor of Medical Radiology at Karolinska Institutet on 1 February 2021.
Text: Anders Nilsson
First published in the booklet From Cell to Society 2021.