Studying the function and utility of exosomes
Exosomes are tiny particles secreted by cells. They are involved in important processes in the body and may have useful clinical applications, including improved cancer treatments. Susanne Gabrielsson is one of the veterans of this young field of research.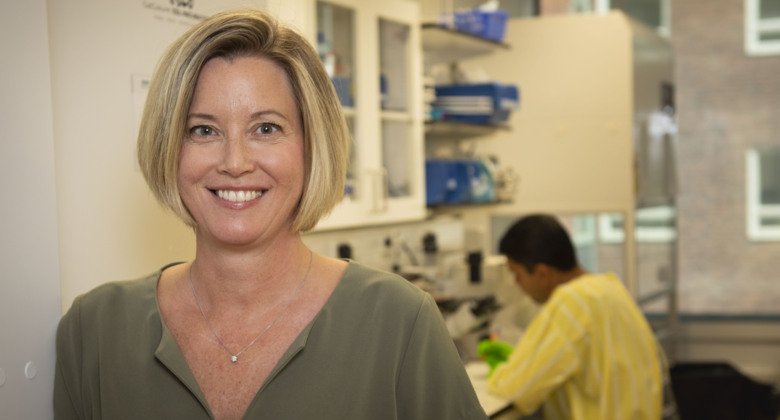 Professor Susanne Gabrielsson, photo: Stefan Zimmerman.
What are you researching?
"My research is about exosomes – small vesicles that are secreted by many of the body's cells. We believe that they are important in several important physiological processes – not least in the immune system – but they are difficult to study and we still know very little about them. My group is examining what exosomes do and how we can use them, for example in new treatments for cancer and lung diseases such as sarcoidosis and chronic obstructive pulmonary disease."
 
What have you discovered?
"Two of my most important discoveries are that exosomes can be found in the lungs, where they can have a pro-inflammatory role, and in breast milk, where they instead appear to have an anti-inflammatory effect. The study of exosomes in breast milk has actually grown into a separate field in which hundreds of research- ers are now involved. Our latest research results pertain to cancer; experiments have demonstrated that treatment with exosomes has a positive effect on malignant melanomas. We have also contributed knowledge about the role of exosomes in allergies. Our various research tracks drive one other – from nature we learn how exosomes trigger the immune system, and we then try to use these mechanisms therapeutically. When I first started working with exosomes 20 years ago, it was a completely new field of study. Much of my work has involved laying the foundations within this area."
 
What do you hope to achieve in the long term?
"I believe that in the future, exosomes may be used clinically in a variety of ways. They have great potential as biomarkers for many different diseases. Therapeutically, they can be used to both stimulate and suppress immune reactions – possible applications, in addition to cancer and lung disease, including neurodegenerative diagnoses such as multiple sclerosis and Alzheimer's, as well as inflammatory conditions like inflammatory bowel disease. External interest is increasing significantly and we are now collaborating with several research groups to study the role of exosomes in other contexts including diabetes and muscle tissue."
Text: Anders Nilsson, in translation from Swedish.
First published in the booklet From Cell to Society 2019.
About Susanne Gabrielsson
Professor of Immunology at the Department of Medicine, Solna 

Susanne Gabrielsson was born in 1970 and grew up in Örebro. She studied molecular biology at Linköping University, graduating in 1994. In 1999 she defended her doctoral thesis at Stockholm University. From 1999 to 2001 she conducted postdoctoral research at the Institut Curie in Paris. Since 2001 she has been conducting research at KI – much of it with funding from the Swedish Research Council, the Swedish Heart-Lung Foundation, and the Swedish Cancer Society.

In 2008 she became an associate professor. From 2009 to 2011 she served as chair of KI's Junior Faculty and was affiliated to KI's Board of Research. Since 2013 she has been its representative in the KI Council for Environment and Sustainable Development.

Susanne Gabrielsson was appointed Professor of Immunology at Karolinska Institutet on 1 September 2018.