Researching orthopaedics for trauma patients
Patients who receive trauma therapy often have multiple fractures and other orthopaedic injuries, which in themselves can prove fatal. Anders Enocson is researching how orthopaedic surgery for these patients can be improved – from choice of surgical method to cooperation within the trauma team.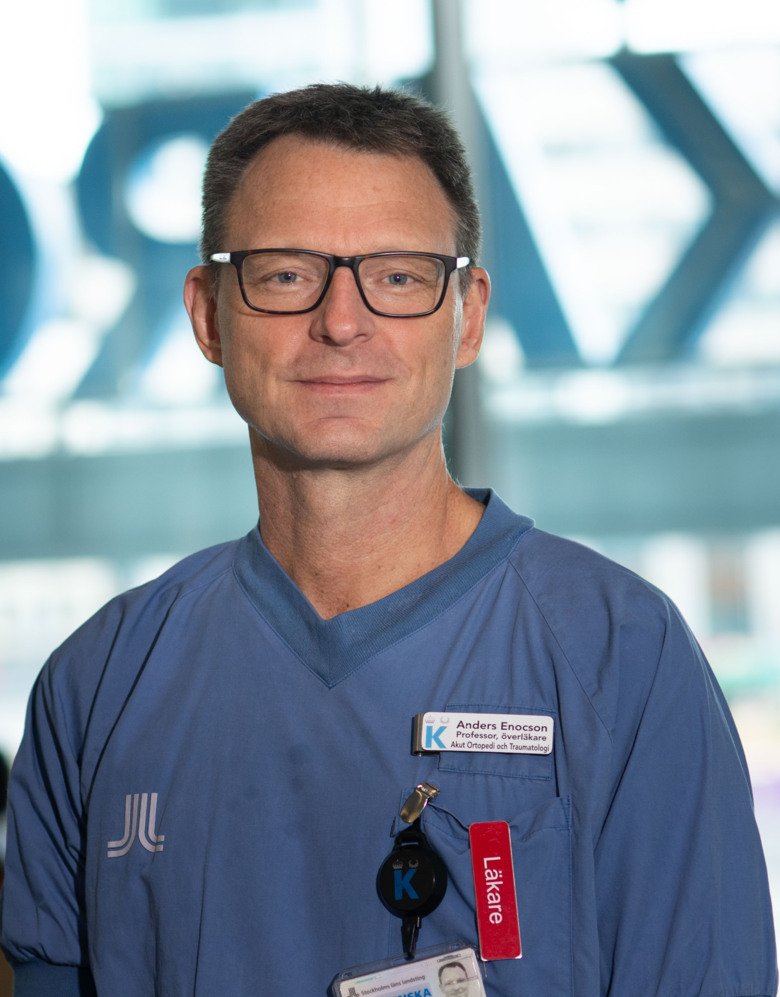 Anders Enocson is a Professor of Orthopaedic Traumatology. Photo: Stefan Zimmerman.
What are you researching?
"My research overlaps with my clinical work as an orthopaedic surgeon for trauma patients – by which I mean people who are seriously injured with multiple fractures and other orthopaedic damage. A big part of my research concerns postsurgical complications and how we can be better at avoiding them in the future. As both a surgeon and a researcher, I am particularly interested in pelvic fractures, which are complicated and dangerous. My research involves a combination of registry use and clinical studies, where we compare and evaluate different surgical methods."
What kind of complications?
"At worst, death. Or it can mean that surgery has to be redone or that the surgical wound gets infected. A simple broken arm is rarely life-threatening, but a patient with multiple orthopaedic injuries and/or pelvic fractures can be in danger. We also need to think differently about timing in the event of trauma compared with other orthopaedics, and judge when the patient is stable enough to tolerate surgery. To some degree, I also research complications in other orthopaedic situations.
My single most important result is an evaluation of two different surgical methods for hip-joint surgery, which has given rise to new practice in Sweden and abroad and led to an almost total reduction of complications caused by the new hip ball dislocating from its socket."
What do you hope to achieve?
"I want to help drive the development of trauma therapy, both as a researcher and as a clinician. Great advances have been made over the past tenor fifteen years but much still remains to be done. Something I feel particularly passionate about is growing the multidisciplinary collaboration among the different professions and the medical specialisations of the trauma-team dealing with the patient."
About Anders Enocson
Professor of Orthopaedic Traumatology at the Department of Molecular Medicine and Surgery
Anders Enocson was born in Sollentuna, Stockholm County, in 1968. He studied medicine at KI, graduating in 1999. He obtained his MD licence in 2002. He went on to earn his PhD in 2009, becoming docent in 2015.
Enocson became a specialist in orthopaedics in 2007. In 2016, he was appointed consultant at the Trauma, Emergency Surgery and Orthopaedic Unit at Karolinska University Hospital, having previously been clinically active at, amongst other places, Stockholm South General (Söder) Hospital. In 2010, he took up a one-year position at the Queen's Medical Centre, Nottingham, UK. He is on the board of the Swedish Trauma Registry and is medical supervisor of Traumaregister Karolinska.
Anders Enocson was appointed Professor of Orthopaedic Traumatology at Karolinska Institutet on 1 October 2020.
Text: Anders Nilsson
First published in the booklet From Cell to Society 2021