Rehabilitation on the patient's terms
Susanne Guidetti develops methods and interventions for rehabilitating people who have had a stroke and for supporting older people. Her interventions are based on person-centred care, digital support and activities where the individual's own priorities are in focus.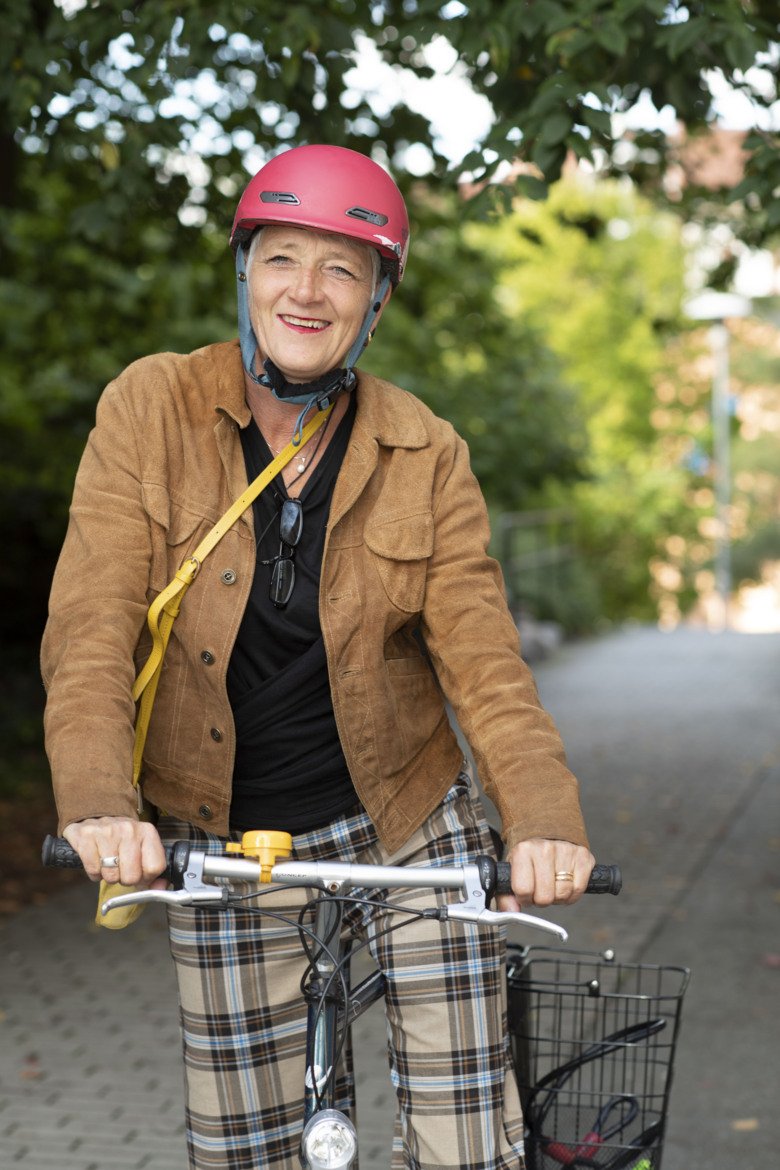 Photo: Ulf Sirborn
What are you researching?
"In my research, I have primarily stu­died the rehabilitation process after a stroke. Initially, it was a matter of de­scribing what the process looked like and investigating which interventions were effective, considering that occu­pational therapy is a relatively young academic discipline and, in many cases, there was a lack of evidence for the various interventions. Currently, I am working primarily with deve­loping and evaluating new complex interventions – partly to support the rehabilitation of people after stroke, and partly to support older people in healthy aging through preventive measures."
Could you tell us a bit about the methods you are developing?
"The basis of the intervention we have developed for stroke rehabilita­tion, referred to as F@ce, is to allow the patients' own priorities to govern – what they want to do and need to do in their everyday lives. This can be very different for different people. One important component is to use digital solutions, where we have tried to send a text message reminder to the participants every morning about their goals, and then another message every night asking them to evaluate. Our pilot study in Uganda produ­ced very promising results and I am looking forward to evaluating this in randomised controlled studies in both Sweden and Uganda. Close follow-up with technical support is also an essential element of the interventions for healthy aging. In collaboration with medical researchers from Spain and Poland, we combine physical exercises that the older persons do at home, along with sensors that mea­sure their results and questionnaires. The purpose is for the healthcare pro­fessionals to quickly be able to detect and act supportively when there is a deterioration for the older individual."
What do you hope to achieve in the long run?
"To contribute to a better rehabilita­tion process that leads to people being able to maintain, to a greater extent, their everyday lives and participate in the activities that are important to them – in Sweden and globally. For large parts of the population in low-income countries, rehabilita­tion is largely non-existent today. It is my hope that we can participate in changing this.
Text: Anders Nilsson, first published in From Cell to Society 2020.
Susanne Guidetti
Professor of Occupational Therapy at the Department of Neurobio-logy, Care Sciences and Society
Susanne Guidetti was born in 1962 and grew up in Rimbo, Stockholm county. She obtained her education as an occupational therapist at the School of Health Care Sciences in Stockholm and received her degree in 1986. From 1987 to 2012 she worked as an occupational therapist at Karolinska University Hospital. Her position inclu­ded a significant proportion of clinical development projects and research.
Guidetti defended her doctoral thesis at KI in 2008. Since 2012, she has been employed at the Department of Neuro­biology, Care Sciences and Society, and worked as group leader for the research group HELD. Professor Guidetti has been the Programme Manager for the Doctoral programme in health care sciences since 2018, and in 2019 she became an associate professor.
Susanne Guidetti was appointed Professor of Occupational Therapy at Karolinska Institutet on February 1, 2020.