Neuroscientist with an interest in technology
Neuroscientist Ola Hermanson aims to both understand the development of the healthy brain and lay the groundwork for improved treatments for serious diseases. He is also keen to drive technological developments in bioprinting, amongst other areas.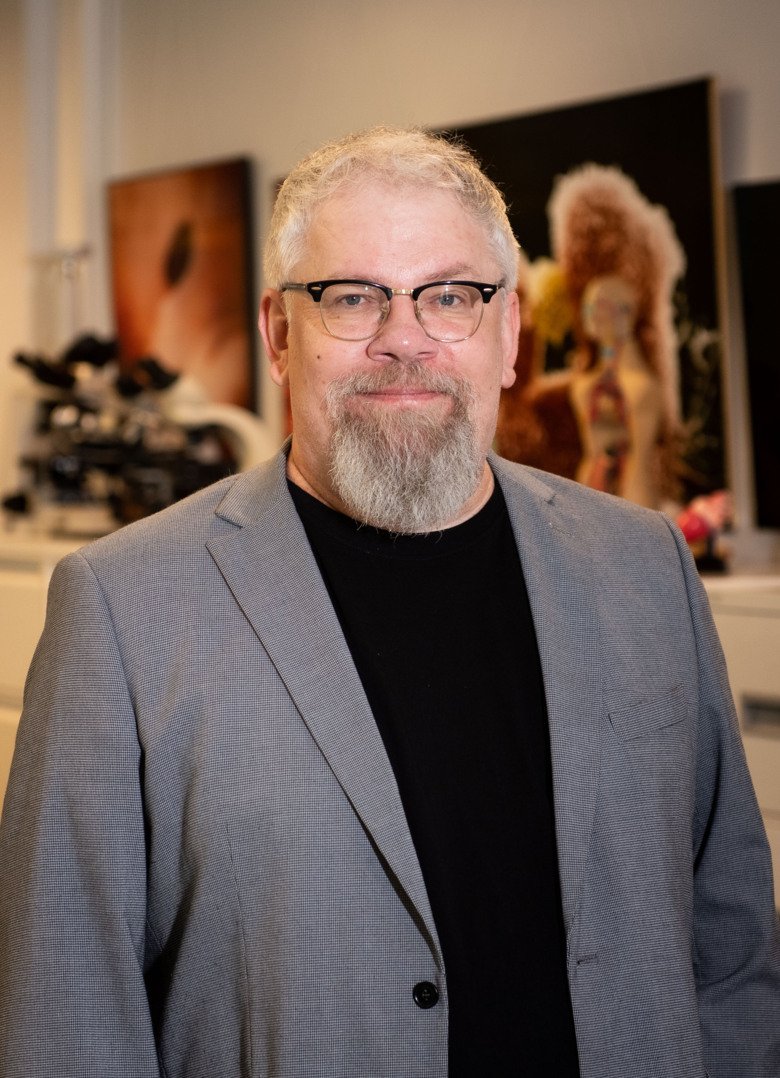 Ola Hermanson is a professor of neuroscience, with the responsibility to encourage KI students to enter research. Photo: Stefan Zimmerman.
What are you researching?
"I conduct research on the brain – how the healthy brain develops and operates and how defects can occur in this development that give rise to disease or functional impairment. One of our lines of research involves the cerebral cortex and its links to communication and language development, which is relevant to the understanding of conditions like autism. Another line concerns childhood brain tumours, especially those for which there are currently no safe treatments. My professorship also includes a personal responsibility to encourage KI students to enter research."
What does your research involve?
"We make use of cultivated human cells and sometimes tissue samples, and focus particularly on epigenetics and transcription, which is to say the packaging of DNA in the cell nucleus and its role in how the genome is read and translated into protein. Introducing new technologies and developing new methods is an important part of what we do. We were one of the first groups in Sweden to create cell cultures using a printer – what's known as bioprinting."
"We're currently developing methods of making 3-D models of brains or tumours with 3-D printers. It's fascinating work with many practical problems to solve. This past decade we entered a number of collaborations with clinical researchers and have built a more translational profile. This started with our unexpected discovery in the packaging of DNA which turned out to be linked to a large proportion of all brain cancers in children."
What are the clinical collaborations all about?
"In one of them, we develop methods for the emergency diagnosis and prognosis of brain tumours during surgery, something that can prove useful for precision medicine. One important collaboration is with Klas Blomgren at KI around his discovery that lithium has a protective effect on the brain. We hope that this can lead to treatments that mitigate the da- mage that can be caused to children's brains by radiotherapy."
About Ola Hermanson
Professor of Neuroscience at the Department of Neuroscience
Ola Hermanson was born in Norrköping in 1965. He studied medicine at Lund University between 1987 and 1990, obtaining his PhD in medical cell biology at Linköping University in 1997. From that year until 2002 he pursued his postdoctoral training at the University of California, San Diego, in La Jolla, USA.
Hermanson joined KI in 2002, and since 2006 has headed up a research group at the Department of Neuroscience. From 2008 to 2016 he was academic coordinator for relations between KI and Canada and from 2015 to 2017 scientific director of KI's Ming Wai Lau Centre for Reparative Medicine in Hong Kong. Since 2012 he has been chief scientific advisor for the Mats Sundin Fellowship in Human Development.
Ola Hermanson was appointed Professor of Neuroscience at Karolinska Institutet on 1 March 2021.
Text: Anders Nilsson
First published in the booklet From Cell to Society 2021