Laying the groundwork for clinical improvements in abdominal surgery
Anders Thorell's research evaluates techniques of gastrointestinal surgery, leading to new clinical recommendations. He also studies mechanisms behind the effects of weight-loss surgery.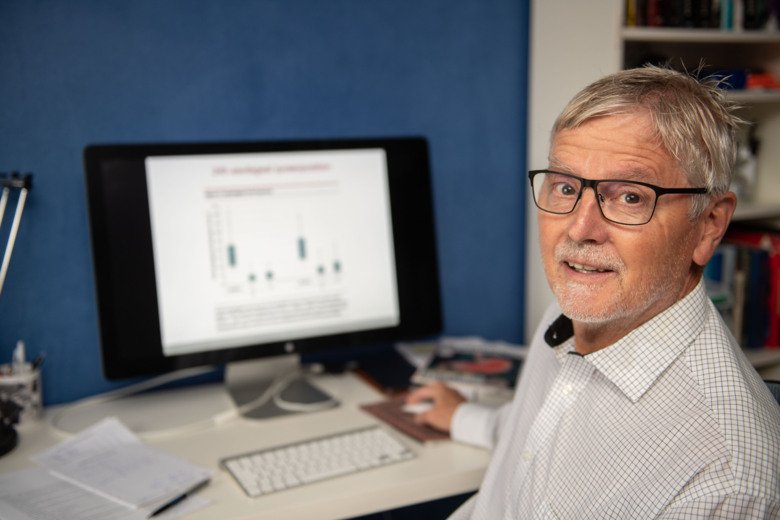 Anders Thorell is professor of surgery. Photo: Ulf Sirborn.
What are you researching? 
"I'm an abdominal surgeon at Ersta Hospital and I do research closely related to my clinical work. An important part of this is comparing and evaluating different techniques of gastrointestinal surgery. I'm also interested in issues related to bariatric surgery." 
What have you achieved so far? 
"As a doctoral student, I showed that patients recover better if they don't fast before surgery. Thanks to our findings, hospitals have reduced such preoperative fasting to a couple of hours before surgery and now routinely give their patients a carbohydrate-rich drink beforehand. 
We've also shown that the risk of intestinal obstruction after gastric bypass is reduced by half if the surgeon closes the openings that form in the mesentery, and that a low-calorie diet for two weeks before bariatric surgery reduces the risk of complications by 30 per cent. In all these cases, our research has led to new clinical recommendations in Sweden and elsewhere.  
I also study metabolism in patients who undergo bariatric surgery, in part to understand why they lose weight and how they can maintain this new weight. The reduced volume of the stomach is only part of the reason; hormone changes are also involved, as well as the way the body seems to adopt to a new target weight. We're also monitoring the patients after bariatric surgery to understand more about the relationship between obesity and co-morbidities, such as diabetes and cardiovascular disease." 
What will you be doing next? 
"We're just about to start analysing data from a large comparative study of the two most common methods of bariatric surgery: gastric bypass and sleeve gastrectomy. The study includes almost 2,000 patients and will tell us which of the techniques is more effective as regards weight-loss and long-term co-morbidity, as well as the risk of complications. The next major study that we have just begun concerns the advantages and risks of performing x-ray during biliary surgery." 
Text: Anders Nilsson, in translation from Swedish
First published in the booklet 'From Cell to Society 2022'
About Anders Thorell 
Professor of Surgery at the Department of Clinical Sciences, Danderyd Hospital 
Anders Thorell was born in Stockholm in 1956. He studied medicine at KI, graduating in 1989. He received his MD licence in 1991 and obtained his PhD at the same university in 1993. From 1998 to 1999 he was a visiting postdoc researcher at the Joslin Diabetes Center, Harvard University, USA. He was made docent at KI in 1999. 
Thorell became a specialist in surgery in 1995. From 1995 to 1998 he was a specialist at Karolinska University Hospital, Solna, and from 1998 to 1999 consultant at Karolinska University Hospital, Huddinge. In 1999 he was made consultant at Ersta Hospital with a 25 per cent research position. He was an adjunct professor at KI between 2013 and 2021.  
Anders Thorell was appointed Professor of Surgery at Karolinska Institutet on 1 December 2021.