Investigating affective learning
When we draw conclusions in our everyday lives, what we learn is often linked to emotions – such as that a particular matter is important, a person has a high status, or that an environment is frightening. Andreas Olsson studies how this learning takes place in social situations.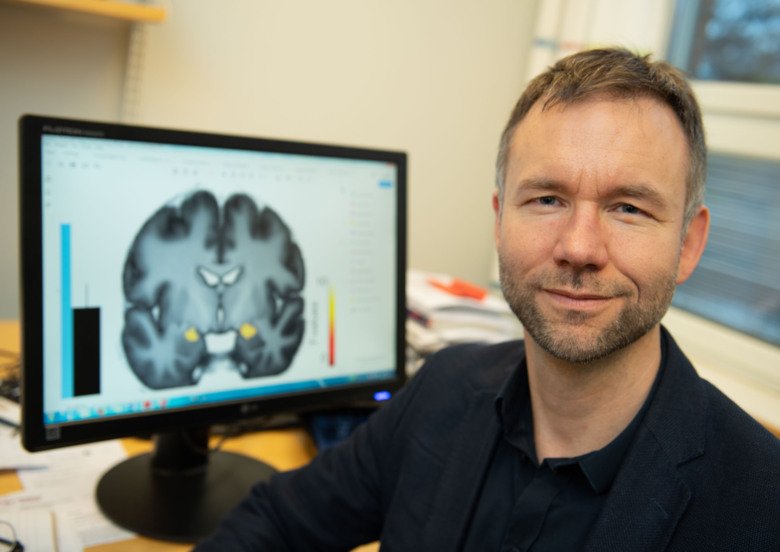 Photo: Ulf Sirborn
What are you researching?
"I use experimental methods to understand the biological and psy­chological mechanisms that underlie social, affective learning. What this means is understanding how we learn, in interaction with others, to value things and people – if we, for instance, should be afraid of someone, or if something is important or good. This type of learning is ongoing and is absolutely fundamental to what people think, feel and do. We try to study this at all levels, from the basic biological mechanisms in the brain to the complex human behaviour."
How do you go about researching this?
"We start by looking at two research traditions that previously have been separated. One is research concerning emotional learning, which has been around for a long time but has been focused on the individual. The other one is the recent field of research on the mechanisms of social cognition. In our lab, we connect these fields. We use image and video screenings, actors and virtual reality, and then record reactions and behaviour with various instruments. We measure brain activity primarily with fun­ctional magnetic resonance imaging, fMRI. So far, our findings have shown, among other things, that several mechanisms are the same when we learn about threats through our own experiences as when we observe the behaviours of others. Other findings include that factors such as group affiliation and empathy affect social learning: we learn better from those who are similar to us and people whose nervous systems are synchronised with our own."
How can these results be utilised?
"Our purpose is basic science; to understand these important aspects of human psychology. With that said, I think the knowledge is useful both in and outside of healthcare. We have seen among other things how social learning effectively ex­tinguishes learned anxiety and fear. Moreover, social learning about what is threatening can have a powerful impact on our emotions and deci­sions, even when these conflict with our own good. This research is also relevant for understanding important societal phenomena, such as polarisa­tion and conformity."
Text: Anders Nilsson, first published in the booklet From Cell to Society 2020.
About Andreas Olsson
Professor of Psychology at the Department of Clinical Neuroscience
Andreas Olsson was born in Malmö in 1973. He received his education in psychology from Lund University, gra­duating with a master's degree in 1998. The following year he was a visiting scholar at the University of California, Berkeley, USA.
Olsson earned his PhD in psychology at New York University, USA, in 2006. During the years 2006–2008 he gained post-doctoral training experience at Co­lumbia University, and during 2008–2010 at KI. He has since continued at KI as a research team leader and Director of the EmotionLab. Olsson became an assistant profes­sor in 2011, and associate professor in 2015. He has significant funding from the Swedish Research Council, the European Research Council and the Wallenberg Foundations.
Andreas Olsson was appointed Profes­sor of Psychology at Karolinska Institutet on September 1, 2019.